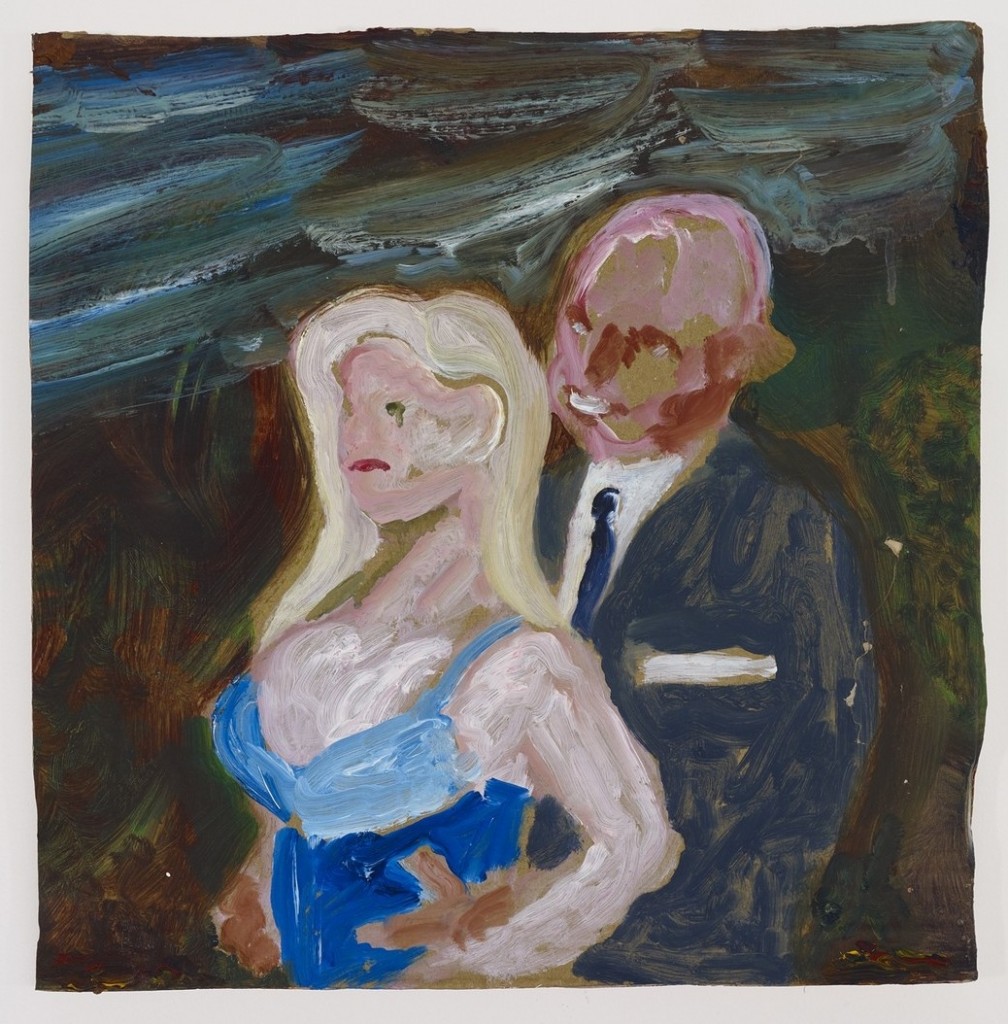 Rich Couple Oil on cardboard, 12.5 x 12.5 in. / 32 x 32 cm
Drawing together ideas from Buddhist philosophy (the Hungry Ghosts) and from psychoanalysis (the Lost Object), Moreton's new work investigates a sense of loss that drives us in acquisitiveness, addiction, deception and creativity.
A new series of paintings on card, The Hungry Ghosts (2012), responds to contemporary magazine lifestyle images. Painted on an abandoned and abject material, they interrogate a culture of excess, of which our desire for the perfect moment and the perfect lover form part. They are paintings in which being seen to live the dream has become the dream. The Hungry Ghosts refer to one of the 6 realms of existence in Tibetan Buddhist cosmology and hide their feelings of lack behind ostentatious displays of fullness. They have huge, hungry bellies, huge mouths, but their tiny throats make their hunger insatiable.
In a new series of family paintings and domestic interiors, Moreton draws on contemporary and historic sources, continuing the theme that things we choose to present are often not as they appear, particularly in what the artist refers to as "the terrifying domain of the home". In her painting Sisters (2012), Moreton depicts lost young women who found safety in a surrogate family, the narcissistic bubble of the Manson cult. In order to assuage their sense of lack, they gave themselves to Manson, forfeiting their sense of self and subscribing to his grandiose fantasies. They left behind a trail of happy family photos.
In a series of small portraits Looking for R (2012), the artist is searching for her childhood imaginary friend, in paintings which may have inspired his invention. The imaginary lost, rural past suggested by these paintings also features in her transcriptions of Edwardian rural photographs in which she searches for some sense of belonging, far from the realm of the Hungry Ghosts.
Moreton often chooses images of the pauses in people's lives, where they present themselves for others, for history. Her paintings are a dissection of those cultures which produced the photographs, paintings or illustrations. Hers are paintings of longing and ambivalence, nostalgia and sentimental, yet analytical and critical. The title of the show, I See the Bones in the River, comes from a line in the Gillian Welch song Dark Turn of Mind.
About Mark Westall