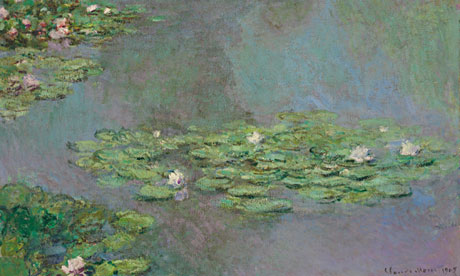 True colours … the 1905 water lily painting by Claude Monet that sold for almost $43.8m (£27.4m) in New York on Wednesday. Photograph: Christie's Images Ltd

This article titled "A Monet for £27m? The real price of the art boom is its sleaziness" was written by Jonathan Jones, for theguardian.com on Thursday 8th November 2012 15.06 UTC
"The billion-dollar art sale" – it sounds like business as usual. As New York struggles to recover from Superstorm Sandy, and some downtown art galleries delay openings, Christie's staged a sale of impressionist and modern art in its rooms at the comparatively secure Manhattan location of Rockefeller Plaza. It marks the beginning of a two-week splurge of auctions in New York that is being hailed as the billion-dollar art sale.
In the event, last night's sale did not set any records and 30% of the works failed to find buyers. The most celebrated sale of the night was .8m paid for one of Monet's waterlily paintings.
This is a good example of how today's prices confuse and derange our perceptions of art. Converted into sterling, the Monet fetched £27.4m. Meanwhile a Picasso was sold for a mere m, considerably less than £10m.
This talk of prices taints our relationship with great art. It becomes … sleazy. Picasso's Coq failed to sell: does that mean Picasso is less cool than he was when he set a world record in the same auction house in May 2010? Has he somehow become less good?
Oh but wait. Picasso's Tete de Femme, on the other hand, sold above its estimate. It would be great to give a real in-depth analysis of these prices, but I get nauseous as I wade through this flood of moral sewage.
One art world news source, for instance, criticising a "limp" sale that failed to justify the billion-dollar hype and may reveal a "crack" in the booming art market, says that Christie's was not really offering much in the way of "trophy property".
What a marvellous term – "trophy property". It immediately conjures up art collectors for whom beauty is a stag to be machine-gunned on a private hunting range. Get your trophy wife, your trophy yacht, your trophy Picasso.
Robert Hughes, thou shouldst be living at this hour. The late critic hurled some of the greatest rhetoric of the late 20th-century at the growing insanity and corruption of the second-rate rich man's club that calls itself "the art world". But it has now gone beyond satire. Even local councils in Britain want to join in.
Is it all teetering on the edge of apocalypse? Is the boom in art prices that has defied a wider economic stagnation about to end? If so, it would be bad for no one except a few "rich bastards" (to quote the artist Mark Rothko on the people he had no wish to paint for). A fall in art prices would be good for museums, good for public collections and good for the mental health of our culture.
At least we know now whom art collectors vote for. One reason for the flat sale at Christie's, it has been suggested, is that buyers were depressed by the re-election of Barack Obama. The art market, it seems, may be the Republican party at play, to add to its other charms.
guardian.co.uk © Guardian News & Media Limited 2010
Published via the Guardian News Feed plugin for WordPress.
Categories
Tags