Its raining f**cking poring down and I don't have an umbrella SHIT and I'm wearing these boots that I love which have a hole in the sole so my foot is soaking and I've got to get to The Old Sorting Office on New Oxford Street (which has a massive show from Mr Brainwash) and i'm at Holborn Tube station It's only a ten minute walk and I promised I'd go do the interview,the nice guy from Cake Group made me promise (confirm) lots of times so I'm gonna go.

burn PRESENTS: Official video by David Guetta & Nicky Romero 'METROPOLIS' directed by Mr. Brainwash.
Here I am Cake guy is here he talks to Mr Brainwash's assistant and they go make me some tea; milk and lots of sugar which is nice and the artwork is Fun/Happy/POP all you need on a rainy day makes me smile.
And I'm here to talk to Mr Brainwash about the first music video that he's directed for the track Metropolis which was recorded by David Guerta and Nicky Romero which also is FUN/Happy/POP DancE, energE, fancE, housE, happE music and to be honest on a miserable day like today I GET IT, I totally understand Happy uplifting fun positive ART/MUSIC 'Hands In the air Like you just don't care " pure escapism and the funny thing is the whole things been put together by the ultimate feel good company Coca Cola well actually their cool energy drink burn.
Oh and I'm here to interview Mr Brainwash about the video (you can see it above) but we get talking more about him and being positive and spreading joy, its a really positive meeting/interview I almost even forget my wet foot and that is amazing ! (Its very wet)
MW: So how long did It take to make the video ?
MR Brainwash:
There Is no time – Day – Evening . I take my time to make It happen. I want to create something Kinda different , something artistic. I just want to keep going till I get it right , If i could I'd keep going till Its right but there where deadlines but Its still good. I hope It achieved what I wanted I hope its positive and energetic and artistic.
But Its not a traditional music video , everything is handmade everything was spontaneous all the people who worked on the video the crew/light/camera men they have never seen anything like this before. Everything was created by the minute in my head minute by minute nothing was planned.
Each frame Is a painting.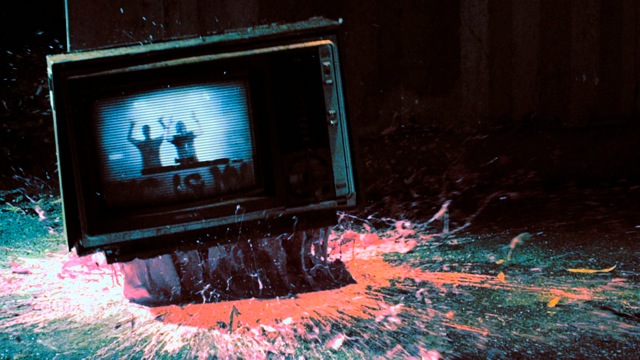 I'm working even now on the out takes of the video which are going to be released on the 25th October. I never want to stop I can always improve make it better.
MW:Do You want to direct more music videos ?
MR Brainwash:
The Second video will be better will be much easier to make , I understand much better now.
I like to play at things to understand how to do them its how I learn. I nevee give up. I just keep pushing , pushing everyday. And the funniest thing ? It cost me $2,000 a day for the people to just clean the paint of everything. I was, It was like an explosion the video the music this amazing energy.
It wasn't about destroying things It was about keeping the objects as art. It can live forever the video/film.
I wanted to show the beauty of the speaker, record players guitars. Objects mixed with paint.
Something that represents me and always with a message that is positive.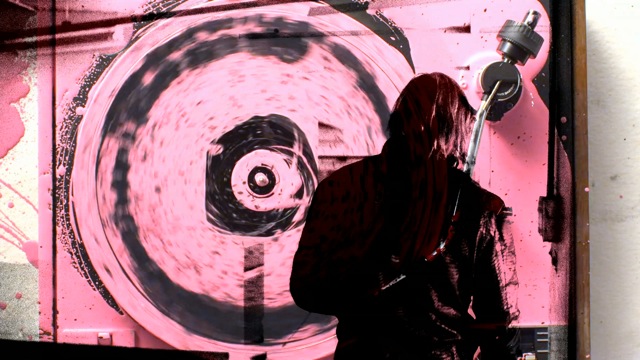 Art Is for everyone, Passion, Respect, all those words that I use trying to always.. Anything that I do, trying to bring a Positive message – for people to say "You Know what ! Never Never Give Up , You can make it happen.
I just directed a story with David Guetta and Nicky Romero. They had a dream and passion and they made it happen at a level that is just GIANT. This whole project got a hand from me, David Guetta, Nicky Romero and Coca Cola who are burn's company.
MW: How did the project happen ?
Mr Brainwash:
They came and said we are gonna hire this crazy man without knowing what he's gonna do and make it happen. They asked me about story boarding the video. And Its like how am I gonna storyboard to this music do you want to be like everyone else two pretty girls smiling a swimming pool etc etc
No my video is going to be artistic, spontaneous, It happens and we capture it, its about harnessing the energy the creative energy as it happens, its about celebrating and pushing that.
There was no planning and when the project is finished its done you move on .
Its like a baby that is born it now has a life of its own.
Go Create.
Watch Metropolis:www.youtube.com/
Visit Mr Brainwash's show: The Old Sorting Office 21-31 New Oxford Street London WC1 1BH
Follow burn: www.twitter.com/burn www.facebook.com/BurnEnergy
Categories
Tags