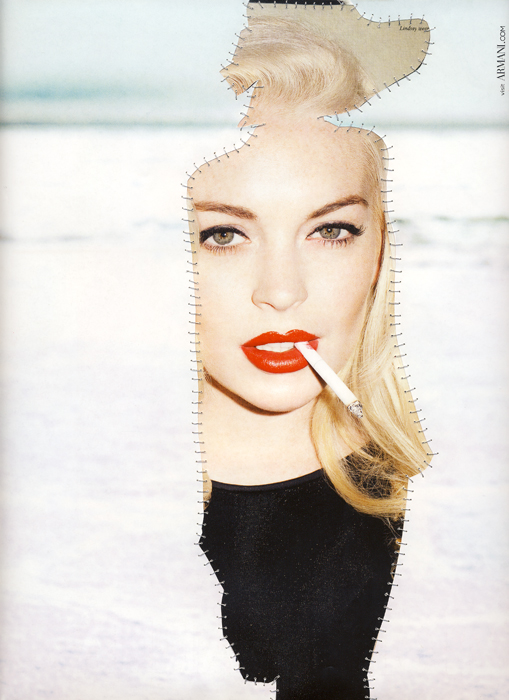 Image of Lindsay Lohan from 'LOVE' magazine (S/S 2012 issue) behind Armani 2012 ad
Date: 26/06/12
1.If you weren't an artist, what else would you be?
If I had got the grades, I would to have been a vet. But realistically, I would be pretty lost and would be seeking careers advice right about now.
2. Can you tell us more about your work and what are the main ideas you would like to express?It's about the intervention into the mass-produced image and the photographic image. Stitching brings the surface of the image to the forefront, making the viewer acknowledge it as an object. It becomes something to look at, rather than through or into. I mainly use women's fashion magazines to emphasis the connection between the objectification of women, and the social standards applied to us through popular media and fashion. Embroidery is a way of connecting femininity from the past with the present, as well as a physical means to literally intervene into the image
3. How do you start the process of making work?
I collect images, spend way too much time online reading blogs, read, and make notes. Basically, researching.
4. Do you consider the viewer, when making your work?
Yes, it's an important part of the work. If there is no one there to look at it and think about it, then it's not much good.
5. Name 3 artists that have inspired your work?
Aliki Braine, John Baldessari, and Vik Muniz.
6. Name 3 of your least favourite artists.
I honestly tried to think of an answer to this, but I can't think of any. I don't really look for work by people whose work I don't like.
7. What defines something as a work of art?
I was once told that art has no purpose other than to be an emotional and intellectual stimulant. So if it had a use other than this, it wasn't art. I'm not sure if I completely agree. I think it is best to keep an open mind.
8. In times of austerity, do you think art has a moral obligation to respond topically?
There are artists out there who will feel morally obliged to make work in response to our current political and financial climate, but there will be others who will wish to provide a means of escape. There has always been problems in this world and if we all felt constantly obliged to respond to them, it would get pretty dull pretty quickly. We would probably be seeking a renaissance before long. Art provides a freedom of expression for every wo/man which means we always have a wide and varied palette.
9. Anytime, any place – which artist's body would you most like to inhabit?
Picasso. Hands down, I wish I were as clever as he was.
10. What is your favourite 'ism'?
Feminism. As a woman, it has done, and still does, a lot for me. I think nowadays it gets a bad reputation, maybe society doesn't think we need it anymore, but I think we still have a way to go. To me feminism is about gender equality and I am a huge supporter of equality.
11. What was the most intelligent thing that someone said or wrote about your work?
It's is a fresh take on a traditional craft.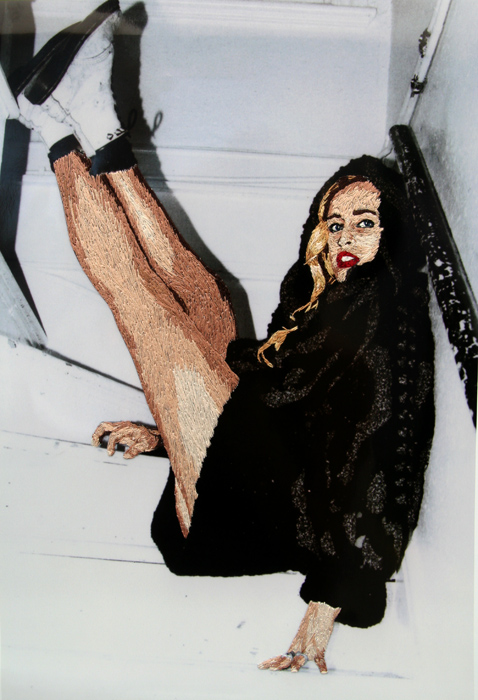 Collaboration with Photographer Rebecca Thomas Date: 30/05/12 Photographer: Rebecca Thomas @ rebeccazephyrthomas.com
12. And the dumbest?
I couldn't possibly say…
13. Which artists would you most like to rip off, sorry, I mean appropriate as a critique of originality and authorship?
I love appropriating photographer's images and using them as a surface to work over. If I could I would 'rip off' photographer Tim Walker. His photographs are dreams and fairy-tales come to life. Just the sheer amount of effort, time, patience and attention to detail that goes into creating these images is amazing. He's got nothing to worry about.
14. Do you care what your art costs? State your reasons!
My material costs are usually quite low but the time involved is a lot, so I need to get paid for my time and that reflects in the price. I think it's important not to price your audience out of collecting your work. At the same time, I'm trying to make a living here.
15. If Moma and the Tate and the Pompidou wanted to acquire one of your works each, which would you want them to have?
They could have a Vogue cover each.
16. What's next for you?
I am currently showing in Munich in a group show called 'Rocke Hosen Blusen', as well as working on a collaboration with a photographer here in London. Watch this space.
Categories
Tags