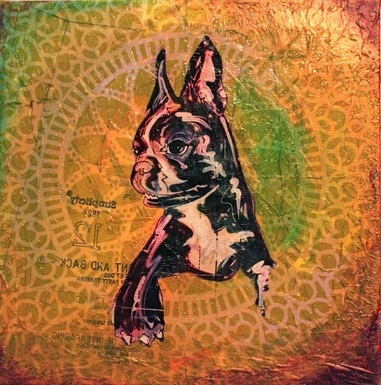 Painting 30 x 30 x 3.5 cm Giclee Print on Mixed Media Background August 2012
1. If you weren't an artist, what else would you be?
Probably running a gallery to help other recently established artists.
2. Can you tell us more about your work and what are the main ideas you would like to express?
My abstract paintings come from within, I express my love of life through them.
3. How do you start the process of making work?
My abstract works start with layers of colours and papers, followed by more layers which I sometimes leave for several days/weeks before returning to the work to add more layers of reds, golds and polyacrylic. Specific work i.e. commissions, I start my painting with a grid for landscapes or for life drawings I start with the eyes and build outwards.
4. Do you consider the viewer, when making your work?
I always consider the viewer and often require several opinions and adjustments to my work before laying the final gloss finish.
5. Name 3 artists that have inspired your work?
Giorgio Vasari, Gustav Klimt and William Turner.
6. Name 3 of your least favourite artists.
Any artist who causes negativity or pain.
7. What defines something as a work of art?
Something which inspires, motivates and gets people talking.
8. In times of austerity, do you think art has a moral obligation to respond topically?
It's part of human nature to write or paint or create topically.
9. Anytime, any place – which artist's body would you most like to inhabit?
Giorgio Vasari in 1562 when he built the octagonal dome in Pistoria.
10. What is your favourite 'ism'?
Surrealism.
11. What was the most intelligent thing that someone said or wrote about your work?
'Your most recent London landmark commission truly encapsulates your unique style of 'Abstract Realism' and despite the linear accuracy of the main body of the work, the sky and water show a colourful brilliance which can only be portrayed by an original Leah Michelle.'
12. And the dumbest?
'I don't understand it'…
13. Which artists would you most like to rip off, sorry, I mean appropriate as a critique of originality and authorship?
Rothko (I already have)!
14. Do you care what your art costs? State your reasons!
I do care and I want it to be affordable, but I have to reflect the number of hours spent working on a piece especially for tasking commission pieces.
15. If Moma and the Tate and the Pompidou wanted to acquire one of your works each, which would you want them to have?
Well London is our home and The Tate rules anyway!
16. What's next for you?
I've just finished a fun new series called 'The Adventures of Penelope Pineapple', who is our Boston Terrier and mascot of the New Artist Fair, this series can now be seen on my website. I've also just finished today a commission for a house in Battersea, SW8 which I will be putting on my website soon, I really enjoyed making this piece which was quite technical, something I wouldn't normally make so hopefully I will get some more commissions along those lines. Also I'm curating the New Artist Fair which opens on Friday at 6pm-9pm in Brick Lane and is open all weekend 11am-7pm. After that I'm having a baby in November this year, then in February 2013 we have another New Artist Fair exhibition in Central London.
Categories
Tags