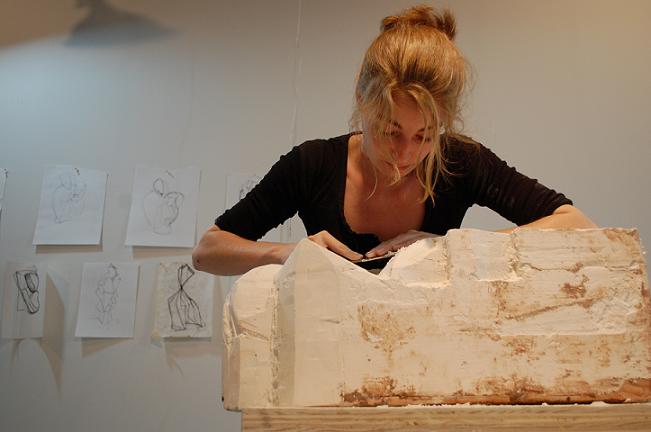 1.If you weren't an artist, what else would you be?
I'd struggle to work in a job outside of a creative field. Music is a passion of mine . So long as I was working with my hands and being creative in some form I'd be content.
2. Can you tell us more about your work and what are the main ideas you would like to express?
Despite my work being of an outwardly abstract appearance, nonetheless, I feel that it reflects a physical connection to natural phenomena and people, and is therefore deeply rooted to our existence on the planet.
3. How do you start the process of making work?
I don't tend to follow an exact process of starting a new work. I do, generally, find myself making a number of preliminary drawings. To begin a new work, for me, involves a lot of thought, by the time I physically start working, the main body of the piece has been sketched in my minds eye so I have a very clear idea of how the final piece will appear.
4. Do you consider the viewer, when making your work?
In general, yes but in particular, no.
5. Name 3 artists that have inspired your work?
Ernst Ludwig Kirchner, Edgar Degas, The Russian Constructivists.
6. Name 3 of your least favourite artists.
I don't feel a need to name name's, however, I do find artist's whose only intent is something fashionable, very hard to relate to.
??7. What defines something as a work of art?
Hopefully something that gives the viewer a cause for reflection and even
solace, but in any case something to which they can personally relate.
8. In times of austerity, do you think art has a moral obligation to respond topically?
In general terms it is even more important that the artist retains integrity in times of austerity, and artist's that feel compelled to respond more directly should be respected.
9. Anytime, any place – which artist's body would you most like to inhabit?
It's the last thing I could possibly imagine!
10.What is your favourite 'ism'?
Multiculturalism
11.What was the most intelligent thing that someone said or wrote about your work?
That my work is serious.
12.And the dumbest?
Constructive criticism is of course important, the "dumbest" is not memorable.
13.Which artists would you most like to rip off, sorry, I mean appropriate as a critique of originality and authorship?
Gaudier Brzeska
14.Do you care what your art costs? State your reasons!
I'm not greatly concerned by what my art costs. I price my work based on materials and the time it takes to physically complete. Of course, like any other job there are practicalities to consider, but I feel it essential to be fair and honest with the cost of works.
?15.If Moma and the Tate and the Pompidou wanted to acquire one of your works each, which would you want them to have?
Which ever one they chose.
16.What's next for you?
Producing more work and to discover where it takes me.
Clementine Drake
www.clementinedrake.com
Categories
Tags