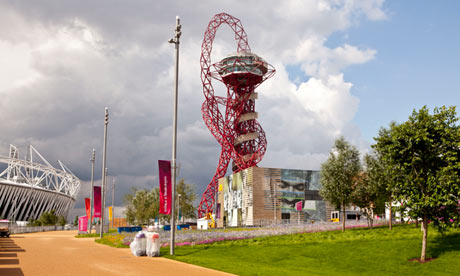 The illusion of democracy … could you really have had a say in whether London's ArcelorMittal Orbit was built? Photograph: Antonio Zazueta Olmos
This article titled "Brickstarter: crowd-funding takes to the streets" was written by Justin McGuirk, for theguardian.com on Friday 24th August 2012 13.51 UTC
If you wanted to transform that empty, weed-infested lot in your neighbourhood into a public garden, would you write to your council and cross your fingers, or take matters into your own hands and turn guerrilla gardener?
In the age of social media, there's another way. Kickstarter, the crowd-funding website, has proved that if people find your idea (whatever it may be) compelling enough, they'll donate the money to make it happen. Now there's a leap in scale occurring, with crowd-funding being used to create public spaces.
There's already a clutch of websites aimed at helping citizens to bring their schemes to fruition. Spacehive, based in the UK, has been used to fund everything from a replica Queen's head that was strapped to a barge for the Jubilee (£377) to a new community centre in Wales (£791,000). One project currently seeking funding is for the transformation of east London's Cody Dock, including a new bridge and walkways – in other words, an extremely ambitious public intervention. In the US, meanwhile, there's Ioby (In Our Back Yard), which crowd-funds community gardens and local education initiatives, and Neighborland, which doesn't raise cash but merely helps vocalise support for ideas.
The big difference between Kickstarter projects and public space proposals is that the latter will require local government approval. If you can prove that a community is behind your project, it will help you make a convincing case to the local authority. And if that community also decides to fund it, what an infinitely more persuasive proposition. You can see at a glance how this has the potential to completely rewrite the relationship between citizens and local government.
It's early days though. A site like Neighborland is a useful exercise in civic expression, but it's limited in what it can achieve. One person in Boulder, Colorado, for instance, posts that he wants a commuter train to Denver. He's backed up by 49 others, who all clicked "Me too". But given that such a train would cost hundreds of millions of dollars, they don't stand much of a chance. Transport infrastructure isn't a case of wish fulfilment, it's a case of serious government investment.
This is where Brickstarter comes in. Conceived by the design team at Sitra, the Finnish innovation fund, Brickstarter facilitates bottom-up initiatives by connecting them to local government. The website brings the rapid networking of social media together with a municipality's clout to "make good things happen in your neighbourhood". It goes out of its way to make it easy for citizens to join in with planning, inviting them to meetings and enabling them to donate money or skills.
It's a sophisticated tool for public decision-making. Or it would be if it actually existed. Because Brickstarter is just a prototype, what techies call a "beta" site. The idea is that it would be run by the city of Helsinki, but to test how such a tool should work, the designers felt they had to actually build it.
I've written about Sitra before, and what makes it continually interesting is this luxury to experiment with how design processes can improve the workings of public policy. In Brickstarter's case, one of the primary motives was to make public decision-making more positive. At the moment, public consultations tend to be negative by definition. The only way most people get the chance to be involved in changing their public realm is through Nimbyism: a notice comes through the door and you're given an opportunity to object – you're not actively encouraged to make your own proposals. Community activists can make things happen but, asks Sitra's Dan Hill, "How do you get from activism to simply activity, from heroes to everybody?"
Clearly, crowd-funding has the zeitgeist on its side. We've seen how effective and empowering Kickstarter can be. And in these straitened times, alternative sources of revenue are worth exploring. But you can just imagine the coalition government seeing in a tool like Brickstarter another excuse not to pay for things. It would fit right in with its localism agenda, which encourages residents to be more involved in planning.
But there are bigger questions than where the cash comes from. First, there's a difference between the supply-and-demand logic of the market (which Kickstarter services) and the public realm, which must cater to all. Crowd-funding creates the illusion that it's democratic, but it's not: the fact that a majority may choose not to fund something doesn't mean it won't get funded. Just as in any other online community, the debate can be skewed by an active minority. What if you don't want a mini ArcellorMittal Orbit at the end of your street? Or – an even more interesting dilemma – what if the majority does want a mini Orbit but city hall thinks it's a bad idea (arguably the opposite of what happened with the real thing)? Will politicians risk making themselves unpopular?
When it comes to public space, the local authority will be the final arbiter. But now that crowd-funding tools exist, and are evolving, it will be fascinating to watch how they make citizens more active participants in their areas.
guardian.co.uk © Guardian News & Media Limited 2010
Published via the Guardian News Feed plugin for WordPress.
Categories
Tags