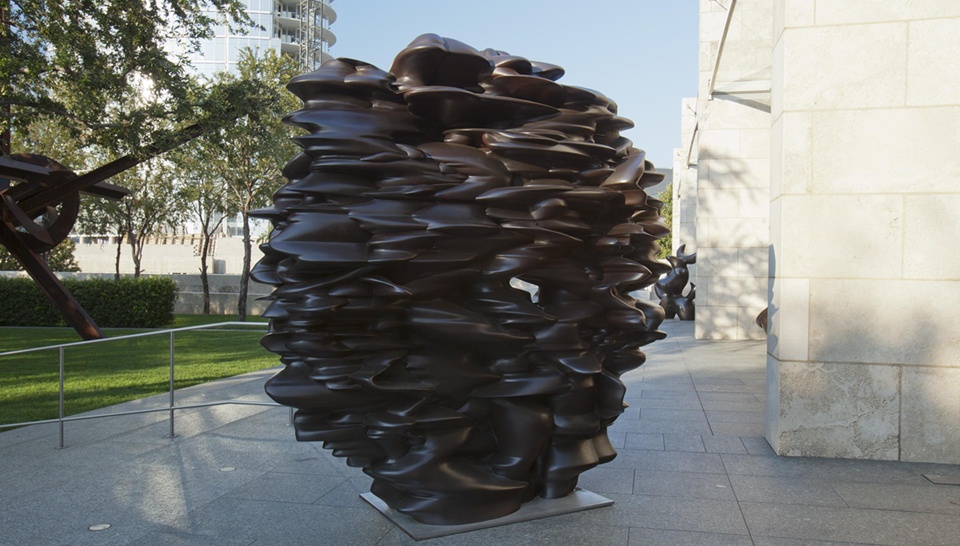 25th August – 25th November 2012 at Exhibition Road, London, SW7
Tony Cragg at Exhibition Road is the first exhibition of sculpture along the newly pedestrianised section of Exhibition Road. From 25th August 2012, works will go on display by Tony Cragg, one of the most influential British sculptors. Five major new outdoor sculptures will take over Exhibition Road and six indoor works go on display at the V&A, the Science Museum and the Natural History Museum. Ranging up to 5.5m in scale, the works will demonstrate Cragg's pioneering and ambitious sculptural techniques across a range of materials including bronze, stone, cast iron, steel and wood.
Tony Cragg studied at the Royal College of Art and worked in a studio at the rear of the Science Museum from 1973-77. Cragg's practice has been directly influenced by the museum collections he found around him during this period and this presentation of his work will see some of his most iconic sculptures placed alongside the artefacts and objects that inspired their creation.
Exhibition Road is linked to the site of the Great Exhibition of 1851, conceived by Prince Albert and Henry Cole as an international showcase of modern industrial design and technology. The profits generated by admission to the Great Exhibition helped to found major institutions along the road, including the V&A, the Science Museum and the Natural History Museum. The newly pedestrianised section of Exhibition Road provides a physical connection between these major cultural institutions and serves as a reminder of their intertwined history. Tony Cragg at Exhibition Road will reimagine the relationship between the Road and the institutions established by the Great Exhibition of 1851, and will provide unique artistic links across the sites.
CONFIRMED LIST OF WORKS
OUTSIDE WORKS ON EXHIBITION ROAD
Ferryman, 2001, Bronze, 385 x 190 x 120 cm
Mixed Feelings, 2012, Bronze, 550 x 236 x 224 cm Untitled (TBC), 2012, Stainless Steel, 580 x 154 x 136 cm Versus, 2011, Bronze, 266 x 285 x 105 cm
Luke, 2008, Bronze, 360 x 192 x 180 cm
VICTORIA AND ALBERT MUSEUM
Accurate Figure, 2010, Bronze, 188 x 76 x 81 cm Instant, 2011, Stone, 100 x 60 x 60 cm
Points of View, 2007, Bronze, 108 x 80 x 80 cm
NATURAL HISTORY MUSEUM
A Head, I Thought, 2011, Wood, 230 x 160 x 145 cm False Idols, 2012, Bronze, 233 x 105 x 105 cm
SCIENCE MUSEUM
Line of Thought, 2012, Wood, 438 x 145 x 145 cm
About Tony Cragg
Tony Cragg was born in Liverpool in 1949. He studied art at the Gloucestershire College of Art and Design and Wimbledon School of Art and he completed his studies at the Royal College of Art, a member of the Exhibition Road Cultural Group. In 1977, Cragg moved to Wuppertal, Germany where he continues to live and work. In addition to exhibiting his work internationally, Cragg is the Director of the Kunstakademie in Dusseldorf and has founded and operates a sculpture park in Wuppertal.
About Cass Sculpture Foundation
Cass Sculpture Foundation is a charitable foundation established in 1992 by Wilfred and Jeannette Cass, dedicated to commissioning new sculpture from emerging and established artists. The Foundation's 26 acre grounds are home to an ever-changing display of 80 monumental sculptures, all of which are for sale with the proceeds shared evenly between the artists and the foundation to invest in new commissions. By combining the best of philanthropic and commercial commissioning models, Cass Sculpture Foundation is able to continually commission and show new sculpture; to date the Foundation has produced over 400 sculptural works.
www.sculpture.org.uk
This year, the Foundation is celebrating its 20th anniversary by opening its commissioning programme to international artists and through the launch two new exhibition grounds, entitled the Fields Programme.
These ???new spaces will host year-long curated exhibitions to run alongside the Foundation's existing programme. www.sculpture.org.uk and an iBook is available for download from: itunes.apple.com/
About the exhibition
'Tony Cragg at Exhibition Road' will be presented by Cass Sculpture Foundation and has been developed in collaboration with the Exhibition Road Cultural Group (ERCG). Exhibition Road is the cultural heartland of London and the ultimate destination for anyone with a thirst for discovery and creativity. Here, the world's leading arts, cultural, scientific and academic organisations join together to deliver vibrant programmes that challenge and surprise.
The Exhibition Road Cultural Group (ERCG) brings together 22 arts, science, cultural and learning organisations to develop multidisciplinary programmes that showcase the extraordinary intellectual assets of the area from globally renowned museums and universities, historic palaces and world-famous concert halls to European cultural and community centres. www.exhibitionroad.com
Categories
Tags