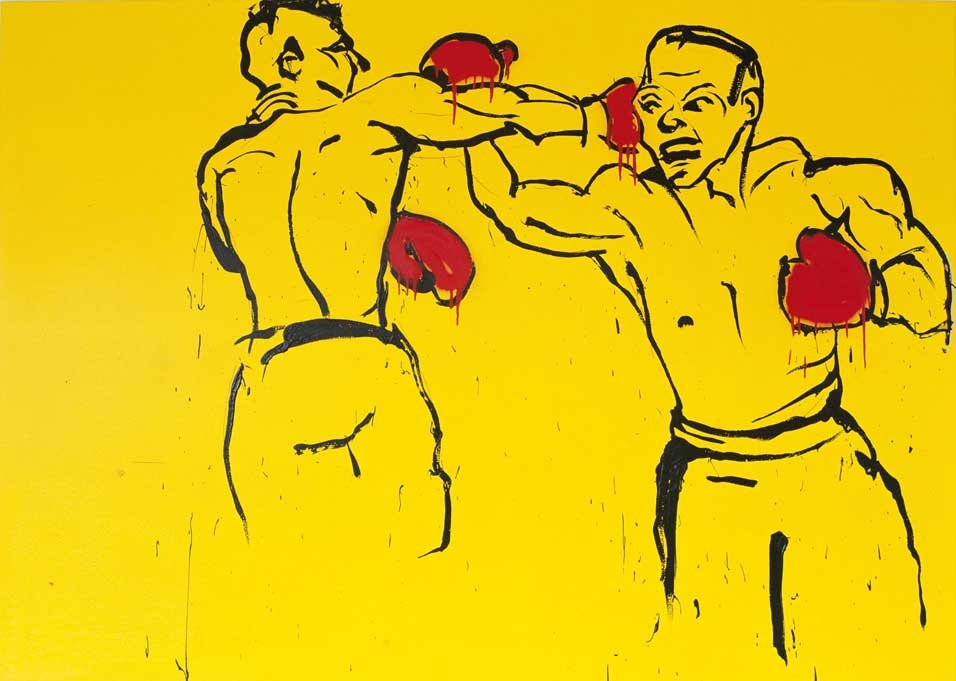 Adam Cullen, Finding ways to forgive yourself, 2001. Ink, enamel, acrylic on canvas. 153 X 213 cm. Private Collection. Image courtesy Yuill/Crowley Sydney.
The Archibald Prize-winning artist Adam Cullen, one of Australia's most collectible contemporary artists and well known for his distinctive portraits of high-profile Australians, has died.
Adam Cullen was a unique figure in contemporary Australian art, a larger-than-life artist whose abrasive yet expressive paintings were a confronting and incisive view of contemporary life.
His often satirical works were a form of social allegory, a cutting portrait of our national psyche caught in a suspended stage of development. Cullen's visual language and references are relentlessly local, even parochial, as his work encapsulated a particular experience of urban and suburban existence.
Early in his career, Adam Cullen became renowned as an enfant terrible in the Australian art world. He was never been afraid to skirt around danger in his aesthetics and his practice. He gained early fame in his art school days by dragging a rotting pigs head around chained to his ankle. He raised eyebrows by collaborating with the infamous Mark 'Chopper' Read for their children's book, Hooky the Cripple. He was well established as a Sydney 'grunge' artist when he won the prestigious Archibald Prize for his portrait of actor David Wenham in 2000, raising hackles amongst the more conservative members of the Australian art world.
But regardless of the bad boy posturings, there was also an extraordinary sense of both humour and pathos about Cullen's work. He played a delicate balancing act between punk-brashness and a terrifying, relentless honesty, expressing his own grave doubts about himself and the world around him. In the 2004 monograph Scars Last Longer, the author, Ingrid Periz, refuted the bad boy image, revealing an artist of extraordinary skill and sensitivity.
"Dead cats, bloodied 'roos, inflatable men and headless women," Periz wrote. "Sydney painter Adam Cullen likes to conjure up the elements of a place called 'Loserville', pipe in some lounge music and depart the scene, but not for anywhere better." Cullen's highly personal language ended up becoming universal.
His schoolboy humour was matched by a highly sophisticated expression of moods and responses to society, moments of anger balanced with hilarity; an asylum turning into a festival. And it is all expressed with a powerful, gestural mark and bold colouration. Adam Cullen was born in Sydney in 1965. He graduated from the City Art Institute with a Bachelor of Fine Arts in 1986, a Diploma of Professional Art Studies from the City Art Institute in 1987 and a Master of Fine Arts from the University of New South Wales in 1999. He has shown in numerous individual and group exhibitions throughout Australia and New Zealand. In 2002 he represented Australia at the 25th Bienal de Sao Paulo Iconografias Metropolitanas.
More Work from Adam Cullen: WORK
More Words on Adam Cullen: WORDS
Archibald winner and 'grunge' painter Adam Cullen dead at 47: Sydney Morning Herald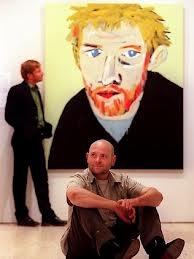 Categories
Tags