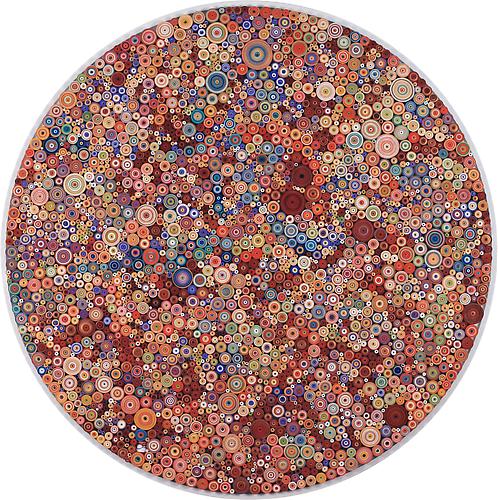 Hadieh Shafie 20900 Pages 2012 Ink, acrylic and paper with printed & hand written Farsi Text Esheghe "Love" 48 in / 122 cm diameter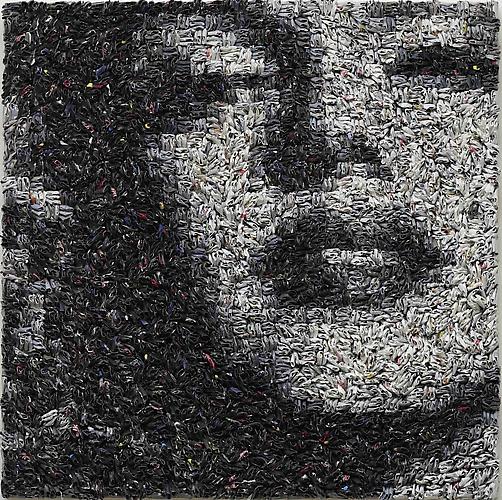 Kim Chun Hwan Marilyn 2010 Paper on wooden panel 39.4 x 39.4 in / 100 x 100 cm

Rob Carter Stone on Stone 2009 Digital video projection, B&W/Color/Sound 1080 x 1080 pixels
"Rock, Paper, Scissors" exhibition at Leila Heller Gallery includes the work of nine artists in Chelsea at 568 West 25th Street from through August 18, 2012.
The show includes work by Louise Bourgeois, Rob Carter, Jim Dine, Soonja Han, Kim Chun Hwan, Louise Nevelson, Jackson Pollock, Hadieh Shafie, and Kasper Sonne. Curated by Sam Bardaouil and Till Fellrath, Rock, Paper, Scissors presents painting, sculpture, photographs, film, mixed media work, and installation.
The show's title is derived from the name of the popular hand game and refers to the mediums and formalistic choices of the works represented in the show, which is divided into three sections. An illustrated catalogue with an essay by the curators will accompany the exhibition. "Rock, Paper, Scissors is a double folded statement that ponders the broad range within the formalistic trends that have come to define the contemporary moment of artistic production," the curators note. "The exhibition explores the extent to which contemporary art oscillates between a concern for art-historical lineage and the desire for a departure from formal expression."
The Rock section includes a sculpture of a face by Jackson Pollock, monumental monoliths by Kasper Sonne, and abstract sculptures by Louise Nevelson. Her piece Untitled 81, 1961, may appear reminiscent of machinery parts or the door to a safe, but it is in actuality an amalgamation of wood and other found objects camouflaged with black paint. "Nevelson's work stands as a constant reminder of how the human brain functions when confronted with the familiar that has been appropriated into something unfamiliar altogether," write the curators in the catalogue essay. The works Kim Chun Hwan, Rob Carter, and Hadieh Shafie comprise the Paper section. As the curators note, the use of paper seems intuitive—it is the surface on which all is inscribed. Yet, in these works, the artists elevate the mundane nature of the material, "transforming it into an artwork that is capable of pushing the boundaries of paper as medium as well as challenging the notion of paper as palimpsest." Shafie converts thousand of layers of colored paper into tightly woven scrolls, embedded with multiple iterations of the Persian word eshghe or love. There is a repetition inherent in her works — word upon word, layer upon layer, circle within circle. 20900 Pages, 2012, employs dark red scrolls at random points intertwined with bright and pastel spring colors—robin's egg blues, spring pea greens, and marigold.
The work of Louise Bourgeois, Soonja Han, and Jim Dine are included in the Scissors section. Each of these artists use scissors, or in Dine's case, the image of scissors, to create their work. Bourgeois's fabric collages, represented in this exhibition by a work from 2007, serve as a backlash to the actions of scissors. She used scissors to take apart materials but only to make a whole. Created later in her life, these collages are made of items symbolic of memory: her wardrobe, old linens, her late husband's pocket squares, etc. Bourgeois cut fabric from several of these items, as a way to keep memories together.
Sam Bardaouil and Till Felrath are the co-founders of Art Reoriented, a curatorial platform based in New York City and Munich. They have produced numerous international exhibitions and programs such as: Told/ Untold/ Retold at the Mathaf Arab Museum of Modern Art, Doha; Iran Inside Out at the Chelsea Art Museum, New York; and Spacetacular shown at both Tashkeel, Dubai and at Fondazione Volume, Rome.
Categories
Tags