Alexandra Mir, Triumph, 2,529 trophies, 2009. Image courtesy of the artist
1. SOUTH LONDON GALLERY
PURSUIT OF PERFECTION : THE POLITICS OF SPORT
Jul 27 – Sep 14, 2012
Pursuit of Perfection: The Politics of Sport brings together art works which, in different ways and to varying degrees of seriousness or wit, play on some of the issues raised by sport, the politics surrounding it and its representation in the media. Aleksandra Mir's spectacular installation Triumph, 2009, comprises 2,529 trophies; a sound piece by Janice Kerbel presents a specially scripted baseball commentary; and works by Roderick Buchanan, Lucy Gunning, Jonathan Monk, Ariel Orozco and Paul Pfeiffer take football as their subject. In Southwark Old Town Hall, John Gerrard's Exercise (Djibouti) 2012 uses digital technologies to explore aspects of sport, spectacle, military exercise and power. In stark contrast, Michel Auder's low-tech video collage of clips from TV coverage of the 1984 LA Olympics focuses on the human body, eroticised and mechanised in its pursuit of perfection. Throughout the South London Gallery and at Southwark Old Town Hall, 31 Peckham Road SE5 8UB.
http://www.southlondongallery.org/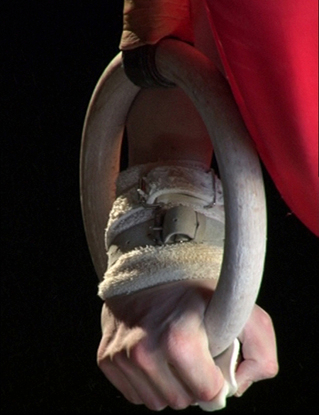 João Penalva ,The Prize Song, 2001, single video projection, 4:3 aspect ratio, colour, sound, film still
2. SIMON LEE GALLERY
JOÃO PENALVA: THE PRIZE SONG
20 JULY 2012 – 24 AUGUST 2012
Two rings hang in front of a deep black background; hands, powdered and bandaged, reach up to them, but the rest of the body is invisible in the extreme close-up of the shot. Suddenly the body jerks up, a red leotard clothing legs and torso, and the camera remains trained on the dynamic movements. A brief pause in a position of balance, the strong upper arms – threaded by muscles and veins – are visible for a moment. Then the momentum again effaces the orientation, catapulting the gymnast into a new pose, before pausing once again for a few seconds. These images tell us something: they present the male athlete and his control over his own body as a sort of graphic torso. Even more emphatic is the sound accompanying the images: the rubbing of the leather straps always starts up when the image is focused on one of the heavily strained body parts; and the whiplash effect of the ropes and the presence of the hooks gives the voluntary gymnastics performance the air of a process of torture. After the dynamic finish the body disappears from the picture, the wooden rings clack against each other; and it is their noiseless swinging that ends the video sequence. No applause. No bows from the athlete. The film loop of barely three minutes begins again.
http://www.simonleegallery.com/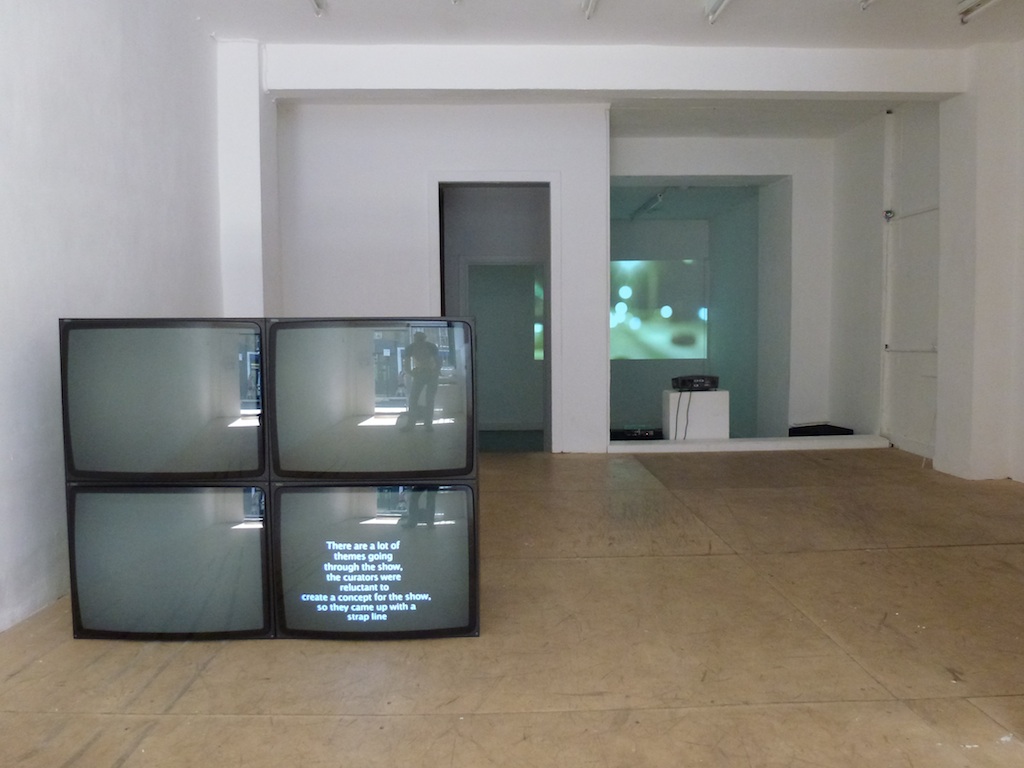 The Modern Language Experiment, installation view, Studio 1.1
3. STUDIO 1.1
30 ARTISTS – 30 DAYS
10 July – 8 August
In yet another curatorial provocation and in deference to events elsewhere, studio1.1 is holding its own Art Marathon in July / August. A Cultural OlympiAIN'T, it will take the form of a Month of Openings – '30 Artists in 30 Days'. Each artist will be given a solo show to be set up and ready by noon each day and a Private View from 6 – 9pm. And of course removed to make way for the next show the day after.
Artists include; Joshua Raffel, Jordan McKenzie, Benjamin Deakin, Dai Roberts, Daniel Delvin, Patrick Galway, Mia Taylor, Jefford Horrigan, Paddy Gould and Roxy Topia, Jeremy Willett, Ross Walker, Karl England, Andrew Graves, The Modern Language Experiment, Kate Lyddon, Darran Leaf, Alan Magee, Keran James, David, Small, Nigel Grimmer, Tina Jenkins, Glen Wild, Robin Seir, Gill Ord, Edward Todd, Vanessa Jackson, Sparrow + Castice, Eve Peasnall, Laura Morrison and Benjamin Orlow, Performative Group and Research Group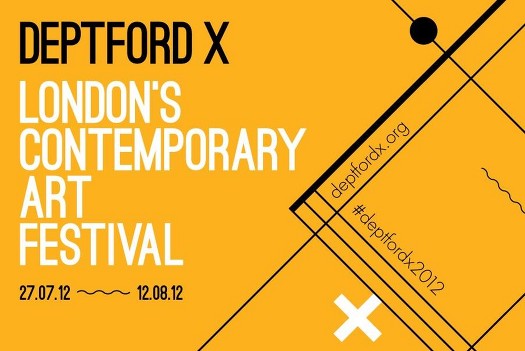 4. DEPTFORD X FESTIVAL 2012
27 July – 12 August 2012
Deptford X returns this year slightly earlier than normal, and is taking place throughout the Olympic Games (27 July to 12 August). This year the festival will include over 50 fringe projects, plus gallery exhibitions, open studios and numerous tours, events and performances, making Deptford X 2012 a truly inspiring programme. Here's a selection of exhibitions to see.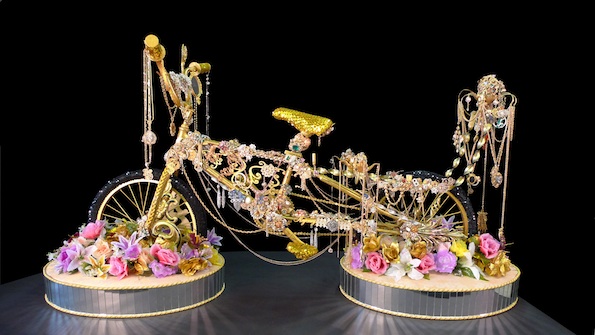 Dzine, Phenomenon, Bearspace Gallery, 2012
BEAR SPACE GALLERY
PHENOMENON
Wednesday to Sunday, 12noon to 6pm
(27.07.12 – 29.07.12), (01.08.12 – 05.08.12),(08.08.12 – 12.08.12)
Phenomenon is a mixed media exhibition, which captures the spirit of "Szwaybar." Dzine has created a hybrid sculpture inspired by and partially produced on the Dutch island of Curacao, during his residency at the Instituto Buena Bista Curacao Center for Contemporary Art. Taking inspiration from the Szwaybar custom-made bicycles and fusing the language of his studio practice, this unique work is presented on a tiered and decorative pedestal—the piece is idealised as a static and statuesque object of desire, and a dedication to the Curacao youth. The embellishments of 24-­?karat gold leaf, crystals, jewels, customised pendants and embellished carnivalesque floral arrangements create texture and capture the essence of an altarpiece.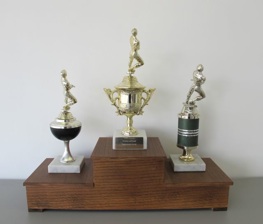 NUMBER 82 GALLERY
THE MOST IMPORTANT THING
MUSEUM OF MELANCHOLY
27 July – 12 August 2012
2012 will be the eightieth anniversary of the first Olympic podium. To celebrate this, number82 – the independent project space on Tanners Hill in Deptford – has built a scale replica of the original 1932 podium. This simple wooden structure is made of oak (as a nod to the traditional UK symbol for an eightieth anniversary). On top of the podium will be three tug-of-war trophies continuing number82's project 'Museum of Melancholy', which uses found and discarded sporting memorabilia.
http://www.number82.org/number82.org/home.html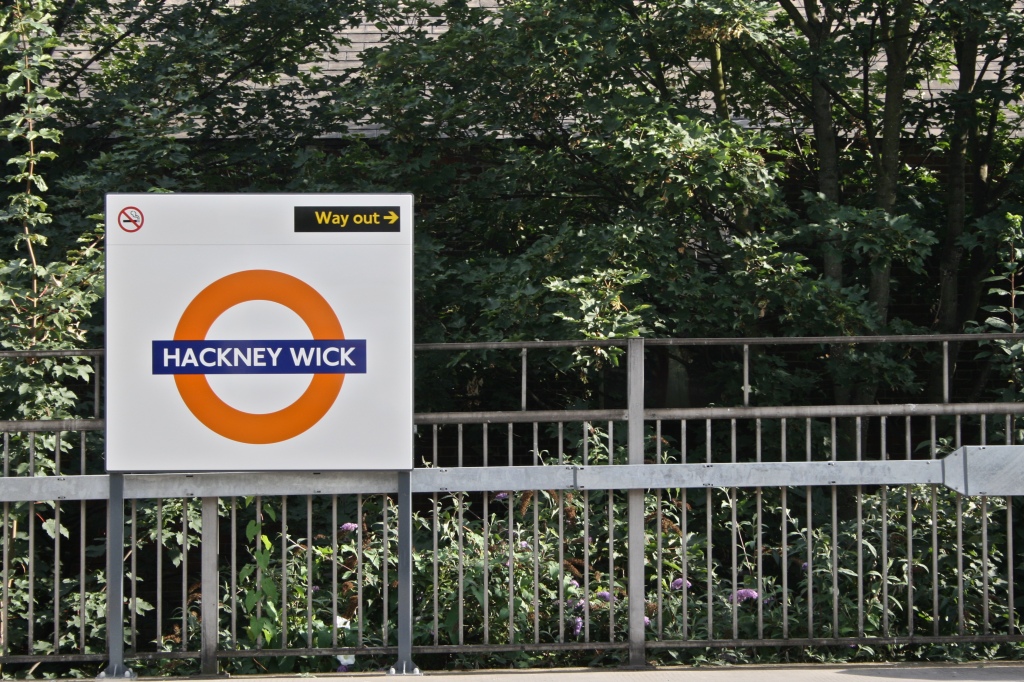 IN THE SHADOW OF THE OLYMPICS: AIMÉE NEAT
27 July – 12 August 2012
A 30-minute radio piece (originally made for Resonance FM) interviewing generations of artist and business residents of Hackney Wick about what they do, how they describe the place where they choose to live and work, and what it is to be an artist. It includes interviews with topographers Nick Papadimitriou and John Rogers and author Iain Sinclair.
Venue is at: 30 Deptford Church Street
To check out the rest of the programme: http://www.deptfordx.org/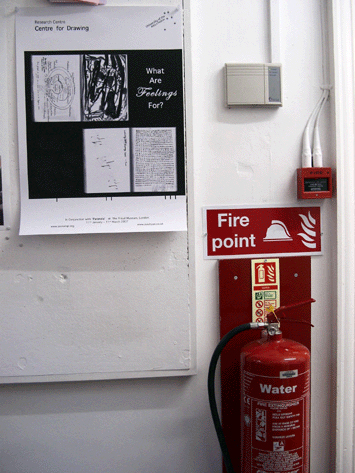 Paul Ryan What are feelings for? 2007
5. CAMBERWELL SPACE
ART ON FIRE
Jul 23 – Aug 11, 2012
To mark the Olympic Flame passing through Camberwell, UAL PhD artists and associates, present an exhibition that considers fire in its ceremonial, ritualistic, metaphysical and symbolic aspects; as well as its physical, audio-visual and scientific representations. An artists' residency relay will pass the torch of audience encounter across the three weeks; as practitioners work in the galleries, alongside the exhibits.
Artists include: Daniel Baker, Eleanor Bowen, Maria Christoforatou, Carolyn Flood & Dino Alfier, Jenny Gordon, Aaron McPeake, Rob Mullender, Paul Ryan.
www.camberwell.arts.ac.uk/camberwellspace
 Emily Speed, Body/Building (Santa Maria della Pieve, Arezzo)  2012
6. DAY + GLUCKMAN
PLAY / GAME / PLACE/ STATE
24 May – 05 September
George Charman, Laura Cooper, Leo Fitzmaurice, Kathleen Herbert, Evy Jokhova, Chloë Østmo, Emily Speed and Ben Woodeson with new commissions by Rob Wilson and Stephen Smith.
With the backdrop of the London Festival of Architecture (23rd June – 8th July), and the event whosenamemustnotbespoken, the summer of 2012 is ripe with beginnings and endings: starting pistols and victory flags, and the bitter taste of failure. The construct for this exhibition centres around the London Festival of Architecture's theme, 'The Playful City', and the ebb and flow of movement in the inhabited environment.
Currently the race is underway in London: to complete buildings in time, to rationalise spaces and budgets for a vast mass of people, for a short space of time. The politics of place are ever present, never more so as protesters occupy and build in public squares, and the square mile itself is under scrutiny: play-game-place-state. We have asked the artists involved to reflect on this notion of movement, mass, and play in the densely built-up environment, as London's natural ebb and flow is disrupted over the summer.
http://www.dayandgluckman.co.uk/play-game-place-state/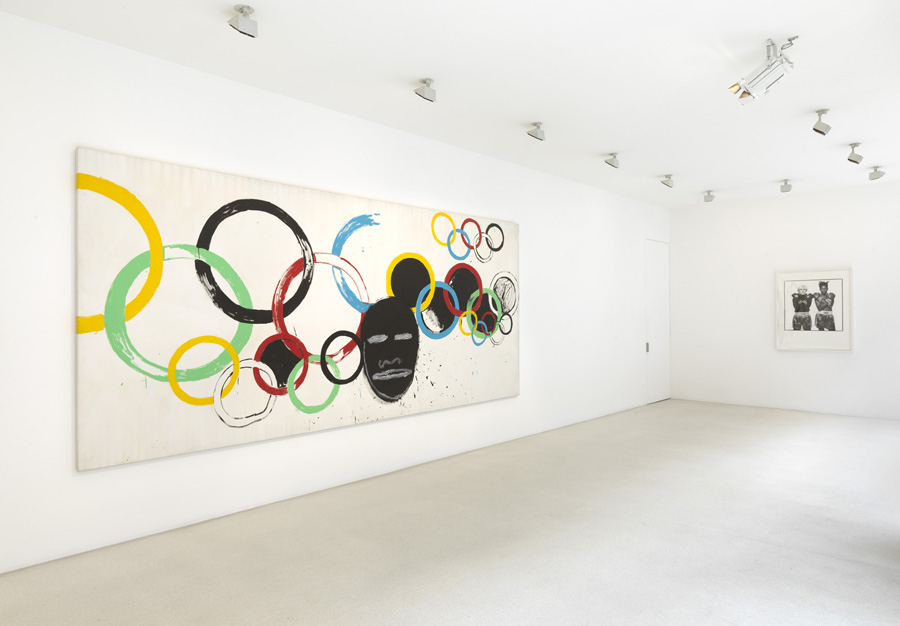 Jean-Michael Basquiat & Andy Warhol, Installation view, Gasgosian Gallery
7. GASGOSIAN GALLERY
JEAN-MICHEL BASQUIAT AND ANDY WARHOL
OLYMPIC RINGS
June 19 – 11 August 2012
… (The Collaboration Paintings are) a physical conversation happening in paint instead of words. The sense of humor, the snide remarks, the profound realizations, the simple chit-chat all happened with paint and brushes…There was a sense that one was watching something being unveiled and discovered for the first time.
— Keith Haring
Warhol and Basquiat worked on a series of collaborative paintings between 1983 and 1985. Basquiat had always idolized Warhol and, in turn, Warhol was invigorated by the younger artist's charismatic intelligence and vibrant energy. The paintings that resulted from their collaboration celebrated their respective aesthetic style and production processes while creating a fresh and unprecedented body of work. Olympic Rings was among the paintings they produced together, inspired by the 1984 Summer Olympic Games held in Los Angeles.
http://www.gagosian.com/exhibitions/april-21-2012–jean-michel-basquiat
Olympic Stadium design by Populous
8. RIBA – ROYAL INSTITUTE OF BRITISH ARCHITECTS
DESIGN STORIES : THE ARCHITECTURE BEHIND 2012
Jun 25 – Sep 25, 2012
Celebrate London in 2012 and examine the architecture and engineering behind the 2012 sporting venues. The exhibition includes drawings, images, videos and amazingly detailed models of London's key new sporting venues.
AFTER THE PARTY : THE LEGACY OF CELEBRATION
Jun 25 – Nov 27, 2012
Explore how celebratory events have left a legacy through the structures built for them.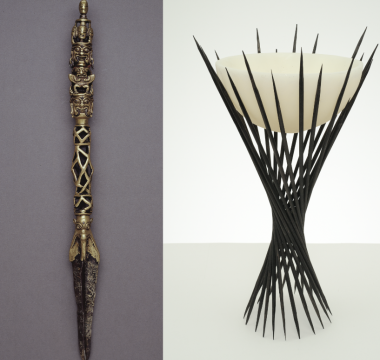 Phurba (Ritual dagger), Courtesy of Rossi Rossi, contemporary
9. ROSSI ROSSI
VICTORY
26 July – 7 September
Victory! examines the various concepts which frame and determine the idea of winning. Bringing together an impressive selection of artworks from both the classical and contemporary worlds the show will demonstrate, how the concept of victory is both greater and more subtle than the idea of simply coming first. Included in the selection are especially commissioned works by five Tibetan artists as well as artists throughout the wider Asian world. This will be an ambitious show, exploring certain common truths that break down boundaries, cultures and histories.
Featuring the work of;
Jaishri Abichandani, Fereydoun Ave, Konstantin Bessmertny, Faiza Butt, Naiza H Khan, Kesang Lamdark, Erbossyn Meldibekov, Nortse, Tenzing Rigdol, Tsherin Sherpa, Leang Seckon, Palden Weinreb.
Olafur Eliasson, Little sun @ Tate Modern
10. CULTURAL OLYMPIAD EVENTS: TATE MODERN
OLAFUR ELIASSON: LITTLE SUN
28 Jul 2012 – 23 Sep 2012

Tate Modern blacks out for Olafur Eliasson's little sun – a work of art that works in life.
Over the past two years, Olafur Eliasson, the Danish-Icelandic artist who created The weather project at Tate Modern in 2003, has been developing Little Sun, a global work of art that brings solar-powered light to off-grid areas of the world. This summer Eliasson is presenting Little Sun at Tate Modern as part of the London 2012 Festival, which runs across the UK until 23 September 2012.
Beginning 28 July, there will be Tate Blackouts on Saturday nights, after ordinary museum hours. For two hours, lights will go off in the former power station. Visitors can look at the works of art in the suite of galleries devoted to Tate Modern's Surrealist collection using only the light of Little Sun, a solar-powered lamp by Olafur Eliasson and the engineer Frederik Ottesen. This echoes the 1938 International Surrealist Exhibition at the Galérie des Beaux-Arts, Paris, where Man Ray (as 'Master of Light') supplied the visitors with torches to explore the labyrinthine galleries. Please Note: These events will be ticketed
Tino Sehgal with some of the participants in his latest work for the Tate Modern. Photograph: Johnny Green
THE UNILEVER SERIES : TINO SEHGAL
Jul 17 – Oct 28, 2012
Tate Modern, Turbine Hall. Free.
The Unilever Series: an annual art commission sponsored by Unilever.
Tino Sehgal presents the 13th commission in The Unilever Series for Tate Modern's Turbine Hall. Sehgal has risen to prominence for his innovative works which consist purely of live encounters between people. Avoiding the production of any objects, he has pioneered a radical and yet entirely viewer-oriented approach to making art. His works respond to and engage with the gallery visitor directly, creating social situations through the use of conversation, dance, sound and movement, as well as philosophical and economic debate.
For more information, please click here: http://www.tate.org.uk/visit/tate-modern
Selected by Chantelle May Purcell
Categories
Tags