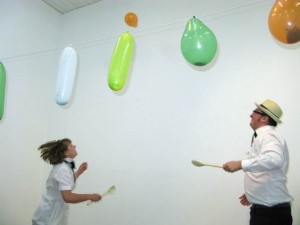 A sideways antidote to the Olympics…
For one night only a Pop Up event featuring artists films and live art related to London 2012. Plus expect to see puppeteers, art stalls, Olympic Games, workshops and more.
Expect to see video, performance and other displays of artistic endeavour both humorous and thought provoking. Watch Emily Richardson's Memo Mori with commentary and readings from Hackney, That Red Rose Empire by Iain Sinclair, listen to a reading given by Hilary Powell from her book The Art of Dissent: Adventures in London's Olympic State, or witness the infamous performance artist Lee Campbell presenting his latest Olympian offering.
Hoopla is a partnership between The Nunnery and Assemble. It is curated and organised by Tessa Garland with support from Rosamond Murdoch
Hoopla! is free and unticketed. The venue will open from 6pm – 2.30am.
A Nunnery Gallery Event Curated by Tessa Garland
Sugarhouse Studios, 107 High Street, Stratford, E15 2QQ
Artists include:
Lee Campbell ,James Alex ,Cinzia Cremona ,Chutney Preserve Collective,Sarah Sparkes,Linda Barck ,Nick Baxter,Sarah Doyle ,Rebecca Feiner, Kasahara ,Tim Flitcroft,Calum F. Kerr ,Joanna McCormick ,Olivia-Jane Ransley,Libby Shearon,Linda Persson Constantin Hartenstein ,Jane Cheadle ,Emily Richardson ,Philip Lee & Cally Trench,Jason Dee ,Bill Aitchinson,Daniel Hunt ,Heather Bandenburg,Rebecca Chitty,Ana Milovanovic ,Paul Kindersley,Johanna Hallsten ,Sergio Cruz ,Matthew Lee Knowles,Imogen O'Rorke,Tessa Garland,Ian Holloway,Ben Fox,Clare Chamley,Hilary Powell & Isaac Marrero ,Harry Meadows ,Susan Forsyth,Jon Purnell ,The Two Wrongies,Harry Meadows ,Richard DeDomenici,The Two Wrongies,Georgina McNamara .
Categories
Tags