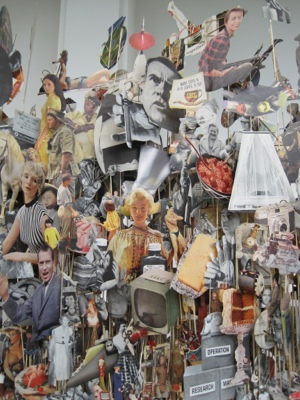 Geoffrey Farmer Leaves of Grass Neue Galerie (Detail)
"What? Those stones? Oh yeah, they're from the Joseph Beuys' project called 7,000 Oak Trees. Yeah. Such an amazing gift to our city. He planted the trees and put those stones beside each one, about 20, 30 years ago. You know, if you have to move a tree, for construction or something like that, you have to put up another tree with a stone beside it somewhere, you know, so the number always stays at 7,000."
This was my introduction to the power of Documenta – an art event held every five years in Kassel, a city located slap bang in the middle of Germany. Because these words weren't being sprouted by someone leading one of the numerous art tours arranged during the exhibition, they were coming from my taxi driver. And I wondered (Carrie Bradshaw style), how many taxi drivers around the world could speak so knowledgeably about an artist like Beuys?
It's hard to sum up this art behemoth in so few words because it's vaguely similar in scale to the Venice Biennale, in that there are art works dotted all around the city as well as in the eight or so main gallery spaces. Featuring over 150 artists from around 55 countries, this is a comprehensive and indeed academic look at the current state of art. While the gallery owners and collectors were naturally hovering around, there was a general feeling that this was art for art's sake, and not just another retail experience.
Of course, without a commercial focus, the event was free to showcase more "difficult" pieces – i.e. lots of video art, performance art, lectures as art and text. There was a lot of text. Which was kind of a treat, as it meant you were able to quickly brush up on an artist you may not have previously been familiar with. However it also meant you could easily spend an entire afternoon just reading about the works of a handful of artists.
It was impossible to cram everything in during my three days there, but I did manage to cover quite a lot of ground. Here are my recommendations for how to manage Documenta and some key artworks you definitely shouldn't miss.
My top 5 things to see at Documenta (13), in no particular order:
• Nedko Solakov – Knights (and other dreams) – Brüder Grimm Museum. This is hilarious – Solakov explores his fictitious dream of wanting to be a knight – and hides lots of witty comments among his exhibition (in a similar humour to David Shrigley)
• Tino Sehgal – Grand City Hotel Hessenland (but entrance via Hugenottenhaus). You walk into a pitch black room. You can hear singing and feel things moving around you. How big is the room? Are there other people in there with you? Can you make it out without wetting yourself?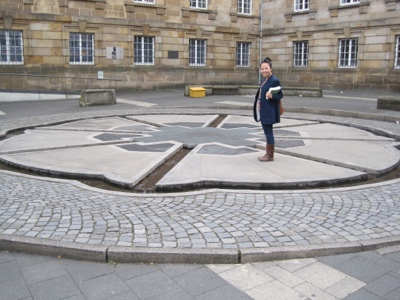 Horst Hoheisel Aschrott Fountain
• Horst Hoheisel – Aschrott Fountain – Obere Königstrasse. This art work wasn't made for this Documenta, but there are events taking place there during it. A great example of why you should explore an art work in depth. What looks like a boring grill on the street with water running around it transpires to be a fountain that has been built upside down so it goes into the ground. You can look down through the grills to see the structure. Incredible.
• Fiona Hall – Fall Pray – Karlsaue. One of the temporary huts in the massive Karlsaue park houses the work of Fiona Hall. She has made a number of animals in danger of extinction out of camouflage materials. The Japanese cat reminded me of Behemoth – the cat from Complicite Theatre's version of The Master and Margarita.
• Kader Attia – Repair of the Occident to Extra-Occidental Cultures – Fridericianum. This installation compares and contrasts facial disfigurements with decorative facial augmentation – for example a man with a damaged lip beside a man with a decorative lip plate.
Top Space: Neue Galerie. This venue had lots of interesting art works. I particularly liked the work by Geoffrey Farmer, Maria Martins, Susan Hiller, Zanele Muholi and Roman Ondák.
Top tips:
1. Get the free map with the participants as this lists all the works in the main venues and those in the satellite locations.
2. If you have an interest in art, then it's worth investing €24 in the official guidebook. This features a page of text (in German and English) and a full page photo for every artist in Documenta (13) and is a great source of background information on each artist.
3. Hire a bike. It's only 50c per half hour and it's a great way to view all the art works in Karlsaue, which has around 60 works of art dotted around it, as the park is slightly bigger than Hyde Park in London.
4. Take your time, go for a week! There's lots to see, and you'll appreciate it more if you're not rushing around.
Documenta (13) runs until 16 September.
@13_dOCUMENTA
Categories
Tags