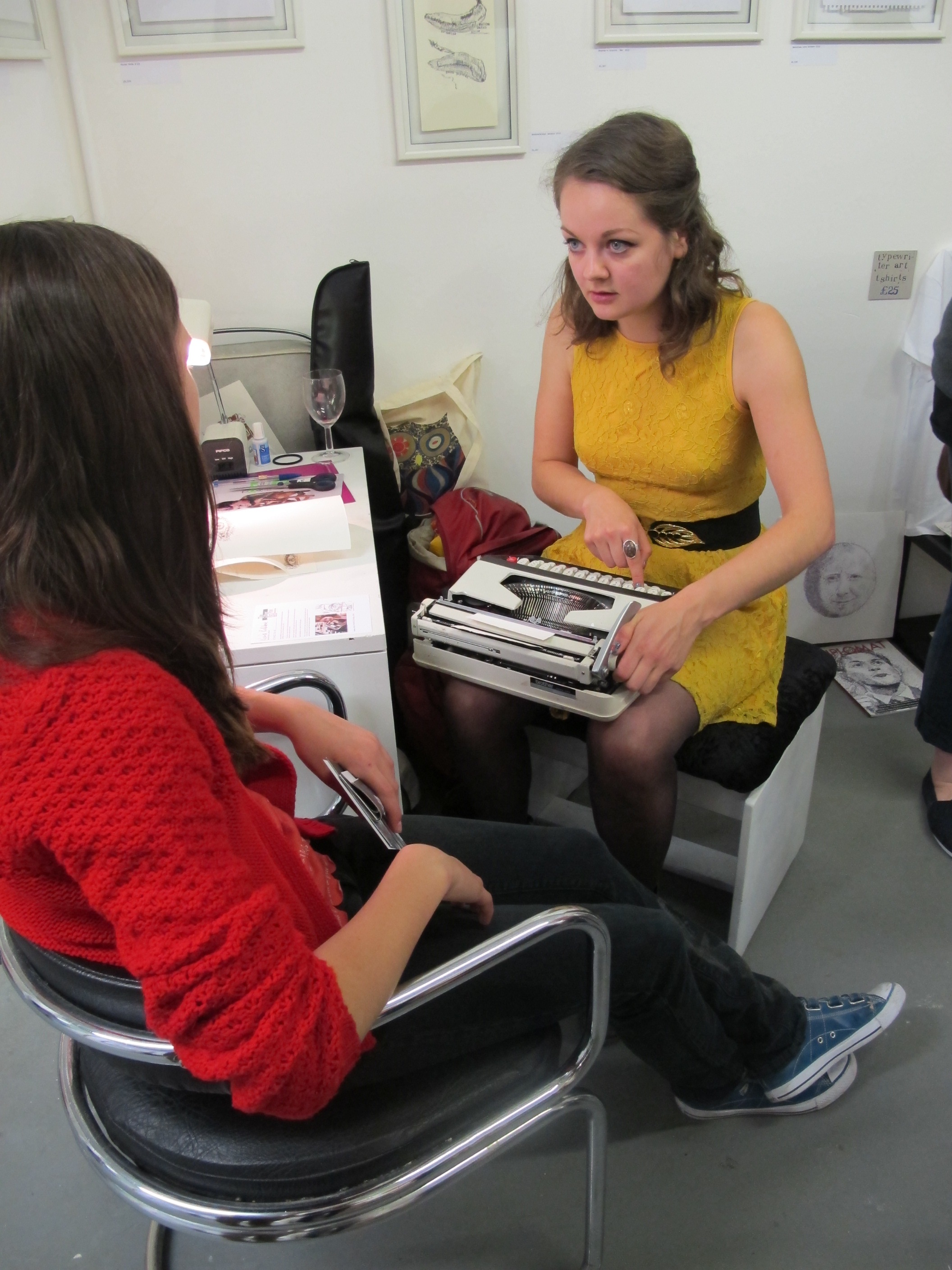 Keira Rathbone @ The Other Art Fair 2012
This is the first in a series of questionnaires that were taken during The Other Art Fair 2012 as part of FAD office's responsive staging of a live magazine.  Gain insight into the artists' experiences of The Other Art Fair and sample the diverse range of artworks this year's fair had to offer.
1. If you weren't an artist, what else would you be?
I have no any idea.
2. Why did you apply to the Other Art Fair?
It's a good opportunity to meet potential buyers directly.  And I can show my works to a broader art industry.
3. Is it your first time you have participated in the Other Art Fair? If not, what was your experience last year?
Yes.
4. What are your expectations of this year's fair?
I hope to sell my works, and make good contacts.
Keira Rathbone, International Bananas
5. Can you tell us more about the process behind your work? And what are the main ideas you would like to express?
The process of this work is to deconstruct language and rearrange it to communicate the way I express myself easier.  I think communication makes us realize how we overlook many things.
6. What defines something as a work of art?
I have thought about this recently.  Anything that has been rearranged and taken from ordinary life.
7. Anytime, anyplace – which artist's body would you most like to inhabit?
Well, I am quite happy with my own body.  I enjoy being who I am.
8. What is your favourite ism?
Eclecticism.  A bit of everything, mixture of all sorts.
9. What was the most intelligent (or dumbest) thing that someone said or wrote about your work?
Dumbest thing was one person's post on the web saying "Cute.  But what a waste of time."  Well, it is ok, if you think so!!  An intelligent thing was that yesterday one lady told me what she thought about my works.  She captured details and really understood my works with her imagination.  And I didn't want to tell her what I thought, because people think different things.
Keira Rathbone, Bradleys, 2012
10. How have you managed to sustain your practice? Are you represented by a gallery?
No I represent myself.  There are lots of opportunities that come my way.  Like typing people, as a performance, at festivals, capturing details, like a snapshot.
11. If MOMA or the Tate or the Pompidou wanted to acquire one of your works, which one would you want them to have?
A future work.  I would like go to different countries to perform and get different typewriters.  I had an opportunity to go to South Korea.  I did a live performance there and they gave me Korean typewriter.  Acquiring different alphabets with a typewriter is what I am interested in!  That was a very good experience!
Keira Rathbone, (with typewriters) photograph by Gareth Gardner

12. What's next for you?
I am invited to a few Summer music Festivals next year.  And I am looking for different alphabets in different countries.  I love the Arabic alphabet, and I am keen on exploring the UK!
Interview with Ja-Eun Kang 
For more information on the artist, please visit: http://www.keirarathbone.com/
For more information on FAD's involvement at The Other Art Fair 2012, please click here: http://fadoffice.com
Keep your eyes peeled for the imminent series of questionnaires that will be published on FAD.
Categories
Tags