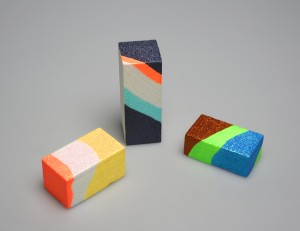 13th June – 8th July
studio1.1 is presenting Slovenian artist Gasper Jemec's first solo show in the UK. He will be transforming the gallery with an installation the final form of which will be determined on-site. With the gallery walls dematerialised, hung with flimsy netting into which small box-like sculptures of wood and styrofoam will be integrated, 'the sculptures will appear' as the artist says, 'as if they cannot live without nets, and vice versa'; the walls change from their usual existence as neutral background, into the atmosphere in which the artworks are given life. A visit to the gallery shifts its focus, becomes a predominately sensory (even a sensual) experience.
Gasper Jemec (born in Kranj, Slovenia in 1975) currently lives and works in Ljubljana. After undergraduate and graduate degrees in painting and media at the Academy of Fine Arts in Ljubljana, he added postgraduate work in painting at the Indiana University of Pennsylvania and in sculpture at the University of Applied Arts in Vienna. Jemec's work has been presented in a variety of international institutions and galleries including the Venice Biennale in 2003.
A brochure with the essay "Into the Web; Exploring Gasper Jemec's Life is My Best Frien" by Charles A. Riley II will accompany the exhibition.
Categories
Tags