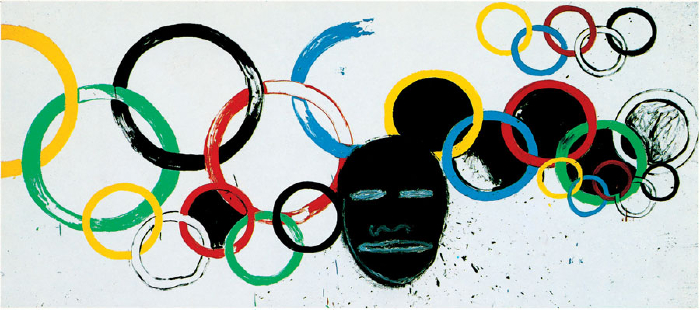 JEAN-MICHEL BASQUIAT & ANDY WARHOL Olympic Rings, 1985 Acrylic and silkscreen on canvas
81 1/8 x 183 1/2 inches (206 x 466 cm) © 2012 The Estate of Jean-Michel Basquiat/ADAGP, Paris/ARS, New York; © 2012 The Andy Warhol Foundation for the Visual Arts, Inc./ARS, New York
… (The Collaboration Paintings are) a physical conversation happening in paint instead of words. The sense of humor, the snide remarks, the profound realizations, the simple chit-chat all happened with paint and brushes…There was a sense that one was watching something being unveiled and discovered for the first time.
–Keith Haring
9th June-11th August 2012
To coincide with the 2012 Summer Olympic Games in London, Gagosian Gallery is to present Olympic Rings, a painting made by Andy Warhol and Jean-Michel Basquiat in 1985.
At the suggestion of Swiss dealer Bruno Bischofberger, Warhol and Basquiat worked on a series of collaborative paintings between 1983 and 1985. Basquiat had always idolized Warhol and, in turn, Warhol was invigorated by the younger artist's charismatic intelligence and vibrant energy. The paintings that resulted from their collaboration celebrated their respective aesthetic style and production processes while creating a fresh and unprecedented body of work. Olympic Rings was among the paintings they produced together, inspired by the 1984 Summer Olympic Games held in Los Angeles.
Warhol's contribution to the collaborations can be seen in his distinctive technique of hand-painting ready-made iconography, an early practice that he revived with Basquiat. In the case of Olympic Rings, he made several variations of the Olympic five-ring symbol, rendered in the original primary colors. Basquiat responded to the abstract, stylized logos with his oppositional graffiti style. Between clusters of Warhol's Olympic rings, he imposed a bold, dark, mask-like head, like a medallion in a link chain, undoubtedly an allusion to African-American star athletes of past Olympic Games, such as Jesse Owens, Carl Lewis, Tommie Smith, and John Carlos.
Categories
Tags