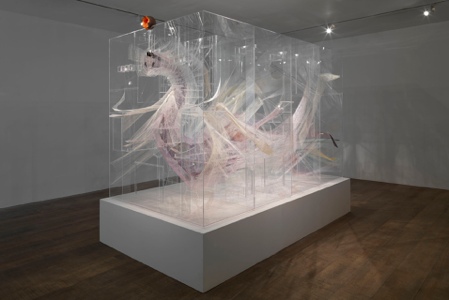 David Altmejd, Le ventre, 2012, Plexiglas, resin, thread, metal wire, acrylic paint, acrylic gel, epoxy clay, coconut shells, 244.5 x 168 x 291.5 cm, 96 1/4 x 66 1/8 x 114 3/4 ins, (MA-ALTMD-00083)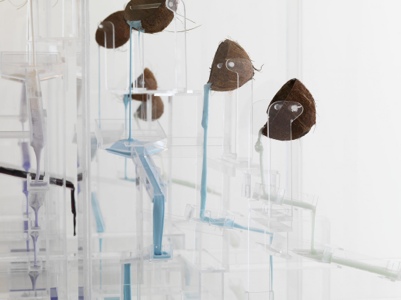 David Altmejd, La gorge (detail), 2012, Plexiglas, resin, coconut shells, chain, thread, acrylic paint, metal wire, 231 x 177 x 457.2 cm, 91 x 69 3/4 x 180 ins, (MA-ALTMD-00084)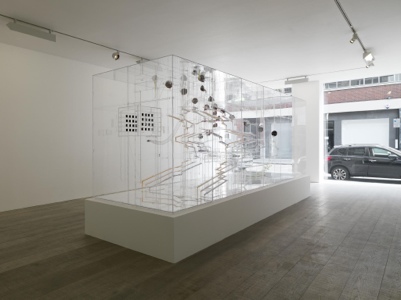 David Altmejd, La gorge, 2012, Plexiglas, resin, coconut shells, chain, thread, acrylic paint, metal wire, 231 x 177 x 457.2 cm, 91 x 69 3/4 x 180 ins, (MA-ALTMD-00084)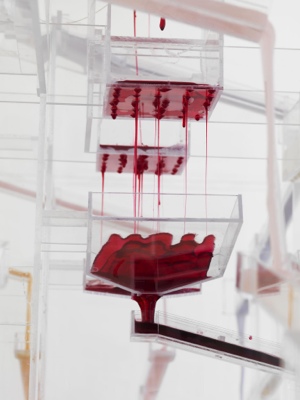 David Altmejd, La gorge (detail), 2012, Plexiglas, resin, coconut shells, chain, thread, acrylic paint, metal wire, 231 x 177 x 457.2 cm, 91 x 69 3/4 x 180 ins, (MA-ALTMD-00084)    
26th May – 23rd June 2012
Stuart Shave/Modern Art announced a solo exhibition of new sculpture by David Altmejd. This is the artist's third solo show with Modern Art.
David Altmejd's work iterates fantastical ideas of spirited bodies. He taps into languages abstracted from architecture, ornament, and naturalistic figuration in the making of sculptures which are, for the artist, whole worlds in which he can lose himself in imaginative fantasises of making and open-ended storytelling. For this exhibition at Modern Art, Altmejd presents three large sculptures, each solely occupying a room within the gallery. The boxed and vitrine-like clear Perspex structures of these sculptures provide support for complex arrangements of symbolic objects and suggestive forms: arrested flows of liquid, coconut shells, silver chains and coloured threads. Creatures of myth and fantasy inhabit the world of Altmejd's entire oeuvre, and in his new sculptures these bodies have been entirely abstracted into a representation of biological systems, energy-flows and spirits that inhabit architectural dioramas. Altmejd's approach to making is intuitive and inquisitive, an application of active sculpting in form and narrative that almost pretends to an idea of creation and intelligent design.
Categories
Tags