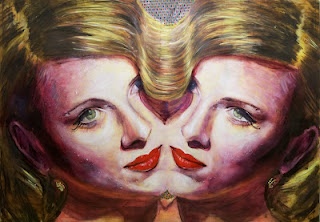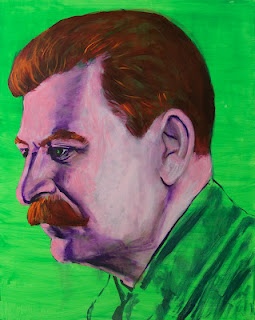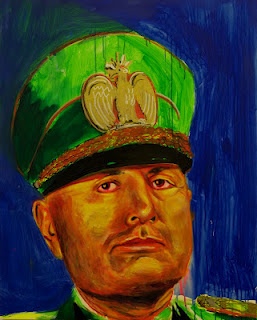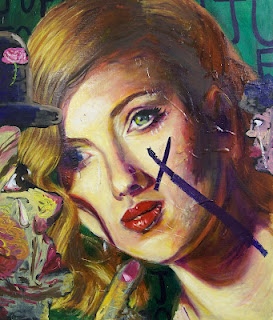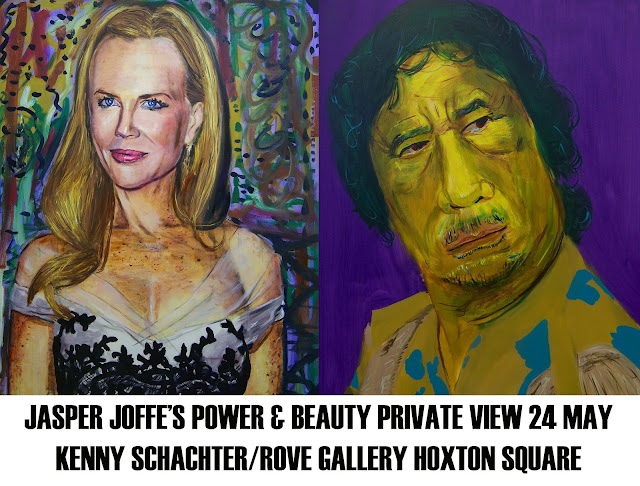 Kenny Schachter / ROVE Gallery presents "Power & Beauty" a major exhibition of large?scale new paintings of actresses, dictators, and leaders by Jasper Joffe. Power and beauty are contrasted in over 30 paintings made over the last two years in what is Joffe's largest ever London show.
Look into the eyes of 19 leaders of the 20th and 21st Century including Gaddafi, Thatcher, Stalin and Reagan. See Hitler in colour next to Saddam Hussein in mauve.
Actresses are represented by Scarlett Johansson, Nicole Kidman, Kristen Stewart, and Zhang Ziyi. Beautiful women who are photographed and gazed at incessantly are painted against abstract backgrounds, which compete to attract us.
Also shown is the artist, brush and palette in hand, 10 feet high, caught in the mirror wearing only his pants from Peacocks.
About Jasper Joffe
Joffe, born 1975, studied at The Royal College where he was taught by Peter Doig and Rose Finn?Kelcey. He has a reputation for his alternative art performances, extravagant initiatives and controversial paintings. Jasper Joffe came to media attention with his performance at the Chisenhale gallery '24 paintings in 24 hours' in 1999, in which he questioned the relation between time and artistic integrity. He founded the wildly popular Free Art Fair in 2007, which took place during Frieze Week and sensationally sold a candy?coloured portrait of the Nazi Heinrich Himmler to Charles Saatchi in 2008. In 2009 he sold all his possessions at the Idea Generation Gallery in London. And in 2010 he exhibited 21 Great British Jews of the 21st Century in a synagogue in Kaunas Lithuania.
His most recent work has included collaborations with artist Harry Pye such at The Tate Modern in a dry cleaner, their own handmade 99p shop, and 'Joffe et Pye', Ekow Eshun on Radio 4 said of the show: 'Intense feelings about love, loneliness and fear, anxiety desire and hope and ambition all come into play into these paintings. Very powerful I thought. What could have been fey, arch or game playing was actually very warm."
"There's no artist on earth other than Jasper Joffe who would have painted Himmler this way, using these brush strokes and candy colours". Charles Saatchi, Sunday Times 2008
www.jasperjoffe.com
About Kenny Schachter / ROVE
In 2001 Kenny Schachter conTEMPorary opened on Charles Lane, New York in a space designed by the Vito Acconci Studio and inspired by Frederick Keisler's 'Art of this Century Gallery', hosting shows from the likes of Mary Heilmann, Dennis Oppenheim, Kenny Scharf, and Acconci himself. In October 2004 Kenny Schachter ROVE opened in London with an inaugural group show announced by Richard Woods' temporary 'Country Style' facade for the building. Committed to showcasing work that extends the traditional boundaries of the visual arts and bridges the historical divisions between art, architecture and design, ROVE presents exhibitions that draw on an international selection of designers and artists including Brendan Cass, Arik Levy, Zaha Hadid, Graham Gillmore, Vito Acconci, and William Pope.L.
www.rovetv.net
Categories
Tags