Art HK opened yesterday in the dazzling white Hong Kong Convention and Exhibition Centre. The fair was spread across two halls in the centre – one on the first floor and one on the third floor. And although the third floor held galleries of equal stature to the first floor, there was a sense in the air that the first floor was going to command better foot traffic. But it was hard to tell and no one was admitting to any consternation about their placement.
While the fair didn't have the showiness of its counterpart in Miami, there was still a lot of focus on the issue of money, whether intentional or accidental. One gallery laid out its booth with the names of the artists painted in large letters over their work, which almost seemed to position the pieces as branded goods instead of art works.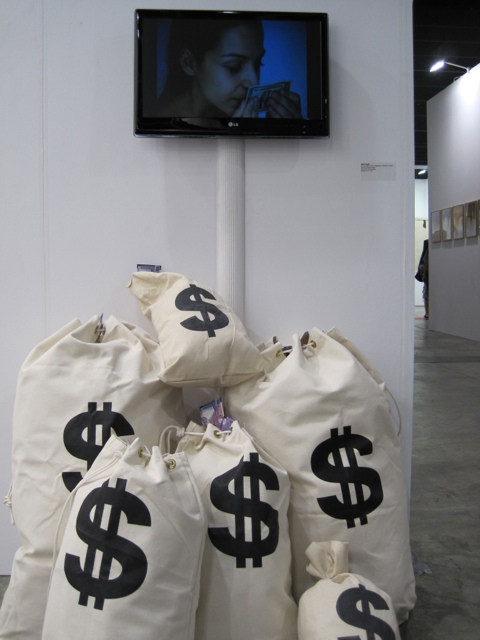 Ana Prvacki, titled At the Tips of your Fingertips (Towards a Clean Money Culture)
Lombard Freid Gallery has a witty video piece (with an installation of money bags with HK$10 notes bulging out of them) by Ana Prvacki, titled At the Tips of your Fingertips (Towards a Clean Money Culture). The instructional DVD shows the viewer the best way to "launder" money in order to prevent the spread of deadly diseases on dirty notes.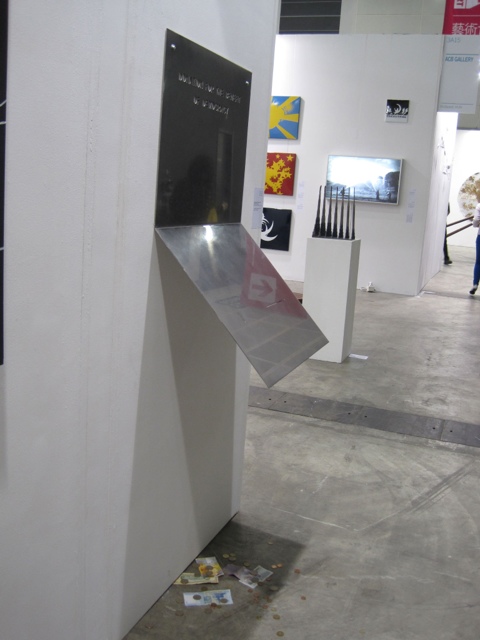 Horváth Tibor Donation for the Benefit of Democracy
Over at ACB Gallery, Horváth Tibor also created a work featuring real cash. Donation for the Benefit of Democracy is a metal sculpture with slots to insert coins or notes. However, there is no container underneath the top panel and the money lies scattered on the floor below. The piece is described as "a bottom-less money box for the benefit of democracy" – we shall have to see if the pile of money grows in the coming days.
Pace Gallery artist Yin Xiuzhen is exhibiting as part of the Art HK Projects. Black Hole is a massive sculpture constructed from used shipping containers, but will be of interest to women around the world. The containers have been reconstructed into the shape of a "signature round cut diamond", and a colour-changing light radiates through the gaps of the metal, reminiscent of the light refracting from a multi-faceted diamond.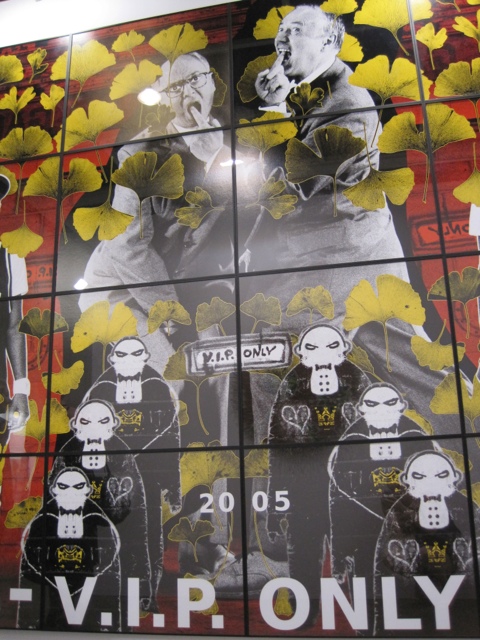 Gilbert & George
And lastly, an art-work which many Hong Kongers will be able to empathise with. ARNDT Gallery has one of Gilbert and George's works hanging on the exterior of their booth to remind visitors that there is always somewhere that will be VIP Only…
Categories
Tags