SUNDAY 13TH MAY
Please note: Douglas Park and Silvia Ziranek will perform upstairs near the main entrance. And the rest of the programme will continue within FAD office headquarters. Tomorrow we will be celebrating with a FAD office closing party.
Victory Press will be printing of invites to the FAD office party throughout the day, you are also welcome to come and use an original Gestetner machine (used in 1970's) to print your own invites. So be sure to get to your invite. We will end the programme with with the brilliant Ladies of the press.
DOUGLAS PARK 12.30pm
| | |
| --- | --- |
| | Click this bar to view the full image. |
Douglas Park reading at ISONERV 2003
Douglas Park is a U.K based and internationally active visual artist, author of literary prose and critical essays, also exhibition curator, as well all practices combined.
Much of Park's practice and output consists of written art and literary prose, whether within his own work, collaborations with others, project input and sometimes en lieu of critical essays.  Often, Park generates architecture, landscape, weather and processes, delivered with imagery and lingual phrasing, presence and overall experience thats at once some familiar but strange, hybrid cross-between nature and artifice, deliberately given unclear attribution and moral ambiguity.  Some of these "stories" are born out of reaction to site-visits, research and insight, which Park follows up, develops and perfects.
http://www.myspace.com/douglas_parkhttps://www.facebook.com/douglasrpark
SILVIA ZIRANEK – 1.30pm
| | |
| --- | --- |
| | Click this bar to view the full image. |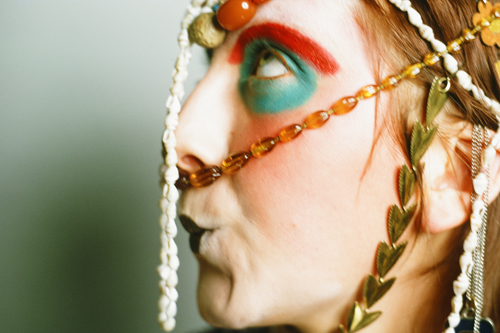 © Silvia Ziranek
will be performing 'SOVIET SENSATION 1977'
THE EPITOME OF CERTAIN LIVES, THEY GLORIFY FEW, WHILST ENRICHING MANY. FEW ARE ENTIRELY WITHOUT THEM, FEWER STILL HAVE REACHED ANY DEGREE OF EXCELLENCE WITH THEM, RARE CHARACTERS HAVE BEEN KNOWN TO REVEL IN THEM. THOSE ELUSIVE YET SUPREMELY FINE ACCOMPLISHMENTS, THEY CALL THEM . . . FEET.
© SCZ
(SOVIET SENSATION, originally performed at Goldsmiths in 1976 and Acme Gallery, Covent Garden in 1977 London).
Silvia is a performance artist, sculptor, photographer and writer. She studied Russian and Arabic at Leeds University (1970-72)and fine art at Goldsmith's College, London (1973-6), where the progressive approach to contemporary art led her to design her own course of study, which focused on all aspects of performance art. Influences upon her work include Yves Klein and Bruce McLean. Her ability to deflate the pretentious and absurd in daily life was demonstrated in unrehearsed, highly skilled displays of intuitive stagecraft.
These are extended monologues that engage the audience with a mesmerising mixture of mimicry, metaphors, verbal and visual cliches and that explore the conventions of suburban existence and the domestic role of women (e.g. Rubbergloverama-Drama; 1980, London, ICA). Although known primarily as a performance artist, she has also made sculptural works and 'costume constructions' initially created in connection with a performance, but which later existed as autonomous objects. Ziranek also took photographs, wrote (e.g. The Very Food Book, 1987-8), gave lavish banquets as works in themselves and made videos.
Silvia Ziranek's live work delves into a wide range of topics and approaches, including fashion, feminism, architecture, geography, gender and almost everything and anything else. Through improvisational movement, sculptural installation, props and costumes, Ziranek intimately explores her own experiences and emotions. Her art seeks the patterns of behaviour, speech and dress beneath the superficial.
Sponsored by www.oasishairlondon.co.uk and  www.abetterbadge.com
KAY ROBERTS – 2.30pm
| | |
| --- | --- |
| | Click this bar to view the full image. |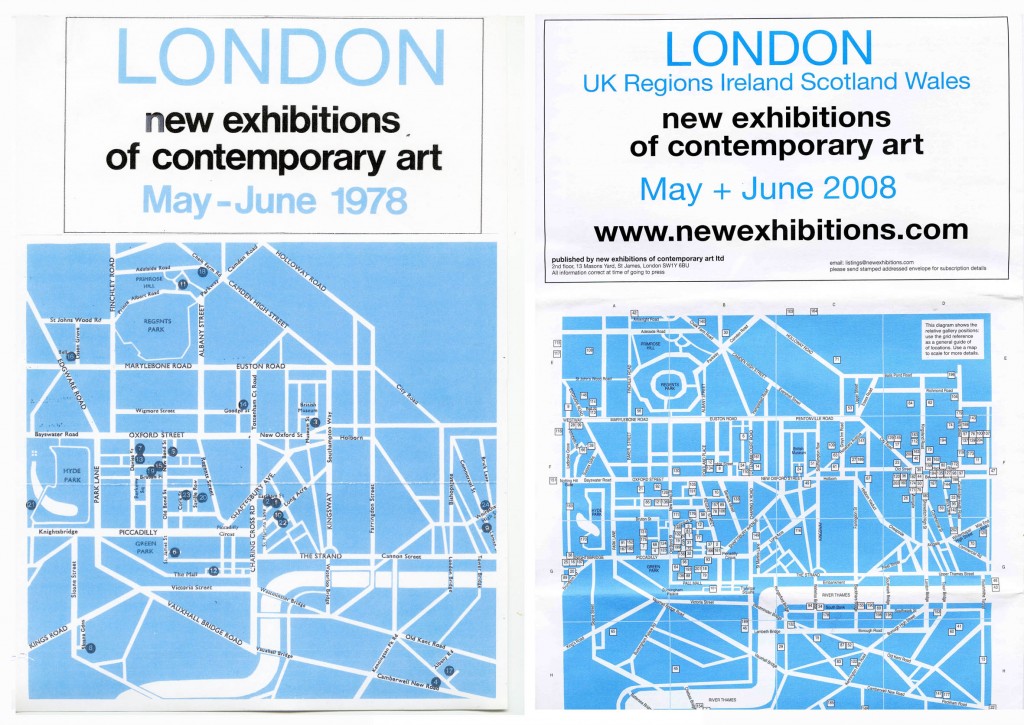 Kay Roberts, copies of NECA 1978 – 2008
Book launch – Kay Roberts will be discussing the research behind the forthcoming book that delves into the gallery scene in London from 1977 – 2008 using neca as an archive.
0 to 250 in 30 years
Kay Roberts is back in London after 10 years in Paris, where she reviewed art shows for Vingt.Paris & site specific work for Art&ArchitectureJournal. In the 70's she was part of Coracle & in 1978 began publishing new exhibitions of contemporary art listings, eventually developing the web site before leaving for France in 2003. She has an MA in Interactive Multimedia RCA/LCC & did a Churchill Travel Fellowship in the U.S.A., looking at gallery archival systems. In between studies she ran Actualites, a project based in Docklands, curated shows in London & Italy, worked for Art in America & Journal of Art N.Y. and has continued making her own photographic work. She is currently writing a 30 year history of the London gallery scene using her archive.
LADIES OF THE PRESS -1-6pm
| | |
| --- | --- |
| | Click this bar to view the full image. |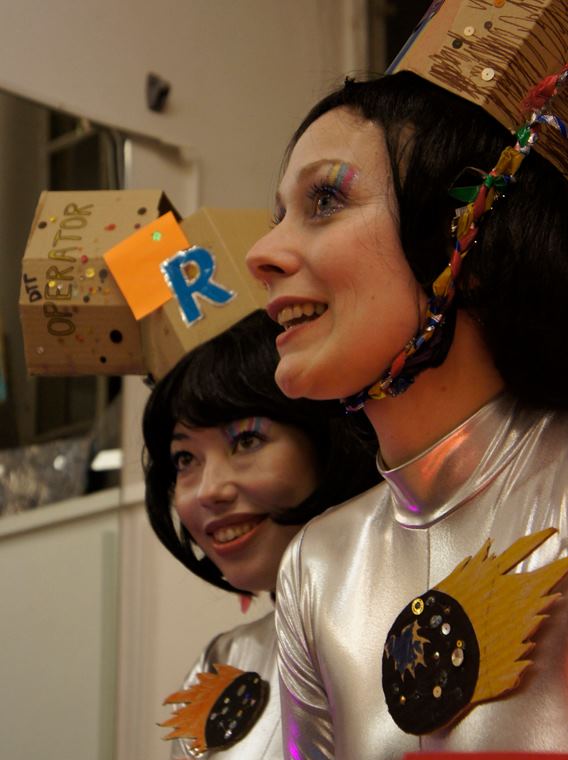 Ladies of the Press at Sluice 2011
The performative duo Ana ?avi? and Renée O'Drobinak will be the closing FAD office with their signature LIVE PRESS performance. LIVE PRESS! is a performance of impromptu gazette-making.
The Ladies of the Press* will be celebrating publishing wares in a 70s disco inspired scenario: picture two secretaries at a themed office 'do', running wild with the office stationary, distributing all the bits of drawings and poetry they have been amassing from their colleagues all week. Ladies of the Press will be encouraging the public audience to send in post-its, emails, and even text messages sneaked in while the boss is not looking from a few days prior to the performance and of course on the day, all of which will be printed off at the in situ at FAD OFFICE and ready to take away at the end of Sunday. Lights off, disco ball on.
The Ladies of the Press* would like to invite you to take a second during your working day to send in your daydreams, poetry, doodles and more to be published in a zine edited and printed live during FAD's finissage at the Other Art Fair! Email us at office@ladiesofthepress.org (when your boss is not looking, of course) so we can let your daytime ideas run loose!
What better way to celebrate the end of the fair! See you at the DIY disco Sunday, be there or be square!
http://www.ladiesofthepress.org/
Follows with FAD office – CLOSING PARTY bring a name badge and join the party!
For more information: Please visit |  https://fadmagazine.com/ For more information: visit FAD office's temporary site: http://fadoffice.com/  for press enquiries e: chantelle@fademail.co.uk
Categories
Tags