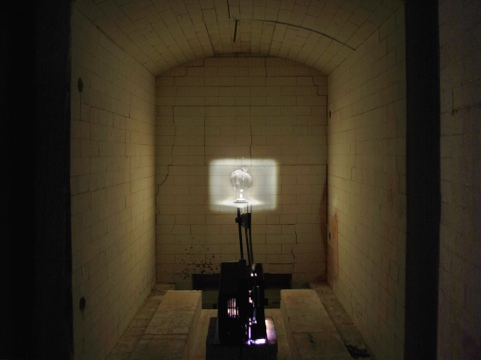 1.If you weren't an artist, what else would you be?
As long as I could always be creative I would be happy. I could never stop myself developing new ideas in my head so my artworks would exist in my imagination, and I'd always be looking for a way to let them out.
2. Can you tell us more about your work and what are the main ideas you
would like to express?
I create minimal sculptures and installations which reflect space and time, with the aim to emphasise the physical, sensory and temporal experience of the work. Using various recording and presentation technologies such as film and projection, I explore ways of capturing and depicting the minimal and ephemeral elements which make up an experience. The viewer is a central element, and by mirroring their physicality through images, sounds and shadows, I bring into question their role as spectator, subject or performer.
3. How do you start the process of making work?
I am always developing new ideas, with current projects invoking new ideas for future projects, so I would describe my process of creating works as continuous and ongoing. However some of my works do develop as a response to the space where they are to ultimately be experienced.
4. Do you consider the viewer, when making your work?
Yes the viewer is a key to my work, and I constantly consider their experience when developing a piece. I aim with my work, to heighten the viewer's perceptive senses and make them more aware of their physicality, their experience, and their relationship with the work, evoking questions around their role as spectator, subject or performer.
5. Name 3 artists that have inspired your work?
The work of Dan Graham's is a big inspiration on my work. I also love the work of Richard Wilson and his interventions with space. Steven Pippin has been an inspiration on my more recent work using photography and film.
6. Name 3 of your least favourite artists.
I couldn't say, there are lots of artists who make very different art to my own, for very different reasons, but I couldn't call them my least favourite artists. I would say I have more of an appreciation for art which is more similar to my own.
7. What defines something as a work of art?
To me something is a work of art if it exists in order to make it's viewer think. I know that can be applied to almost anything, but that just shows how open we are to new ideas in art and I think that's great. To me it is more important that art inspires thought than has something to say.
8. In times of austerity, do you think art has a moral obligation to respond topically?I don't think that art has any obligation to respond topically, but it may do so indirectly just by being made and shown at this time. Any art which has a direct topical response to our current times of austerity may be particularly interesting to some viewers, but so might something quite the opposite which may offer an escape from reality, or a chance to think about different elements of our lives.
9. Anytime, any place – which artist's body would you most like to inhabit?
I would like to inhabit the body of Marina Abramovic when performing the piece Imponderabilia in 1977, where she stood naked in a doorway with the artist Ulay, and people had to pass awkwardly between them to enter. I would have like to experience this awkwardness in the viewer first hand, however I would be too frightened to inhabit her body for some of her more dangerous performances.
10. Do you care what your art costs? State your reasons!
Yes, I feel the cost of my art should cover the cost of it's production, as well as cover the sale of the original idea. A lot of my work is site specific, so the cost would be based on the specific commission. I do feel close attachments with my works, so would rather sell to the right buyer for the right price.
11. If Moma and the Tate and the Pompidou wanted to acquire one of your works each, which would you want them to have?
I would want to develop new works for each. All three have such fantastic buildings with such unusual exhibition spaces I feel they would provide great inspiration for new site-specific works.
12. What's next for you?
I am working towards a group show in the summer; details are yet to be confirmed. I am also in the early stages of organising a show with a group of fellow artists, so always looking out for exciting and unusual possible exhibition spaces.
For more details : www.poppybisdee.com
See The Catlin Prize Shortlist now at Londonnewcastle.
Categories
Tags