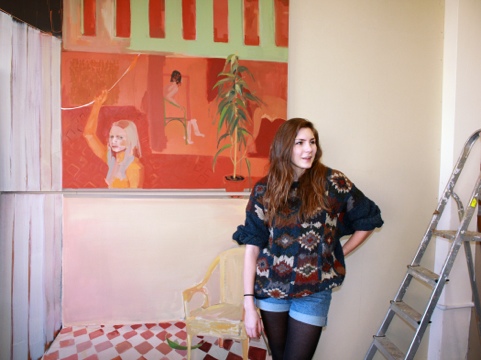 1. If you weren't an artist what else would you be?
When I was at school I thought I wanted to be a surgeon. I think it's a good thing for everyone that I didn't take that route.
2. Can you tell us more about your work and what are the main ideas you would like to express?
I make paintings exploring the containment of people. Placing figures in domestic interiors, I play with the boundaries of literal and psychological space. I take inspiration from how we as humans are affected by the spaces we inhabit.
Personal experiences of flat shares (and one room share) feed directly into my work.
3. How do you start this process of making work?
My current practice often begins by building theatrical installations – placing furniture and figures in unexpected conjunctions. I then use studies and photomontages of these staged interiors as a starting point for a painting.
Through drawing these spaces I record my initial response to the environment and my challenge is to translate this into paint. It is the combination of my drawings and installations that sparks each new stage in my practice.
4. Do you consider the viewer when you're making work?
Yes, I am very interested in the viewer's relationship to the characters in my paintings in particular. But sometimes it can be distracting and counter-productive to over-think a viewer's reaction to a painting that you are in the middle of making – so sometimes it is more helpful to ignore it.
5. Name 3 artists that have inspired your work.
Three painters; Henri Matisse, Carlo Criveli, Amelia Barratt
6. Name your 3 least favourite artists.
I don't think 'least favourites' is a very helpful list to have, but Vetriano would probably make the cut.
7. What defines something as a work of art?
I guess when somebody places it in the context of their artistic practice.
8. In times of austerity do you think art has a moral obligation to respond topically?No, art shouldn't be restricted to that.
9. Anytime any place – which artist's body would you most like to inhabit?
Carlo Crivelli – I've always been fascinated by his practice and technique. And I'd love to be a man for a day.
10. What's your favourite 'ism?
Surrealism. Not necessarily aesthetically, but the ideas behind it. My interest in the containment of people is stimulated by the Surrealist attempt to blur the divisions between our inner and outer worlds.
11. What's the most intelligent things someone's said about your work?
My friend once told me to leave a painting for a day. After that I realised it was finished and I think it's one of my most successful paintings.
12. And the dumbest?
A lot of harsh criticism that I've initially regarded as dumb has turned out to be pretty helpful.
13. Which artist would you most like to rip off, sorry I mean appropriate as a critique of originality and authorship?
No one.
14. Do you care what your art costs? Why?
Being a freelance artist, I have to care what my work costs. But the cost of an artwork is so far removed from anything to do with the process of making it; so putting a specific price on a painting always feels a bit perverse.
15. If Moma and the Tate and the Pompidou wanted to acquire one of your works each, which would you want them to have?
I would give the Moma 'Pink Man' 2012 , The Tate 'Hoop' 2012 and the Pompidou 'Orange Room' 2011.
16. What's next for you?
My next group show is the The Catlin Prize in May. Then 'The Yellow Wallpaper' which focuses on a Charlotte Gilman's story at the Cob Gallery in June, and in September I will have two paintings at the Beijing International Art Biennale.
See The Catlin Prize Shortlist now at Londonnewcastle.
Categories
Tags