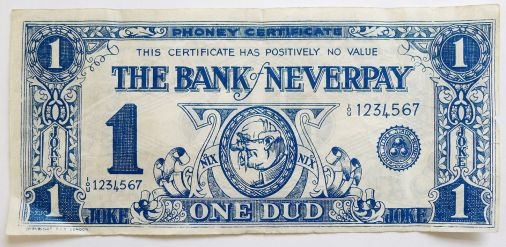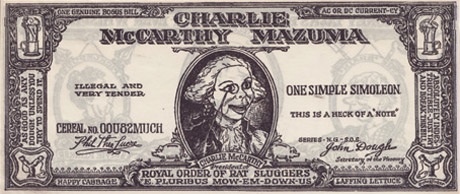 28th April – 13th May
A selection from artist Jonathan Allen's archive of magician's money will be presented in the reading room, amongst the archive of artists published material.
This esoteric genre of printed publicity-ephemera thrived as magicians sought out new ways to attract and maintain audiences during theatrical magic's 'golden era' (1890s – 1930s). An early example, a fifty-pound note printed in1855 by magician Signor Alfred Bosco proclaims "Bank of the Great Wizard of the World … Temple of Natural Magic and Ventriloquism." His efforts did little to improve his fortunes, as he was still to die in poverty.
Most of these fictitious banknotes appropriate the ornamental elements of existing currency – the America dollar bill being the most common contemporary template – with hand-drawn and collaged elements vying with photographic portraits of performers and a parodic re-invention of the language of finance and capital: 'The United Snakes of America', 'The Ancient Order of Illusion', a 'Worthless Series', the 'Bank of Neverpay: One Dud', and 'Just a Phoney Certificate'.
Still in use today, magic bank-notes sometimes feature as props within magicians' acts, or 'perform' in their own right whereby selective folding or viewing reveal optical illusions and other perceptual conceits. Their main function, however, is the inflation of the reputation of the magician through the dissemination of theatrical counterfeit.
Jonathan Allen will introduce the collection on the opening night: 28th April. He is an associate curator of The Magic Circle Museum. Via: ArtRabbit
http://www.bannerrepeater.org
Categories
Tags