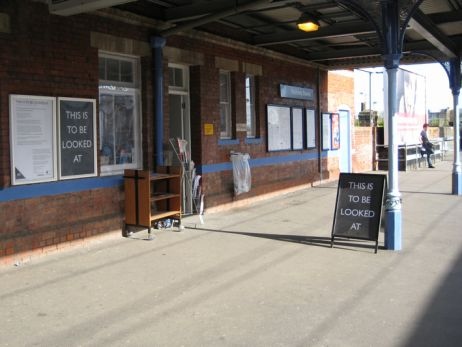 Banner Repeater is launching a new Membership Scheme with a special Art Lottery fundraiser event on Friday 22 March, featuring spectacular works donated by BANK, Simon Bedwell, Patrick Coyle, Benedict Drew, Plastique Fantastique, Elizabeth Price, Clunie Reid, and? John Russell.
The launch of the Membership scheme and art lottery is part of a wider bid to secure future arts programme funding. Banner Repeater calls on the support of artists, arts professionals, art lovers and daily commuters alike to actively take part in this new Membership Scheme & Art Lottery Bonanza, which will help substantiate their fundraising activities further.
Banner Repeater, founded in 2009, supports an experimental take on Art in the highly visible, challenging environment that Hackney Downs train station provides. Commissioning new works from both emerging artists, as well as more established artists, accompanied by talks, seminars, hosting book clubs, and an Artists' Book Archive, Banner Repeater is committed to providing a lively forum for exchange and debate.
Elizabeth Price, Turner Prize winner 2012 added:
"Artist-led spaces play an essential role in the vitality and economy of the artworld offering alternative opportunities for emerging and established artists to make work that might struggle to appear elsewhere. It's vital that as many people as possible support this generous membership and lottery fund-raiser."
Membership Scheme & Art Lottery Fundraiser – Launch Event – Friday 22nd March, 6-10pm
Come along to the special launch event to find out more about the new membership, and enter the Art Lottery Bonanza. Donations include artworks by Elizabeth Price winner of the 2012 Turner Prize, Benedict Drew nominee for the Jarman Award 2012, and Clunie Reid, who took part in the Art Now at Tate Britain series of exhibitions – many of whom have featured or are associated with Banner Repeater's programme.
The Associate Membership Peer Programme (AMPP), is a new membership scheme for artists, writers, thinkers and enthusiasts with various benefits and opportunities, including Peer Programme meetings, free submission to the Banner Repeater Annual Open Exhibition
and discount in the bookshop and print portfolio.
Art Lottery tickets are £5 each, and 7 free tickets with every £25 membership purchased, plus better prices the more tickets purchased, such as 15 for £50, or 33 for £100. There is also the opportunity to show substantial ongoing support by becoming a founding benefactor, see website for further details.
Banner Repeater can also announce that the Art Lottery-ticket drawer for the evening will be Elizabeth Price. Plus there will also be a special performance from Patrick Coyle, and a a film screening of new work from Benedict Drew.
Membership and Art Lottery tickets can be purchased online through the Banner Repeater website: www.bannerrepeater.org/support
About Banner Repeater
– Banner Repeater is a not-for-profit organisation and has been supported by ESF Hackney Council, as well as Arts Council England, Elephant Trust, Chelsea Arts Club Trust (2011/12 Artist-led space award), and Dr. Rossana Pittelli (specialist in Fine Art) the Italian Cultural Institute.
– Banner Repeater is a reading room and project space. The reading room holds an archive dedicated to Artists' Books and is home to Publish and be Damned's public library. The bookshop holds a selection of artists' publications for sale. The project space has an ambitious exhibition programme of new artwork installed in a highly visible and accessible location and a vigorous programme of talks, events and performance.
– The project is driven by its location, dedicated to developing critical art in the natural interstice the platform and incidental footfall of over 4,000 passengers a day provides. This is achieved by rush-hour opening times that attract commuters, and an open door policy maintained 6 days a week.
Banner Repeater Platform 1 Hackney Downs Railway Station Dalston Lane E8 1LA
www.bannerrepeater.org
Categories
Tags