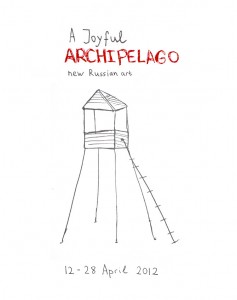 April 12th -28th April 2012 Private view: 12th April 6-9pm
The latest political developments in Russia and the long-anticipated social upheaval have already inspired quite a few art projects in Russia and abroad, including a production in Shepherds Bush Theatre called "Revolution Square" (March 2012). Like a hundred years ago, when the 1917 Revolution inspired constructivist and avant-garde artists, today's politics are a catalyst for art once again. With some analysts predicting dramatic change on the political scene in autumn 2012 (autumn is usually a time of upheaval in Russia – the Great October Revolution to name but one), the coming months will bring not only news about protests and elections, but also some fascinating art projects. Political satire in Russia is now buoyant, it hasn't been this vibrant for a long time, with the poetic satire project "Citizen-Poet" coming to London to Queen Elizabeth II Conference Centre, Banksy paying to bail out "Voina" members from prison in Saint-Petersburg, a militant group of art activists imprisoned for anti-authoritarian vandalism. The most recent developments include the emergence of female art group "Pussy Riot", who burst into Moscow's main cathedral where they performed a provocative political song at the altar wearing balaclavas. Now two of the girls are imprisoned.
So women and the revolution becomes the formula of an exhibition to be held in Yinka Shonibare's Guest Space in Bethnal Green – ten female artists from Russia will show their highly politicized work, which is now back in trend. Art and politics is not a recipe that works all the time, but Russia has already once been a cradle of revolution and inspired generations of modernist artists in Europe, so maybe this time we will see something interesting!
The exhibition is called "A Joyful Archipelago", which I think is a great name, and it can refer to the Gulag Archipelago, the famous book by dissident writer Alexander Solzhenytsin about the concentration camps in Soviet Union. The curator of the show, Olga Grotova, however links this name to the archipelago of closed cities which were built by the Soviets to produce secret weapons, some of them still remain closed nowadays. Obviously, closed cities are not the subject of the show, I understand it as an allegorical reference to the biggest fear of the Russian intelligentsia nowadays. The fear that nothing will change, that Putin will be there forever and the only option people will have is to opt for a state of mind that we call "internal immigration" – when you still live in the country but try to think as though you do not. This could well be the internal immigration to the archipelago of the closed cities.
But hopefully change will come to the political arena, and the fear of political stagnation will be eradicated, so this exhibition and its accompanying catalogue will become a great historical document on the current state of affairs. I am especially looking forward to see the work of participant Taus Machacheva, a young video artist whose very perceptive films usually show a deep understanding of the current mood in the country.
Roman Khripko
Yinka Shonibare's Guest Projects 1 Andrews Road E8 4QL
www.joyfularchipelago.com
Categories
Tags