To celebrate being 1 year old EB&Flow will be holding a curated after party & 1st Birthday Celebrations at Blackall Studios straight after: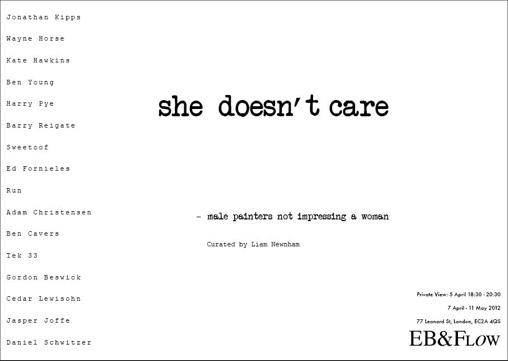 The Private view of She Doesn't Care – Male painters not impressing a woman A group Show curated by Liam Newnham.
'She Doesn't Care' brings together work by men, focusing on current trends of mark making and production, across style and medium, which encode a masculinity less concerned with brash, aggressive dynamism than with a gentler, more vulnerable movement.
Intrigued with the loss of the archetypal modalities of the late and post modern male artist figure, so opening an examination of current expressions of masculinity as evidenced through art making.
There is a delicately balanced dichotomy involved in the showing of one's work; a subtle point of bravado and vulnerability on the part of the artist that can somehow lend the work itself an unusual aura of importance – the delicate importance of personal truth, vulnerable to the gaze of the other.
Here, these brave few willingly offer their efforts to an indifferent audience. These makers make, perhaps not to impress, but, rather, to share enjoyment of their medium, through which they are empowered to know and thus share themselves.
Recognising failure as inherent and accepting its gift, the work carries on regardless of her criticisms. Who is she? To these artists, all male, she is as much imagined other as she is Mother, Lover, Another. 'She' the projected destination for communiqué.
The work, diverse in form, strikes a conversation amongst men, men at work having a mother's meeting. And what is said? There is certainly no unifying voice, the many interests and perspectives are each unique, if not quite at odds. What commonality can be found here? What is it that allows this work to co-inhabit this space?
In examining the apparent masculinity in current art production we must look to the evidence of the mark itself. As installation, object, video, text or paint on or off canvas, here we consider mark making as the effort of the Uartist in space and time – the physical trace of mental effort, the putting-out-there of an internal process. Result determined by intention such marks may well be first pushed through the fabric of reality with one's mind. The brush unnecessary.
Artists included in group show:
Wayne Horse, Run, Sweetoof, Edward Fornieles, Tek 33, Ben Cavers, Barry Reigate, Jasper Joffe, Harry Pye, Cedar Lewisohn, Kate Hawkins, Adam Christensen, Ben Young, Daniel Schwitzer, Jonathan Kipps, Gordon Beswick.
7t April – 11th May 2012 EB & Flow
She Doesn't Care – Male painters not impressing a woman A group Show curated by Liam Newnham.
Categories
Tags