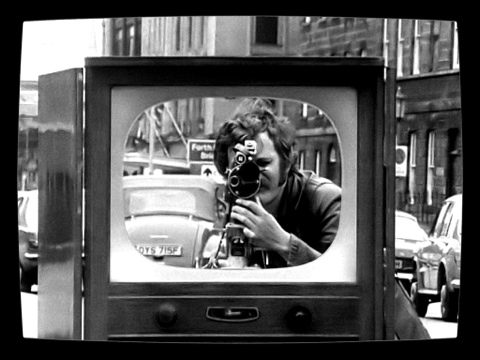 TV Interruptions (7 TV Pieces): TV Shoot-out piece, 1971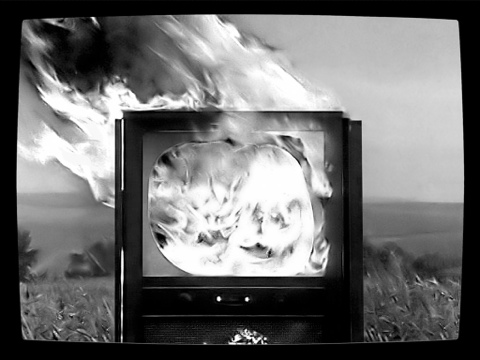 'David Hall, TV Interruptions (7 TV Pieces), for Scottish Television 1971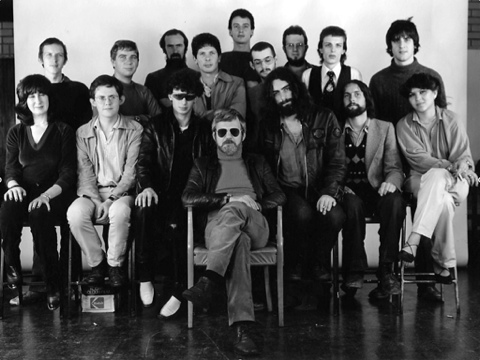 David Hall and his staff and students, Maidstone College of Art, 1979.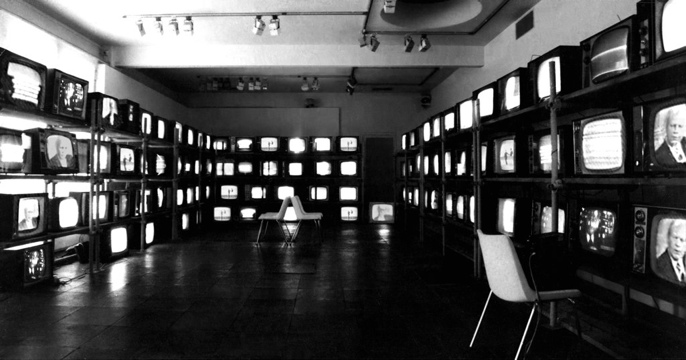 'David Hall, 101 TV Sets, installation 1972-1975'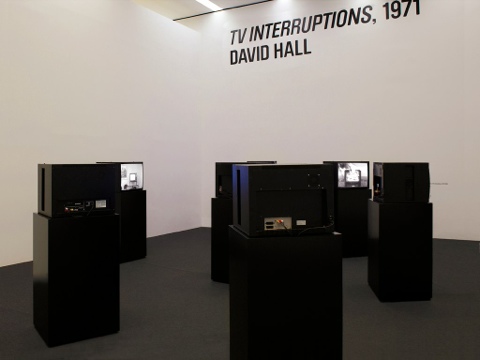 ??
'David Hall, TV Interruptions (7 TV Pieces), for Scottish Television 1971.'

16th March — 19th April 2012
'A single figure dominates the beginnings of video art in Britain – David Hall,
and his early experiments with broadcast television are unique. Not only are many of his video pieces classics but he has made important and often brilliant contributions to experimental film, installation and sculpture.'
Michael O'Pray, A Directory of British Film and Video Artists, Arts Council of England 1996
This year David Hall received the lifetime achievement award from The Samsung New Media awards it was presented by the judges to David Hall for the outstanding contribution he has made to the UK new media art scene. Hall was a prominent sculptor of the 'new generation' school in the 1960s who later turned his attention to photography, film and video. Hall's pioneering work Interruptions from 1971 is widely acknowledged as the first artist intervention to be broadcast on British television and he has been attributed with helping video gain acceptance as a recognised art form.
At long last with this award and this show David Hall and the other uk video art pioneers from the 60/70's will hopefully start to receive the recognition they deserve that has been lacking from the art establishment such as the Tate Modern.
Ambika P3 is to present this major solo exhibition by David Hall, the influential pioneer of video art, featuring a monumental new commission '1001 TV Sets (End Piece)' 1972-2012, as well as restaging two seminal early works. This timely exhibition vividly heralds the end of analogue TV in the UK as London finally switches to digital on 18th April 2012.
The contemporary reworking of one of Hall's early major works '101 TV sets' will form the centrepiece of the exhibition. '1001 TV Sets (End Piece)' features 1,001 cathode ray tube TV sets, of all ages and conditions, which will fill the massive Ambika P3 subterranean space. The TVs will be tuned to different analogue stations playing randomly in a cacophony of electronic signals, gradually reducing between April 4 and April 18, as the final analogue signals are broadcast from London's Crystal Palace. When transmission is turned off, the multiple sets will emit only terminal audio hiss and a visual sea of white noise.
David Hall's first works for television appeared unannounced on Scottish TV in 1971. The transmissions were a surprise, a mystery, and have been acknowledged as the first artist interventions seen on British television. An installation version of these early 'TV Interruptions' will be exhibited in Ambika P3 alongside 'Progressive Recession' a multi-screen interactive work utilising 9 cameras and 9 monitors as complex analogical mirrors.
Internationally recognised for his groundbreaking work in the field of video art, David Hall (b. 1937) has often been cited as its most influential pioneer in Britain. Hall started his work as a sculptor and was awarded first prize for sculpture at the Biennale de Paris in 1965 and the following year he took part in the first major exhibition of Minimalist art, Primary Structures, New York (1966) before turning to photography, film and video. He participated in the formation of the Artist Placement Group with John Latham and others in 1966; was a co-organiser of the seminal international Video Show exhibition at the Serpentine Gallery, London in 1975; and was co-curator of the first video installations exhibition at Tate in 1976. In the same year he initiated and was a founding member of the artists' organisation London Video Arts (now part of LUX). His work is in major international collections and has recently featured in exhibitions in Vienna, Berlin, Toronto, Dresden and Santiago de Compostela
Exhibited Works:
'1001 TV Sets (End Piece)' 1972-2012; 'Progressive Recession'?1974, and 'TV Interruptions (7 TV Pieces): the Installation' 1971/2006. '101 TV sets' was first shown in 1972 as '60 TV Sets' at A Survey of the Avant-Garde in Britain, Gallery House, London, and subsequently developed into '101 TV Sets' at the seminal Video Show, Serpentine Gallery, London in 1975 (both in collaboration with the late Tony Sinden). The new configuration at Ambika P3 is a major update and expansion of the work that will both restate its value as an intervention in the visual and media arts and also as a fitting marker of the end of analogue broadcast in the UK.
More about David Hall
David Hall (b. 1937) studied Architecture, Art and Design at Leicester College of Art (1954-60) and sculpture at the Royal College of Art (1960-1964).
Hall introduced the term 'time-based media' through his writings in Studio International and elsewhere, and created the first time-based art degree option with an emphasis on video at Maidstone College of Art, Kent (now University for the Creative Arts) in 1972. He has made work for broadcast by, among others, BBC TV, Channel 4 TV, Scottish TV, Canal+ TV and MTV.
Appointed Honorary Professor at Dundee University in 2003, he has taught at the Royal College of Art, St Martin's School of Art, Chelsea College of Art, San Francisco Art Institute, Nova Scotia College of Art and many others.
Hall has exhibited widely internationally, including Documenta Kassel, Tate Gallery London, Centre Georges Pompidou Paris, Museum of Contemporary Art Barcelona, National Museum Reina Sofia Madrid and the Museum of Modern Art Vienna and his work is held in many collections around the globe. ?
CREAM Conference: 'Exhibiting Video'
Friday 23rd Saturday 24th and Sunday 25th March 2012
To mark the exhibition, the Centre for Research and Education in Arts and Media (CREAM) of the University of Westminster is convening Exhibiting Video, a three-day event considering issues central to the display of video art, bringing together notable artists, curators and writers.
www.westminster.ac.uk/research/a-z/cream/
DAVID HALL End Piece … 16th March — 19th April 2012 ADMISSION FREE
Ambika P3 Address: 35 Marylebone Road, NW1 5LS
www.p3exhibitions.com
Categories
Tags