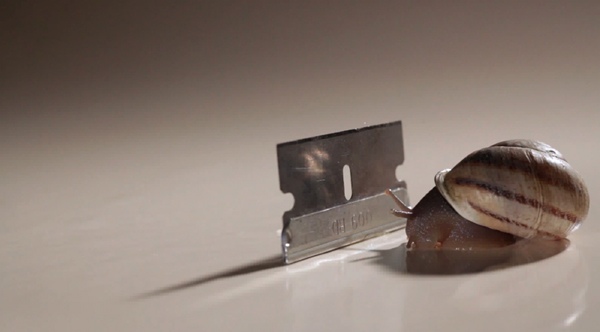 Jesse Fleming, "The Snail and the Razor," 2012. Courtesy the artist and The Company, Los Angeles, CA
Jesse Fleming (represented by The Company, Los Angeles, CA), has been selected to receive the $1000 cash award for exceptional vision and artistic talent present by The James New York. The selection by Matt Jensen, curator of The James New York collection, was made for Fleming's single-channel video, the "The Snail and the Razor" (2012), on view at Moving Image through Sunday, March 8. The award includes ongoing exhibition opportunities via The James New York's collection and rotational video art series hosted at the hotel's Urban Garden.
About Jesse Fleming
Jesse Fleming has been producing consistently engaging moving images for the last decade. Each work manages to create a transcendent experience, luring the viewer in through a sophisticated craft, holding them past their expectancy, and bringing them to a new place of moment and presence. In Fleming's work "Methods of Invisibility," he disguised himself as a police officer while driving an unmarked police car across the United States,; for Apart and Together, he designed a micro micro-camera vest for a pigeon, – releasing it into a massive and tightly woven flock of 1,500 birds. In his immersive project Desert, he gathered surreal and sublime landscape images only to juxtapose them with aerial footage of crop circle- like formations carved by off road vehicles. In the hypnotic work IT, he created animations of light, color, and sound that are at once euphoric and ominous, and for the project 1 to 5 to 1, 3,500 viewers were entranced by a simple looped number sequence at the end of a 600 600-foot mausoleum, and for the unbelievable document of The Snail and the Razor, Fleming trained a garden snail to crawl up and over an upright razor blade. Fleming has exhibited nationally and internationally in Los Angeles, New York, London, Barcelona, and has shot projects for the Museum of Modern Art, NY, The Getty Museum, Los Angeles, and has recently exhibited at The Hammer Museum, Los Angeles. Fleming has held residence at The Old School for Social Sculpture, NY. The Outpost Artist Residency, NY,NY. Mamori Art Lab, Brazil, The Riverside Art Museum, and Joshua Tree National Park. In 2001, Jesse received his BFA in New Genres from the San Francisco Art Institute.
About The Company
The Company was founded in 2008 after its owner, Anat Ebgi, graduated from the Center for Curatorial Studies, Bard, and moved west to Los Angeles. The gallery started as a project space in a motel registration office in Chinatown, with an adjacent garage for performance and video screenings. In 2011, The Company moved to a larger gallery space on Chung King Road. The gallery represents nine artists and has participated in various fairs including NADA Miami Beach, Art Los Angeles Contemporary, and Moving Image, NYC.
About The James New York
The James New York debuted in September 2010 anchoring the southwest corner of Grand and Thompson Streets in Soho. In continuation of the brand's support for up-and-coming artists, The James New York features an exclusive, proprietary collection by local emerging artists on each of their 14 guestroom floors. Unique event spaces and impeccable attention to detail are found throughout. The hotel boasts the highly acclaimed restaurant David Burke Kitchen in addition to a rooftop bar and lounge, Jimmy; an Urban Garden designed by horticulturist Rebecca Cole; a rooftop pool; exclusive uniform designs by Andrew Buckler; a Penthouse Loft designed by Piet Boon; and a captivating Sky Lobby accessible by a signature glass elevator.
www.facebook.com/jameshotels.com
Categories
Tags