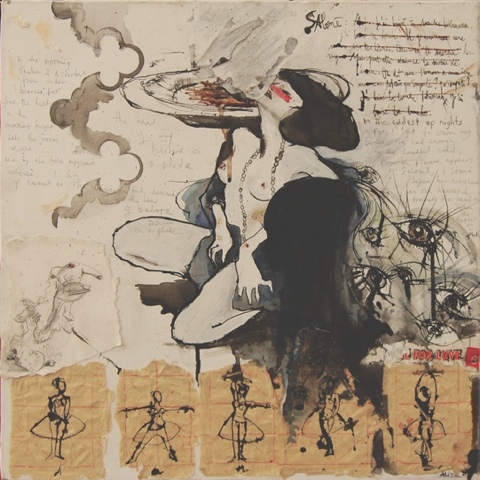 26th February – 4th March, 12 – 8pm Private view: 25th February, 6:30 – 9pm
Blood thrills us. It arouses fear and repulsion. An emblem of love and violence. A symbol of both purity and horror. A universal sign of illness and death. Yet as the saying goes, 'in blood is life'.
The Cob Gallery and Guts for Garters presents a body of work of by Peter Doherty executed in his own blood. This will mark the closure of Guts for Garters and The Cob Gallery's previous collaborative show 'Anatomy'.
A London debut exhibition of the artist's personal collection of ephemera and collectibles, co-curated with the artist, will provide the backdrop to Doherty's archive and specially created new 'blood' paintings.
It is possible to interpret the revealing of one's blood as an ultimate self-portrait. Freeing the self through the puncturing of flesh that separates the interior and the exterior, blood is the chosen material to build a self-portrait enacted by our own bodies. The choice of blood not only binds the artist with his work quite literally – he is, as Franco B says, 'producing' rather than 'documenting' his art – but in the act of producing his art he is engaged in a process of personal endurance, constantly pushing against his own physical limits.
The show will cast new light on Doherty not only as a practicing artist, but as a collector of oddities. As an additional aspect of the show, objects collected and chosen by Doherty will be used to create a unique Gesamtkunstwerk – a Portrait of the Artist.
Original work and prints exclusive to the gallery and signed in the artist's blood will be available throughout the exhibition.
The Cob Gallery, 205 Royal College St, London www.cobgallery.com/
wiki/Pete_Doherty
Categories
Tags