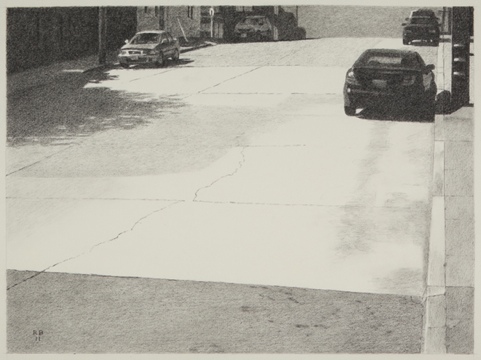 Robert Bechtle, Up Twentieth Street, 2011 Charcoal on paper 19 1/8 x 25 1/2 in. / 48.6 x 64.8 cm
23rd February – 24th March 2012
An exhibition that brings together the work of Robert Adams, Robert Bechtle and Ewan Gibbs.
All three artists create deeply personal, yet iconic images of America.
The exhibition will be Ewan Gibbs? third at Timothy Taylor Gallery, and the first time the gallery has presented works by Robert Adams and Robert Bechtle. Gibbs will show new pencil drawings of photographs taken over several years on journeys across the USA, while Bechtle will show drawings in charcoal focused on his home city of San Francisco. The Adams works selected for the show include a series of black and white photographs from the 1970s of the ever developing urbanisation in the Denver, Colorado areas.
Photography is at the core of the exhibition. Although Adams is the only photographer, the question of how photography relates to painting is paramount to Bechtle?s practice, and Gibbs? drawings are painstakingly constructed from his original black and white photographs. All three artists use simple snapshot compositions although this simplicity is deceptive.
Gibbs strips away the detail and clarity from his source imagery, yet in the finished drawing the depicted scene remains recognizable in the rows of delicately hand drawn marks set within the invisible grid scored on the paper. His drawings present familiar views in a stripped down minimalist form. Meanwhile, unlike the variations of focus found in a photograph, Bechtle?s drawings present everything in unnervingly sharp focus. His drawings work to produce emotional as well as visual effects with tilted, often bare foregrounds, minimized shadow and nondescript atmosphere.
As a tourist immersed in the art of Robert Bechtle, Ewan Gibbs has said of visiting San Francisco:
As I walked around … I had many ?Bechtle moments?. I would see an intersection or a particular hill or a car with its cover on and I felt like I was inhabiting one of his images. It was like being shown around the city by an imaginary friend called ?Bob? who was pointing things out to me.
An appreciation of the suburban and the familiar established in the drawings of Bechtle and Gibbs is exhibited quite differently in Robert Adams? photographs, exposing how urban sprawl has destroyed the awe-inspiring and beloved open spaces of his native Colorado. Similarly, although Bechtle?s works appear neutral – capturing often deserted streets of San Francisco – they too reflect a growing sense of alienation from contemporary US consumer culture. In Adams? photographs the harsh, bright light of midday creates deep impenetrable shadows, suggesting all is not well in this suburban dream. Meanwhile, the lights in Gibbs? night scenes glow gently from nothing more than the soft white paper ground of the drawing.
Born in 1973, Gibbs graduated from Goldsmiths College of Art in 1996. In 2010 he was commissioned by the San Francisco Museum of Modern Art to make a series of drawings based on the city, which were exhibited as part of their 75th anniversary celebrations. Gibbs was chosen as the artist to represent the Armory show in 2009. He has a forthcoming solo exhibition at the Museum of Fine Arts, Houston, Texas planned for November 2012. Recent solo exhibitions include Ewan Gibbs: America, Davidson College of Arts, North Carolina (2010) and Ewan Gibbs, Timothy Taylor Gallery, London (2008). Group exhibitions have included Drawn from Photography (curated by Claire Gilman), The Drawing Center, New York (2011); Making a Mark: Drawings from the Contemporary Collection, High Museum of Art, Atlanta (2011); Attention to Detail (curated by Chuck Close), The FLAG Art Foundation, New York (2008); Agnes Martin, Vija Celmins and Ewan Gibbs, Timothy Taylor Gallery, London (2006); Originality and Repetition: the Grid in Contemporary Works on Paper, Museum of Fine Arts, Houston, Texas (2005) and Surfacing, Contemporary Drawing, the ICA, London (1998). Public collections include Tate Gallery, London; MoMA, New York; SFMoMA, San Francisco and The Museum of Fine Arts, Houston, Texas. Gibbs currently lives and works in Oxfordshire, UK.
Born in 1932 in San Francisco, Bechtle received his B.A and M.F.A degrees from the California College of Arts and Crafts in Oakland. He retired in 1999 from a 30-year teaching career at San Francisco State University. Over the past 40 years he has had numerous solo exhibitions throughout California and in New York, and has participated in group exhibitions throughout the United States and Europe as well as Japan, Australia and New Zealand. Solo exhibitions include Robert Bechtle: A Retrospective, San Francisco Museum of Modern Art, traveled to Modern Art Museum of Ft. Worth, Fort Worth (2005), and A New Soft Ground Etching, Crown Point Press, San Francisco (2011).
Robert Adams was born in New Jersey in 1937 and moved to Colorado as a teenager. Adams was a professor of English literature for several years before turning his full attention to photography in the mid 1970s. His work is largely concerned with moments of regional transition: the suburbanization of Denver, a changing Los Angeles of the 1970s and 80s, and the clearcutting in Oregon in the 1990s. His many books are well-known to those concerned with the American Landscape and Adams has also written a number of critical essays on the art of photography. Adams has received fellowships from the Guggenheim (1973) and MacArthur Foundation (1994), the Deutsche Borse Prize (2006) and the Hasselblad Foundation International Award in Photography (2009). Robert Adams: The Place We Live, A Retrospective Selection of Photographs highlighting four decades of Adams? work, organized by Yale University Art Gallery, began its international tour at Vancouver Art Gallery, British Columbia and continues to Denver Art Museum; Los Angeles County Museum of Art; Yale University Art Gallery, Connecticut; Museo Nacional Centro de Arte Reina Sofia, Madrid; Josef Albers Museum Quadrat, Germany; Jeu de Paume, Paris; Media Space, London; Fotomuseum Winterthur, Switzerland through 2012 to 2014.
Categories
Tags