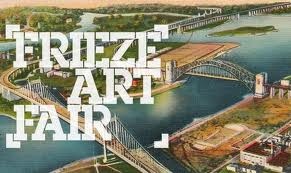 Is this the beginning of a war for the Global Art World ? Should New Yorks art place in the calendar be March or May ? Can it really sustain two months ?
On one side we have the Armory show with Art Dealers Association of America show (ADAA), Independent, Scope, Volta, and Moving Image backing March.
On The other side we have London's Frieze backing May as well as NADA, Pulse and Red Dot.
So New York galleries have to either pick allegiances or participate in both the March and May fairs. Some, like David Zwirner, Regen Projects, and Lehmann Maupin, have signed on to both ADAA in March and Frieze in May (as has Nicole Klagsbrun, who, to make matters even more complicated, is also a NADA member). Hotel, Gavin Brown, Bortolami Gallery and Elizabeth Dee — as well as Jack Hanley, the treasurer of NADA — have also signed on to both Independent and Frieze.
Still other NADA members, like James Fuentes, could have been anchors for the group's New York fair had they not already signed on to exhibit with Frieze. As of press time, NADA has not yet announced any details about its fair, but it bears noting that despite the loss of a handful of dealers to Frieze, several prominent members — Rachel Uffner, CANADA, Untitled, and Leo Koenig among them — exhibited with the Armory Show last year and are said to be likely to jump ship. Maybe an ominous sign the Armory Show still haven't published an exhibitor list despite the show being only two months away.
Categories
Tags