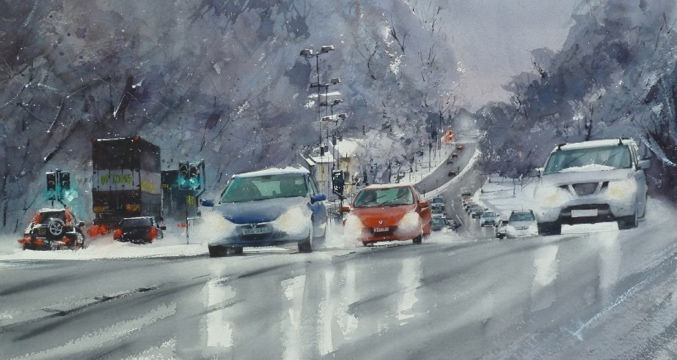 Illustration:1 Kelv Holtom Snow Imminent, A45, watercolour, 15¾x27½in (40x72cm
£10,000 in Prizes.
The Artist and Leisure Painter magazines announce the launch of the 2012 Patchings Open Art Competition. With over £10,000 worth of prizes, the Patchings Open Art Competition is one of the most generous.
As well as art materials prizes the winners are given editorial coverage in The Artist and Leisure Painter magazines. Additionally, the two exhibitions of selected works go on show at the well-known Patchings Art Centre during the Patchings Art, Craft & Design Festival, which last year saw 12,000 visitors.
The Artist and Leisure Painter Patching Open Art Competition is now one of the most popular competitions in the art calendar, attracting several thousand entries each year. There are two categories: The Artist category (for professionals, semi-professionals, art students, art tutors and experienced amateur painters); and the Leisure Painter category (for beginners, hobby painters and less experienced amateur painters). Around 70 works are selected for exhibition in each category, to go on show in separate galleries, and these, plus further highly commended works in each category, will be shown online to a worldwide audience.
There is an entry fee of £15 which covers up to three entries of two-dimensional work in any media. Also, the entry procedure is very straightforward. Initially the judges require digital images, transparencies or photographs of your submission. Then, if your work is chosen for exhibition, you will be sent details of when and how to deliver the actual work to Patchings Art Centre.
Submissions are judged by a panel of experienced judges: Sally Bulgin, editor The Artist, Liz Wood, artist and co-owner of Patchings; David Curtis ROI, RSMA; and Peter Welton, Emeritus Professor of Fine Art, De Montfort University, Leicester. Guest judge for 2012, Ken Howard OBE, RA, will help select this year's The Artist Purchase Prizewinner.
How to enter…
The closing date for the receipt of entries is Friday March 30. Judging is on Wednesday April 18, and all artists will be contacted by Friday May 4.
The Patchings exhibition opens on Thursday June 14 and runs until Sunday July 22 2012.
Entry Details available: www.painters-online.co.uk
Facebook
Categories
Tags