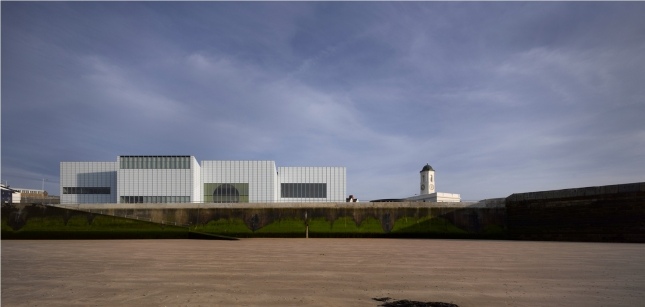 Richard Bryant Arcaidimages
This article titled "Call it the Tracey Emin effect: art overcoming austerity outside London" was written by John Kampfner, for The Guardian on Monday 26th December 2011 20.00 UTC
Across the UK, 2012 will be the year where art meets sport in hundreds of towns and villages. Such is the yearning for new cultural experiences outside the capital that the Cultural Olympiad has the power to regenerate ailing parts of the country, if the events are of a high enough quality. My experience in a corner of Kent has taught me that.
As chair of the Turner Contemporary gallery in Margate, one of the south-east's most deprived towns, I have witnessed one of the cultural success stories of 2011 at first hand. More than a third of a million visitors have come through its doors since it opened in April, more than twice the predicted number in half the time. Some are locals, including thousands who have never been to a gallery before; others have come from much further afield, including foreign tourists who have added it to their must-see destinations in Britain. According to research, more than 15,000 of the visitors so far say they have never been to an art gallery or museum in their lives.
Margate might be blazing a trail, but it is far from unique. Galleries have blossomed across the regions over the past decade. One or two may have struggled to make their mark, but the vast majority have received critical and community acclaim. The Baltic in Gateshead is thriving again, as its hosting of the Turner prize attests; Nottingham Contemporary opened to great plaudits in 2009; the FirstSite art gallery in Colchester is a welcome addition; and the arrival of the Hepworth Wakefield last May – the second of David Chipperfield's fantastic constructions after Turner Contemporary – creates an artistic hub in south Yorkshire, with the Yorkshire Sculpture Park and the Henry Moore Institute nearby.
The Ikon has great expansion plans for a new museum quarter in the centre of Birmingham, comprising a museum of photography and a new museum of international art dating from 2000 – all linked to the arrival of high speed rail. Modern Art Oxford too has grand ambitions. Throw in the Arnolfini, resplendent on Bristol's waterfront, the Middlesbrough Institute of Modern Art (Mima) and others, and art-goers will surely need no convincing that life does not begin and end in London – a lesson the Spanish and Germans learned a long time ago, and the French are catching up with too (think Lille and Metz).
Artistic institutions outside the capital – from the visual arts to theatre, music and beyond – have traditionally been overlooked by governments and private funders, so they must shout louder in order to be heard through a combination of excellence and strong local engagement. These two are not contradictory. Indeed, they enhance each other.
At Margate, where many local people were either sceptical or hostile to the idea of a new gallery, the scale of the success has transformed opinion. A new spirit of entrepreneurship is taking hold, even amid the economic gloom. The Old Town, a warren of lanes just behind the seafront, is packed with boutiques, pubs and cafes. With flair and business savvy, other parts of the town will follow suit.
It is still early to gauge the full extent of the gallery's economic and social impact, but initial research shows more than 35 new businesses have opened in the Old Town, with dozens of new jobs either created by Turner Contemporary or directly resulting from it. It was the regenerative effect, as much as the art and architecture, which led to the Queen's visit last month. Southeastern trains have registered a 30% increase in passengers on the route even before the opening of Turner and the Elements, the gallery's first major show of the painter's work. This will be followed by the first show of Tracey Emin's new works in her home town, and Margate will feature on the Today programme on Wednesday morning, which Emin is guest-editing.
So what are the broader lessons to be learned here? Clearly, in the new world of austerity, cultural institutions have to fight hard just to survive. But in some ways the chill is salutary. Artistic and other third-sector bodies should not rely on being "helped" or "saved" by the state just because they are, or think they are, "doing good". In broad terms, Darwinian rules should apply. The best will survive and thrive, if they have the right combination of excellence, inclusiveness, education and a strong business model. Those mired in an old-fashioned sense of entitlement are much more likely to fail. A mix of private and public funding should not be beyond the reach of institutions with ambition, wherever they are based and whether large or small.
Many more dynamic regional arts organisations are collaborating. Joint programming – in which galleries share the same or similar shows in consecutive seasons – is increasingly common. Sharing back office services is useful but its merits can be overstated; far more important is informal collaboration between directors, curators, finance managers and boards, now happening as a matter of course – some under the umbrella of a network called Plus Tate, some under the Arts Council, and some ad hoc. Galleries regularly cross-market: there is no competition for visitors between institutions in, say, the north-east and south-west. The biggest challenge, given the London-centric media, is to make sure potential tourists know of these galleries' existence – and success.
Hard-headed planning for long-term investment and benefit is one thing; short-term and short-sighted monetising is quite another. A key to bringing people into galleries, particularly new audiences, is free admission. It is, as Nick Serota, the director of the Tate, puts it, one of the signs of a civilised culture. British galleries and museums are, he adds, "uniquely egalitarian spaces" – unlike in many equivalent countries.
So are Turner, the Hepworth and FirstSite the last in a generation? The real problem is going to be the funding for capital projects in the future. With local authority budgets being slashed, and the Arts Council having to operate on lower budgets, the prospect for investment in new-build is slim. Yet the social and economic case for ambitious, culture-led regeneration has surely been made. To abandon the approach now, in its prime, would be a tragedy, particularly for those parts of the UK that many decision-makers struggle to reach.
guardian.co.uk © Guardian News & Media Limited 2010
Published via the Guardian News Feed plugin for WordPress.
Categories
Tags