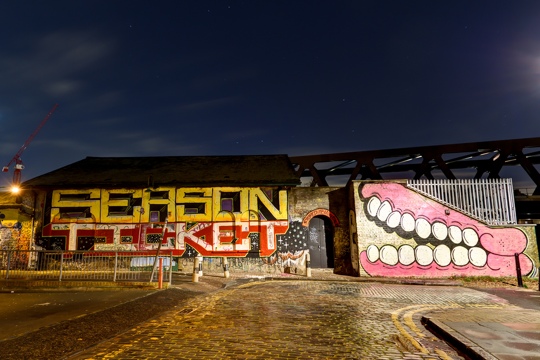 High Roller Society & Alex Daw present.
Friday 16th 4-9, Saturday 17th 10-6, Sunday 18th December 2011
This Christmas season East London heads away from the North Pole and goes underground. Set within the Old Shoreditch tube station, SEASON TICKET deliberately spills milk and spins Santa on his bobble-head.
There's no need for shiny red noses down here—subversive artists are guiding this sleigh ride to bring girls, boys, and everything in between a creative, art-led alternative to the High Street consumer, Xmas madness!
For those who prefer their earthly delights Hieronymus Bosch-style, London's seedy East End festers once more with a hoard of amusements and occasionally dark festive fayre, including a street art exhibition, installations, Live painting, DIY art stalls, creative cakes from totally baked & mulled wine to warm the festive cobbles.
There will be film projections and a trans-gender (over 18's) 'Sink The Pink' Bad Santa's' grotty grotto. Its flash-to-trash this Christmas, regardless of good behaviour, so strut or stumble your way to Brick Lane, Shoreditch for the first-ever 'SEASON TICKET'… you'll either be glad or sorry you did.
Featuring:
Rowdy, Lucas Price, Mighty Mo, Semor & Co, Mick Dean, Nick Morley, Dave the Chimp, Alex Daw, Sickboy, Sweet Toof, Russell Morris, Rebecca and Mike, James Jessop, Rory Dean, Peggy Kouroumalos, Joe Becker, Tony Lee, Skewville, Cain Casar, HeadHoods, Richard Galloway, Alex Booker, Art Against Knives, Five Finger Discount, The Art Collective, Vinnie Nylon, House Of Brag + more + Super special guests!
www.highrollersociety.com/season-ticket-pops-up/
Categories
Tags