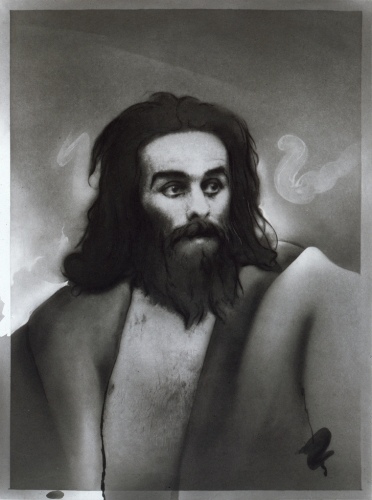 FINN MACOOL 1983 Alan Cristea Gallery. Copyright The Estate of Richard Hamilton All Rights reserved.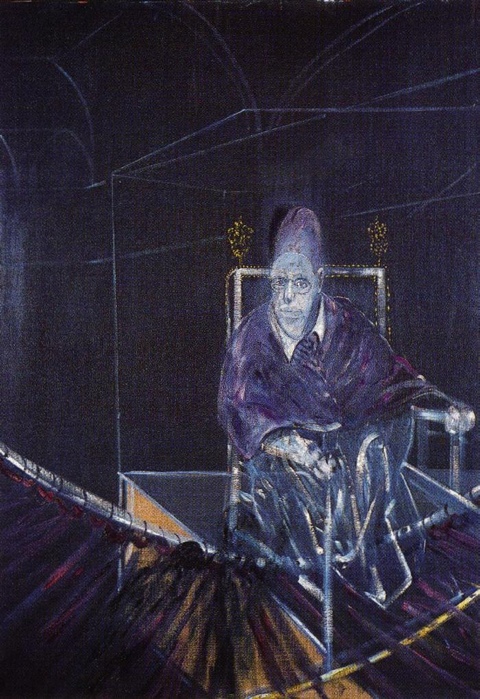 © Francis Bacon Pope I, (1951)Courtesy of Aberdeen Gallery & Museums Collections
7th December 2011– 18th February 2012
Private View: Wednesday 7th December, 6-8 pm
Haunch of Venison London presents an exhibition of ten of Britain's most important post-war painters, revealing the story behind their art.
The Mystery of Appearance is a fresh appraisal of ten artists – Michael Andrews, Frank Auerbach, Francis Bacon, Patrick Caulfield, William Coldstream, Lucian Freud, Richard Hamilton, David Hockney, Leon Kossoff and Euan Uglow – with a display of over forty paintings and drawings including works that haven't been on public display for decades.
In the mid-twentieth century this group of artists revived portrait and landscape painting at a time when abstract painting dominated. Their continued influence on a younger generation of artists is demonstrated by the powerful hold figurative art has today.
The exhibition examines the influence of the personal relationships between these artists, some of which began in the late forties at the Slade where Coldstream, Freud and Hamilton taught and Andrews and Uglow studied; and then again at the Royal College, where Auerbach, Caulfield, Hockney and Kossoff were students. Supported by a catalogue essay in which the curator Catherine Lampert discusses their habits and methods and introduces previously unseen writing by the artists, the exhibition will look at the way their conversations impacted on the development of their work, demonstrating that despite their wide-ranging styles they are each linked by a desire to catch what Bacon describes as 'the mystery of appearance within the mystery of making', and in doing so broke new ground in contemporary painting.
The exhibition includes major works by each artist, several borrowed from public collections, among them Francis Bacon's Pope I 1951 from Aberdeen Art Gallery, David Hockney's Man in a Museum 1962 from the British Council and others like Frank Auerbach's Primrose Hill, Winter Sunshine 1962-64 and Euan Uglow's Nude, Lady C 1959-60 which have not been seen in public for many years.
The Mystery of Appearance is displayed across the four galleries in Haunch of Venison's newly renovated space. The first gallery shows a selection of nudes by Auerbach, Coldstream, Freud, Hamilton and Uglow. They range from the heavily worked and abstracted to the finely calibrated and delicate and offer varied approaches to the observation and description of nudity. The second gallery presents landscapes and portraits demonstrating how the group experimented with the materiality of paint. This is followed by a room that focuses on the special significance of the Old Masters to these artists, most of whom selected one of the 'Artist's Eye' exhibitions at the National Gallery. This section of the display gathers works which have an initial reference to an Old Master painting or museum object. The final gallery is concerned with these artists' interpretation of space and lens-based imagery – in architecture, in the natural environment and in the human body – transformed into a two-dimensional image.
The Mystery of Appearance features large and small scale paintings and drawings with a focus on the artists' varied approach to paint and subject matter and the connections between their work. Given only three of these artists are still alive the exhibition is timely and poignant, setting out to re-evaluate a group of ten connected and hugely influential painters, exploring the motives, conversations and stories behind their art.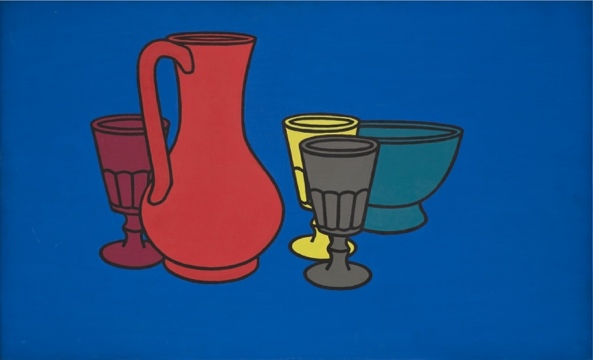 Patrick Caulfield Coloured Still Life 1967 Copyright: The estate of Patrick Caulfield
Categories
Tags