Defenders of Ai Weiwei have responded with characteristic indignation following the announcement that the artist is under investigation for spreading pornography.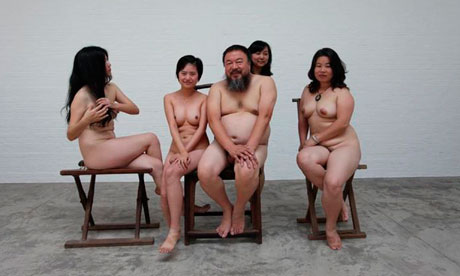 The photograph of Chinese artist Ai Weiwei and four women naked which provoked police questions. Photograph: Zhao Zhao/Handout/Reuters via The Guardian
On twitter and blogs, his supporters, including a number of contemporary Chinese artists and activists, have begun to circulate nude self-portraits. The photographs were sparked by Ai Weiwei's announcement that his cameraman had been questioned by police in Beijing over images of the artist and four women naked, a move which has been blasted by supporters, claiming the authorities are using the images, which do not appear sexually charged, and which have been online for more than a year, as an excuse to smear the artist.
Shaghai lawyer Li Tiantian, who was herself detained earlier this year, appears partially concealed by a picture of a "grass mud horse", a creature invented by internet users to mock censors; its name is a homonym for a graphic curse.
"It is an expression of support for Ai Weiwei and scorn to the Chinese government. It shows our attitude and anger towards the government's behaviour," she said.
"We are simply using an eyecatching way to attract people's attention. There are so many pornography websites in China: they don't regulate them, yet say that this is spreading pornography."
Aptly, given the nature of the original photographs, which do not appear sexually charged, the majority of internet users participating in the online protest have chosen to tweet innovative takes on the "nude" theme, including pictures of themselves as babies; one photo shows a row of nine unclothed women and one man – with images of Ai's head superimposed over their genitals and nipples.
Wen Yunchao, a blogger in Hong Kong who posted two nude photographs of himself, told Reuters: "This is a matter that has made many people very indignant. The interpretation of people's naked bodies in itself is an individual freedom and a form of creative freedom. Also, we don't see any pornographic elements in [Ai's] photographs. So we are using this extreme method to express our protest."
Categories
Tags