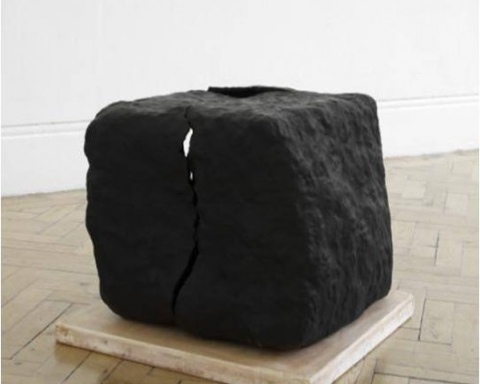 Katie Cuddon's first solo exhibition at Simon Oldfield Waiting for the Cue will exhibit a body of new and recent work which follows on from her residency and acclaimed solo presentation at Camden Arts Centre (2010/2011).
Working across a range of media, Cuddon's painted clay sculptures, bronze works and drawings frequently represent the human body and its many psychological conditions. The spaces around, through and beneath the works are carefully choreographed and given a leading role in presenting Cuddon's view, and yet at the same time carefully conceal their intent. Texture and colour jostle with each other, each vying for a role, as the pummeled and kneaded surfaces and semi-recognizable forms are washed over, swathed, and bound-up within themselves.
Cuddon's 'takings' of the human body elicit a series of semi-conscious responses in the viewer that are felt far more on an emotional level than one that can immediately be explained. Combined with this seeming serious, shy and corporal approach, the subject matter of her works frequently steps into a realm of dark humour.
In his recent text 'Trying to Describe Katie Cuddon's Work is Like…', Colin Perry writes: Cuddon's works are, perhaps, both shy and barbed. They hook us in with anthropomorphic qualities, symbolic signification and base jocularity. But they rapidly withdraw to a level of material abstraction that's hard to capture with language. For example, in Goodbye Torrelodones (2011), Perry writes: the work's semantic elusive-allusiveness suggests a forsaken purpose: a shrine for an abandoned deity, or a half-recalled version of post-War existentialist sculpture. The more one looks, the more its defining quality becomes one of lost meaning, and the more we fall back on the basics of surfaces (scrubby and stubborn), volume (containing nought but space), and material (pinched and pushed like tendered meat).
Katie Cuddon (born 1979), graduated from Royal College of Art in 2006. In 2010, Cuddon was invited to be the ceramics fellow at Camden Arts Centre and in 2008/2009 Cuddon was the Sainsbury Scholar in Sculpture and Drawing at the British School at Rome. Selected exhibitions: Waiting for the Cue, Simon Oldfield, 2011 (solo); Spanish Lobe, Camden Arts Centre, 2011 (solo); I No Longer Know What The Money Is (solo), Alma Enterprises, London, 2010; New Symphony, Simon Oldfield, 2010; Overshoot and Collapse, Globe Gallery, Newcastle Upon Tyne 2008 and Jerwood Drawing Prize, (touring exhibition), 2005.
9 HENRIETTA STREET, COVENT GARDEN, LONDON WC2E 8PW
WWW.SIMONOLDFIELD.COM
Categories
Tags