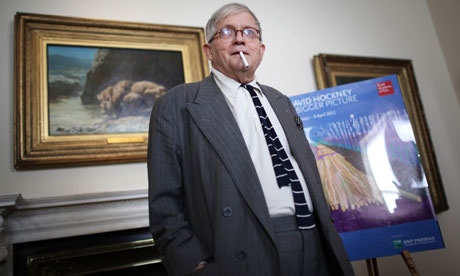 David Hockney's A Bigger Picture will be at the Royal Academy from 21 January. Photograph: Peter Macdiarmid/Getty Images
This article titled "David Hockney landscapes to vivify Royal Academy" was written by Maev Kennedy, for The Guardian on Friday 11th November 2011 23.08 UTC
The grand galleries of the Royal Academy are about to become green glades in the first UK exhibition devoted to the landscape paintings of David Hockney.
"It will be, I hope, the next blockbuster after Leonardo," academy director Charles Saumarez Smith said, announcing the highlights of the next 12 months and mindful of the ticket queue stretching round the block at the rival gallery down the road.
The problem for the curators of A Bigger Picture, described as "a journey through Hockney's world", is finding a cut-off point – the 200 pictures will include some painted 50 years ago, but at 74 Hockney is still working furiously, and the show will also include many made within the past couple of months.
Hockney has also consistently embraced new technology in the past 30 years, working through fax machines, Polaroid cameras, smartphones – and now iPads. Some are huge, multi-panel pieces, while others will be displayed on the small screens on which he has used commercially available software to create glowing landscapes of lush summer growth or bare winter branches.
If Hockney had been around 250 years ago he would certainly have appeared – probably with his hearing aid in and clutching an iPad – in the group portrait by Johann Zoffany of almost all the Royal Academicians, which the Queen is lending to the first major exhibition on the 18th-century artist in almost 40 years.
"It's rip-roaring stuff," curator MaryAnne Stevens said. "I'm still sorting out all the double entendres and hidden jokes."
Zoffany, born in Germany, Italian-trained, English-employed, was renowned for his deceptively casual "conversation piece" group portraits and had a merciless eye for the killer detail. In the portrait of his fellow academicians, the artist in the foreground is the famously dandy and amorous Richard Cosway – with his cane balanced on the belly of a bust of the Venus de Milo.
The most notable absentee is Thomas Gainsborough, who was in the middle of a simmering row with the academy about how much prominence his paintings merited in the summer exhibition – still a heated subject when hanging day comes round each year, as it will this year in June for the 244th anniversary of the biggest open art exhibition in the world.
The academy is also promising a luscious selection of French impressionists from the wealthy 20th-century American collectors Sterling and Francine Clark, and a major autumn show on bronze sculpture, including – subject to final agreement – two antique bronzes recently raised from the seabed.
David Hockney: A Bigger Picture is at the Royal Academy in London from 21 January to 9 April 2012
guardian.co.uk © Guardian News & Media Limited 2010
Published via the Guardian News Feed plugin for WordPress.
Categories
Tags