Athleticizm- solo show – Goldie
www.eddielock.co.uk
Under Dog Gallery, Arch 6, Crucifix Lane, London SE1 Next show – The Lock Up 2 which kicks off 18th Nov ends 27th November at Red Bull Studios.Tooley Street, London
The show has been curated by Eddie Lock and sponsored by Adidas in a new gallery space near London Bridge. Goldie has created twelve portraits of sports men and women that are going to represent the UK in the next Olympics. The work has been painted in an Urban Art style on MDF. Each portrait has bold layers of colour painted in a Post-modern style.
What was interesting to me on viewing the show was the celebration within the work contained with the splatters of colour around each figure that resembled a metaphor for movement exploding with light and energy. They are non-static paintings just like the sports people they represent. Goldie has captured each person in motion. You feel on looking at the work that each athlete is going to jump out at you into the gallery space. My hat goes off to Goldie. He is as a positive successful person and this is positively quite evident in the success of his work.
Do you do any type of sport yourself?
Snowboarding, football occasionally. I know its not a sport but Bikram Yoga.
What inspires you the most?
Life. What would you say to a young person who has lost their way in life/ hasn't had it easy to try and encourage them? Pick yourself up and try to be positive and creative.
How did your exhibition come about?
Adidas and I got together and thought how we could put an urban spin on the Olympic campaign.
Did you work to a brief on this project?
I had free reign to colour separate the athlete photo's and then paint them subject to how I feel the younger generation would appreciate.
Has your work developed in any way with this show?
For sure, it's a big campaign. We hope to take this into next year and paint more athletes and host a much bigger show.
How long did each piece of work take you?
From start to finish, 3 days. I have to colour separate every image which can take hours as I stencil the athletes using intricate technique and films.
Some of your backgrounds contain cut out MDF. What gave you the inspiration to create a new format for a background?
Painting on wood is a strong option to canvas.
What are you most pleased with in this show?
How well it has been received by the public, news and TV. I now look forward to The Lock Up 2 which kicks off 18th Nov at Red Bull Studios. I'll have a few NEW originals in the show with other artists including Pam Glew, Dan Baldwin and David Whittaker.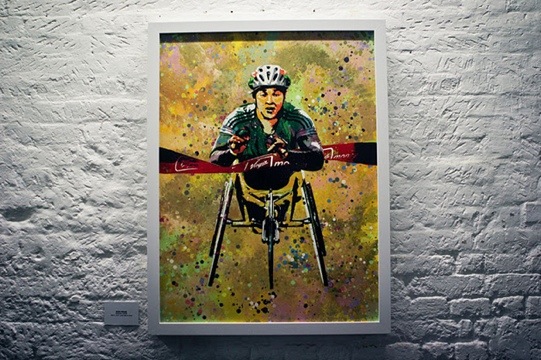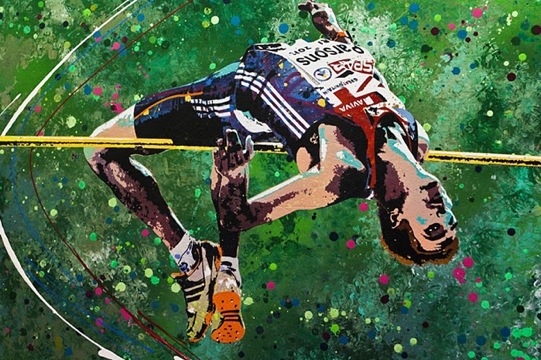 Categories
Tags