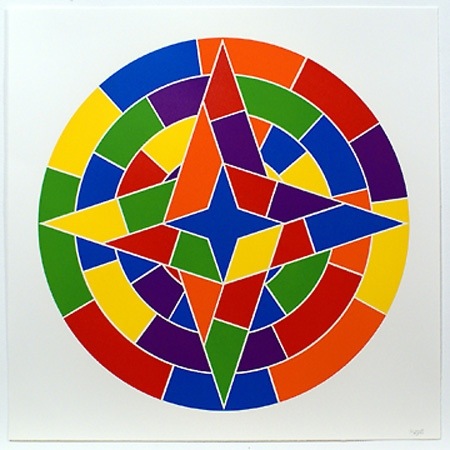 Image:Sol LeWitt Tondo 2 (4 point star)Linocut 2002

November 3rd – December 31st, 2011
Sol LeWitt, a leading light in American Art, who died in 2007 at the age of 78, formulated in his early writings the idea of Conceptual Art, influencing a generation and giving birth to a new way of thinking about art. Famous for his wall drawings and sculptural "structures" he also worked consistently and extensively in printmaking throughout his career, earning two print retrospectives, in 1974 at the Stedelijk Museum in Amsterdam and in 1986 at the Tate Gallery in London.
He worked early on with publishers Parasol Press in New York and printers Crown Point Press in Oakland, California, who had formed an alliance and specialized in minimal aesthetics. They were two of the pioneering graphic studios contributing to the 60's and 70's American printmaking renaissance of which Sol LeWitt's production was a key component.
Sol LeWitt was active in many of the print mediums including lithography, silkscreen, aquatint, etching and woodblock and linocut printing. The processes of this type of image making suited his serial methodology and his minimalist temperament as he strove to eliminate all traces of personal narrative through his repeating arrangements of geometric shapes, arcs and lines.
Early editions from the seventies (his first prints were published in 1970) were rigorous in style; they followed premeditated formulations and were often limited to black and white. Included in this exhibition is the suite of 5 aquatints Lines from the Sides, Corners and Center of the Page to Specific Points, from 1975 and the suite of six etchings with aquatint Six Geometric Figures, from 1977. Additional prints from the 70's includeArcs and Lines from 1975, a set of 3 two-color etchings, Twelve Forms Derived From a Cube, 1984, a set of 48 screen prints and All Double Combinations (Superimposed) of Six Geometric Figures, an individual etchingfrom 1977.
Later in his career LeWitt appeared to relax, allowing color to create sumptuous – sometimes eye dazzling – surfaces, and lines to move in organic free expressions. Bands Not Straight in Four Directions, a portfolio of four woodblock prints in many colors from 1999, the series of eight linocuts entitled Bands of Equal Width in Color (the Wadsworth Portfolio) from 2000 and the suite of six linocuts entitled Tondo Stars from 2002, all attest to his ease and delight with the medium where changing colors or adding layers and complexity expanded his scope and exploration of serialism.
In 2003 Bernard Jacobson co-published with Parasol Press Crystal Glasses, a set of four hand etched crystal glasses produced in the CZ Republic by Artel and designed by Sol LeWitt.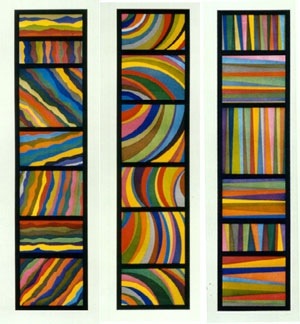 Image:Sol LeWitt Untitled set of 3 aquatint columns Aquatint 1997
Categories
Tags