Alongside Oliver Laric's contribution to Frieze Projects, his exhibition Diamond Grill is at Seventeen Gallery on Kingsland Road and the private view is this evening.
With a title taken from the 1996 book of the same name by Fed Wah, a series of writings about his Chinese-Canadian upbringing. In Diamond Grill, Wah emphasizes the hyphen as it opens up new combinations, a space for 'mongrels and hybrids' and those 'living in the hyphen'. Homi Bhabha states that the hyphen 'gives rise to something different, something new and unrecognizable, a new area of negotiation of meaning and representation.'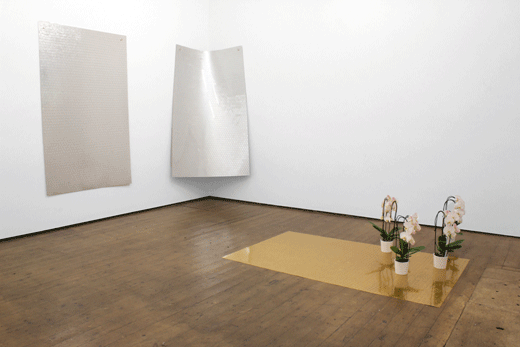 Laric has registered a new hybrid orchid with the Royal Horticultural Society, named after the Burmese opposition leader Aung San Suu Kyi. The work is presented as living orchid in the space, as a photographic print roughly framed in OSB board and as a stack of printed postcards. The work is in response to the naming of an orchid after the Burmese president, Thein Sein, in honour of his 2009 visit to Singapore, which lead to international protest. The new hybrids full name is Doritaenopsis Aung San Suu Kyi, Doritaenopsis being an intergeneric hybrid between the orchid genera Doritis and Phalaenopsis.
Flanking the orchid are a number of wall-based panels that employ overlapping layers of small circular holograms. Commissioned by the artist, these holograms were produced in their thousands by factories in Shenzhen, China. The region is renowned for manufacturing and production of both official and bootleg goods. The hologram stickers contain imagery in the decorative Guilloche style, commonly used to convey originality when authenticating products, visa documents, certificates and paper money. The holograms also contain depictions of artworks that have been made widely familiar through excessive reproduction and mediation, such as Rodin's Thinker. One hologram depicts the blueprint of the Ise shrine, a Japanese Shinto shrine that has been ritually destroyed and rebuilt every twenty years since 690 A.D.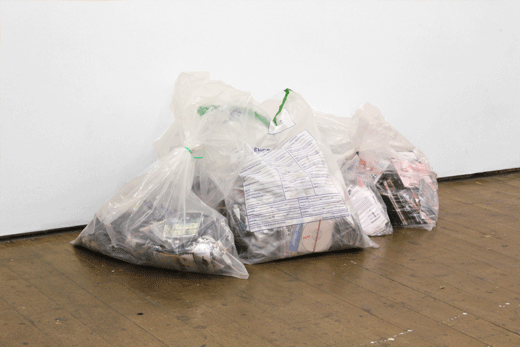 A substantial pile of sealed Police evidence bags completes the show. The transparent sacks contain hundreds of seized bootleg DVD and CDs, kindly provided for the exhibition by the Federation Against Copyright Theft (FACT). The bootlegs were seized from various sources in the North west of England and having been processed as evidence were to be officially destroyed and further recycled. Having diverted and exhibited the disks, Laric intends to shred and recycle the material, modifying them into further incarnations in a future exhibition.
 Diamond Grill 17 KINGSLAND ROAD LONDON E2 8AA
Categories
Tags