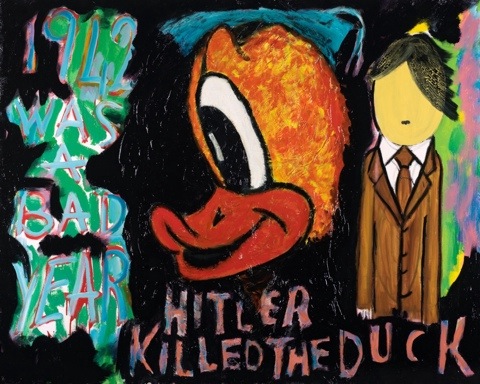 Hitler Killed the Duck Courtesy Scream Copyright David Bailey
7th October 12th November 2011
A solo exhibition featuring new work by iconic British artist David Bailey, who during a prolific career has created countless images that are embedded in our cultural psyche. 'Hitler Killed the Duck will feature unseen mixed media images. The new works will be shown in public for the first time, and although Bailey has been painting in his studio for years, this exhibition be an exciting departure from the photography for which the 73 year old Bailey is renowned. A mixture of painting and photography using oils and pigment prints, canvas and silk, the exhibition will feature a mixture of portraits and paintings inspired by Baileys childhood, influences, inspiration, fears and desires.
As a child growing up in the East End, Bailey often went to the cinema with his family, because it was cheaper than staying at home and heating the house. He loved watching cartoons featuring Donald Duck, Mickey Mouse et al, and at the age of 12 won a City & Guilds competition for his drawing of Bambi. During The Blitz The Luftwaffe bombed the cinema, and he couldn't see his beloved films anymore. So Hitler effectively killed Donald Duck for the young Bailey.

Image:David Bailey self portrait Courtesy Scream Copyright David Bailey
"There was a cinema in Upton Park, an Odeon I think, and that's where I saw Bambi and Mickey Mouse cartoons, and I thought that was the only place you could see them. Hitler bombed it, so he sort of killed Mickey Mouse, Bambi and all those characters for me. All I did as a kid was draw Walt Disney characters." David Bailey
Images of Hitler juxtaposed with Disney characters refer to Bailey's upbringing in the East End of London, which was disrupted by the bombing during World War II. Religious iconography is evident in other images, referring to the religious programmes that frequented the radio waves during his childhood. Modern-day Angelic figures are depicted in some of the portraits, visualising Bailey's love of Angels and the image of 'The Annunciation'. Bailey is a self-taught artist, so it is quite fitting that Primitivist influences are evident in several of the images, whilst his
love of Picasso can also be detected as an undercurrent in the exhibition. A striking image in the exhibition is a self-portrait of Bailey as Velázquez's Pope Innocent X, a wry homage to Francis Bacon.
Scream, 34 Bruton Street, London W1J 6QX
Categories
Tags