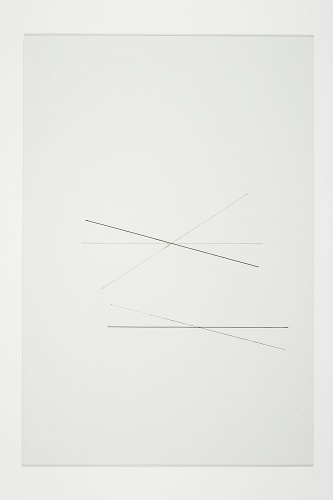 Florian Pumhösl Fliegende Händler [Travelling Hawkers], 2011
One of a series of 54 glass panels acrylic lacquer on 2mm glass
22nd September to 20th November 2011
For this exhibition Mathias Poledna (b. Austria, 1965) and Florian Pumhösl (b. Austria, 1971) have each created a single expansive new work. Poledna has produced a 35 mm film for Raven Row's ground floor, and Pumhösl has made a series of 54 glass paintings for its panelled upper galleries. The interaction between these works and their spatial implementation plays a key role in the exhibition, addressing Raven Row's distinct architecture, and the potential for dialogue across different conceptual frameworks.
Mathias Poledna (for whom this is the first large exhibition in London)
works primarily in film. While his minimal and evocative films focus on very different subjects – a post-punk band, a rainforest in Papua New Guinea, a set of crystal glasses from the 1920s – they share a rigorous involvement with the language of film, and the process of image-making in the context of contemporary and historic popular culture.
Florian Pumhösl makes paintings and films which mediate the avant-garde graphics, painting and architecture of early modernism. Neither straightforward historical reference, nor appropriation, these works operate within a canon of abstract visual language, and reflect on the diverse manifestations of modernity.
Poledna and Pumhösl have a history of shared interests and exchange going back to collaborations while at art school and afterwards. This exhibition is the first to present their distinct but related practices in the form of a two-person show.
Categories
Tags