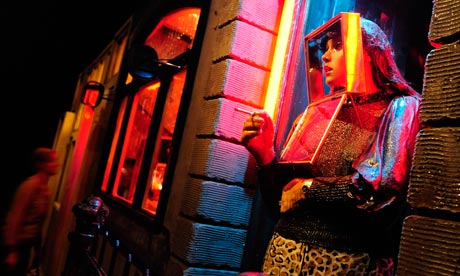 Image:Urban degeneration … The Hoerengracht ('Whore's Canal'), an installation by LA artists Ed Kienholz and Nancy Reddin Kienholz. Photograph: Toby Melville/Reuters
---
This article titled "The dark arts of Los Angeles" was written by Jonathan Jones, for theguardian.com on Tuesday 13th September 2011 11.03 UTC
Drivers in Los Angeles rely on GPS or satnav to get anywhere at all in the vast urban sprawl. The GPS said this was the place, so we turned into an anonymous industrial estate and found it was indeed home to the David Kordansky Gallery, where people were already turning up for the opening of an exhibition by the southern Californian artist Richard Jackson.
Putting down your beer and fitting plastic bags over your shoes, you could enter an enclosed space spattered with blue and red paint from nozzles mounted on a revolving sculpture of a girl hugging a unicorn. In an alcove sprawled a sculpture of a clown. Infantile colours, infantile freedom: an arresting work of art.
By this time, in spite of the unpromising location, the gallery was full and so was the courtyard outside. People strolled down the street to other nearby galleries, hidden in other apparently nondescript industrial spaces. I know, that's what galleries look like all over the world, but anonymous units in LA are more blank and undifferentiated than elsewhere. The art scene these boxes hold is electric and abundant.
This autumn, a massive festival at museums and galleries across LA will tell the story of modern art in this extraordinary city. Pacific Standard Time celebrates the distinctive qualities of Los Angelean art and charts the evolution of a powerful regional style from 1945 to 1980.
As early as the 1950s, it was clear that Californian artists saw things differently from New Yorkers. At that time, New York was the artistic capital of North America, and in some ways it still is. But the west coast had its own feel. The abstract paintings of Sam Francis are more sensual, decorative and optimistic than the works of his abstract expressionist contemporaries in New York.
Yet a cliche that Californian art was happy and bright would be far from the truth. It tended to probe into strange, underground areas of culture and psychology, and had an affinity for sexual imagery, biker culture, even the occult. You see this in the assemblages of Bruce Conner with their dark, introspective imagery, or in the work of the angriest and most visceral artist on the west coast in the 1960s, Ed Kienholz.
That was then. As I found at the art openings last weekend, the same spirit of adventure and anarchy still makes art in Los Angeles vital and provocative. Clowns, dirty unicorns, messy paint: it's got it all.
guardian.co.uk © Guardian News & Media Limited 2010
Published via the Guardian News Feed plugin for WordPress.
Categories
Tags