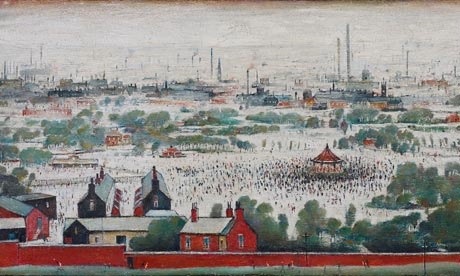 This article titled "This week's new exhibitions" was written by Robert Clark & Skye Sherwin, for The Guardian on Friday 9th September 2011 23.07 UTC
The World We Live In, Leigh
The Turnpike Gallery celebrates its 40th anniversary with a show of works on loan from the Arts Council Collection, many by artists who have shown at the gallery and most on a theme of urban landscape seemingly relevant to the provincial ambience. Contributions of urban imagery by the likes of George Shaw and Cornelia Parker bring the story up to date, but it's the old hands who make magic out of the mundane, with Frank Auerbach's Euston Steps a coagulated mass of painterly impasto and the local all-time master LS Lowry represented by a gem of a painting, depicting a park surrounded like a cultural oasis by the looming chimneys of factories.
Turnpike Gallery, to 5 Nov
Robert Clark
Yang Fudong, London
Yang Fudong is a supreme stylist. It makes sense that he first learned about cinema, not from movies – which were restricted in China in the 1970s and 1980s – but from books. What his film installations forsake in narrative pep, they make up for in perfectly composed imagery and a heady atmosphere of yearning. The people in his work typically attempt to navigate changing urban and rural worlds, while taking romantic false steps through jarring scenarios. This show premieres a new work alongside his recent Fifth Night from 2010. Here, a stagey street scene is experienced from seven different angles with seven screen projections simultaneously closing in on its players' emotional nuances.
Parasol Unit, N1, Tue to 6 Nov
Skye Sherwin
Mike Kelley, London
Mike Kelley's latest show is sure to tap your inner nerd. The LA-based artist is obsessed with Superman mythology, specifically the bit where our hero discovers that an entire city, Kandor, from his home planet, Krypton, has been miniaturised and preserved in a bell jar, which he then stores in his Arctic hideout, The Fortress Of Solitude. Kelley's celebrated 3D realisations of the various Kandors depicted by DC Comics' illustrators, are like intricate jellies beneath their hand-blown bell jars. For his latest work he turns to the Fortress itself, realising Superman's hideaway as a rocky bunker. His grim, dark cave, concealing a tiny, rose-hued metropolis, speaks of memory's distortions and the past's grip.
Gagosian Britannia Street, WC1, to 22 Oct
Skye Sherwin
Roni Horn, London
Roni Horn's work is famous for its austerity. Her interests, though, are more poetic and personal than her crisply minimalist creations might suggest. It's all about identity, but even her photographs of people are not portraits in the obvious sense. Take her famed You Are The Weather, 100 head shots of a woman bathing in Icelandic pools where the weather is written in her face. Horn has now recreated this work with the same model posed in those hot springs some 15 years on. You might say that it's as much about us as her: what we see in her expressions and her eyes. New, gem-like glass sculptures and large-scale abstract drawings complete the show.
Hauser & Wirth Savile Row, W1, to 22 Oct
Skye Sherwin
Gary Rough, Glasgow
Gary Rough's mixed-media art is deceptively spontaneous. His cut-out texts and scrawled intimacies resemble less the tired mannerisms of urban tagging than the erotic reveries once etched into toilet walls or the heartfelt romanticisms carved into tree bark. His art is one of collaged and doodled mischief, as disarmingly honest as it tends to be apparently irreverent, but it's all painstakingly presented. Rough draws us in with his aesthetic daftness, then twists the emotional screw. It's funny, touching stuff.
Sorcha Dallas, to 7 Oct
Robert Clark
Concept As Concrete Form, Derby
A modest yet wide-ranging survey of concrete poetry, celebrating the role over the last 60 years of Eugen Gomringer. Concerned with the physical presence of texts and how typographical structure can play with or against the content of words, concrete poetry is as much visual art as it is a literary tradition. The concrete poets here, including big names such as Henri Chopin and Dom Sylvester Houedard as well as Gomringer, have reduced texts to an almost primal minimalism. So does the deceptive simplicity displayed add up to innocence or indulgence? Come see.
University of Derby School Of Arts, Design And Technology, Tue to 14 Oct
Robert Clark
Normal Dilworth, Huddersfield
The sculptor Norman Dilworth moved to Amsterdam in the early 1980s, anticipating that the abstract formalism of his work would be marginalised by the British arts scene; in Europe his almost playful sculptural aesthetic could be more warmly embraced. So it's good to see the Wigan-born artist back on home ground. Dilworth's art holds its own through the finely tuned tension between his use of steel and wood and a spirit of improvisation that allows for unforeseen sculptural twists and turns.
Huddersfield Library And Art Gallery, to 27 Nov
Robert Clark
Richard Woods, Bristol
When it comes to skewering design culture mores, Richard Woods is as adept as any Laurence Llewelyn Bowen. His point, however, is that bit sharper than the average home makeover show. Unpicking the wider cultural fantasies and delusions that fuel our taste in wallpaper and bathroom tiles, his latest project tackles the current mania for vintage or retro-styled British decor and the cosy nostalgia of nationalism. Paintings are inspired by mock-Tudor suburbia, with Woods refiguring monochrome timbering as geometric abstractions in union flag patterns. Meanwhile, woodblock prints depict Boy's Own-types hard at carpentry. As far as the fetish for handicraft and vintage odds and ends goes, Hand Painted Table Leg Sculptures say it all. Meanwhile, his dry stone wall looks decidedly precise and industrially made, ready to be wheeled out of the factory and into a contemporary dream-world of bygone days.
Works/Projects, Fri to 19 Nov
Skye Sherwin
guardian.co.uk © Guardian News & Media Limited 2010
Published via the Guardian News Feed plugin for WordPress.
Categories
Tags