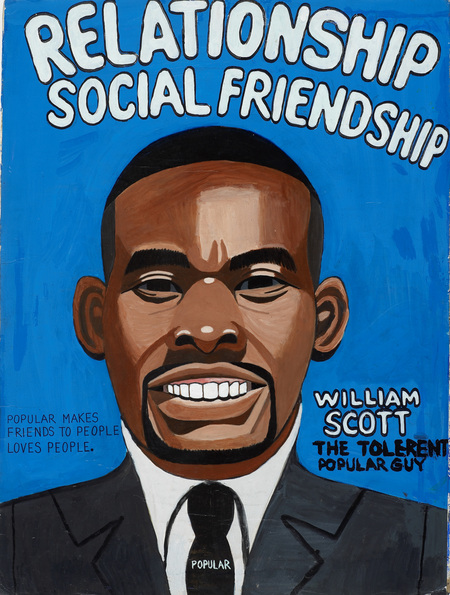 William Scott – Creative Growth
September 2nd 2011 until October 25th 2011
The Museum of Everything – one of Britain's newest independent arts projects –
returns to London with its most ambitious show yet.
Exhibition #4 is Britain's first international survey of contemporary studios for artists with developmental disabilities. The private worlds of fifty new discoveries will be revealed in the show, ranging from intimate works on paper to giant three-dimensional creations – plus a Frieze week retrospective of American sculptor, Judith Scott.

Image:Sabine Münch Südseefisch drypoint HPCA_Germany
This is the first time many of these unintentional artists have been seen in Britain. The Museum of Everything invites the public to discover the work for themselves and to ask why these invisible artists remain overlooked by almost every gallery and museum in the land.
The venue for Exhibition #4 is Selfridges, London. For eight weeks The Museum
of Everything will curate all the windows along Oxford Street and Orchard
Street, as well the entire exhibition hall space. On the ground floor, The Shop of Everything will sell bespoke merchandise to benefit the museum and the artists in the show, including an exclusive range of clothing co-designed with Clements Ribeiro and shoes with Tracy Neuls.
Exhibition #4 is the largest project The Museum of Everything has ever staged.
The show will be seen by hundreds of thousands of people in person and millions
more via the on-line digital exhibition.

Image:Dominique Theatre CEC La Hesse Belgium
The museum will also launch The Workshops of Everything, an initiative to create studios for artists with disabilities across Britain. Other events include talks, screenings and an Intelligence Squared debate with leading museum directors, cultural thinkers and artists.

Image:Sabine Münch Südseefisch drypoint HPCA Germany
The Workshops of Everything Exhibition #4
Exhibition #4 celebrates not only the artists and their work, but the important
collaborative role played by the studios where they work. Museum of Everything has selected some of the best studios around the world from Germany, Belgium and Scandinavia to Japan and North America.
Galerie der Villa (Hamburg, Germany) One of Germany's best known contemporary art studios. Artists include: Harald Stoffers, a diarist whose letters read as abstract musical compositions; and minimalist artist Thomas Beisgen, whose tiny figurative universe populates everything form pieces of paper to entire walls.
Atelier Incurve (Tokyo, Japan) A private art studio led by architect Hiroshi Imanaka. Artists include: Katsuhiro Terao whose obsessive plans form a imaginary universe of impossible buildings; and Tomoyuki Shinki, whose multi-coloured wrestling matches form a fascinating and physical oeuvre.
Creative Growth (Berkley, California) The world's leading progressive studio helmed by Tom di Maria. Artists include: Dan Miller, an obsessive text artist whose drawings feature in the MoMA collection; and William Scott, whose re-imagined childhood was curated by Jeremy Deller at his show in Le Palais de Tokyo, Paris.
The Museum of Everything is one of Europe's most successful new independent museums. It is the only British museum dedicated to unintentional, untrained and undiscovered artists from the 19th, 20th and 21st Centuries and since 2009 has welcomed over 200,000 visitors.
www.shop.musevery.com
Hundreds of artworks by new undiscovered artists, information on progressive art studios worldwide ,physical exhibition and online digital exhibition,events, talks, screenings of The Films of Everything, workshops led by well-known contemporary artists, unique merchandise sold in The Shop of Everything.
Highlights the launch of The Workshops of Everything ,charity exclusive clothing range created with Clements Ribeiro, Frieze debate on the show with Intelligence Squared
And Finally The Museum of Everything legendary Frieze VIP party.
www.musevery.com
www.shop.musevery.com
www.workevery.com
Categories
Tags