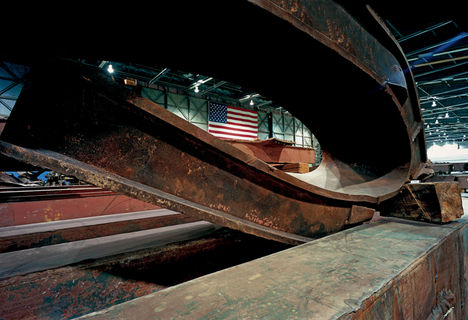 26th August 2011 to 26th February 2012
The empty shell of Hangar 17 at JFK Airport became a storehouse of memories when it was filled with the material cleared from the World Trade Center site following the September 11th attacks on New York City.
Marking the tenth anniversary of 9/11, these photographs by Francesc Torres explore inside the hangar and reflect on the emotional power of what remained, from personal belongings to steel girders distorted by the force of the attacks.
The exhibition will also be on display at the International Centre for Photography in New York and at the Centre de Cultura Contemporània de Barcelona.
Memory Remains is presented in cooperation with the National September 11th Memorial & Museum and the International Center of Photography, in association with the Port Authority of New York & New Jersey. Original funding for Memory Remains was provided by the Government of Spain – Ministry of Culture, the Institut Ramon Llull, and the John and Margo Catsimatidis Foundation.
For further information on the National September 11th Memorial & Museum in New York visit www.911memorial.org
Memory Remains is presented in cooperation with the National September 11th Memorial & Museum and the International Center of Photography, in association with the Port Authority of New York & New Jersey. Original funding for Memory Remains was provided by Paul J. Napoli & Marc J. Bern-Napoli Bern LLP, the National Endowment for the Arts, the Institut Ramon Llull, and the Government of Spain—Ministry of Culture.
A Book of the same name Memory Remains is published by National Geographic
www.randomhouse.com/
All Photography: Francesc Torres
Categories
Tags