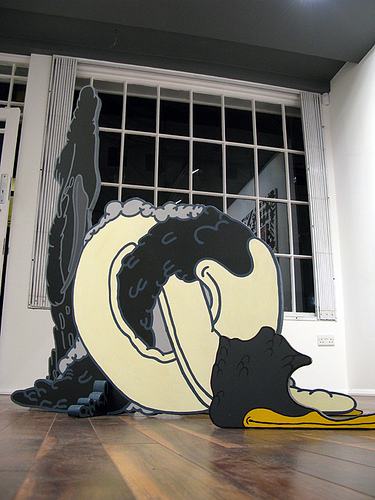 1 If you weren't an artist, what else would you be?
Dead
2. Name 3 of your least favourite artists.
too many 'urbans' to mention
3. Anytime, any place – which artist's body would you most like to inhabit? God's
4 What is your favourite 'ism'?
Prism ( with penetrating sun ray )
5 What was the most intelligent thing that someone said or wrote about your work?
James Boadens text for this show (about all our work)
6. And the dumbest?
probably something I wrote…
7 Do you care what your art costs? State your reasons
Of course, the more its worth, the better I live,
but I also enjoy giving my work away for free to people.

8 What are the three big ideas that you would like your work to express?
Solidity, Energy with a painting style like a an elephant did it with its trunk
9 How do you start the process of making work?
Weird book searches, idea copying, then loose drawing.
10. What is your favourite cartoon character ?
Trodle, by Luidvikas Stogis, The Magic Sausage Men 1979
11. If you could ask yourself one question what would it be ?
Why do you still write on things ?
And what would be the answer ?
I Cave man
12. What's next for you?
GWA (Goldsteins With Attitude)
You Can see more of Russell's work at Asbestos Curtain
russellmaurice.com
Categories
Tags