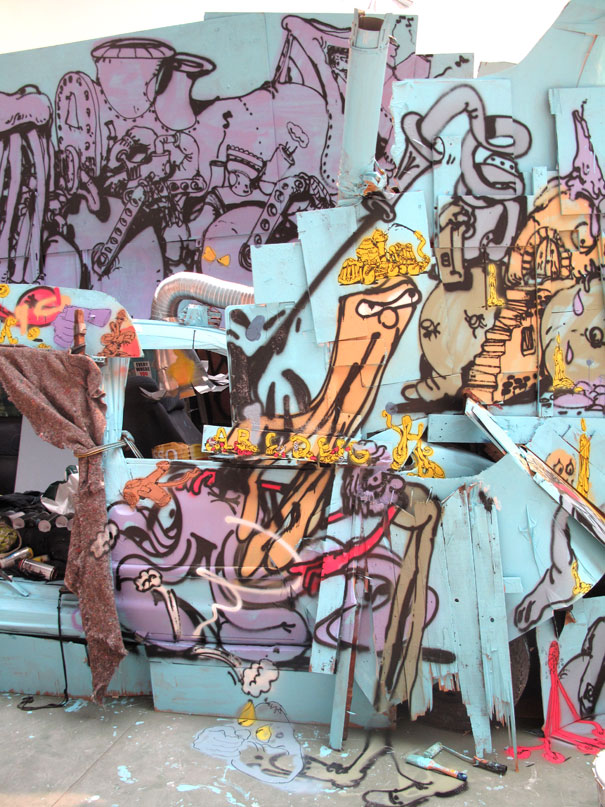 Galleries Goldstein at Goodhood (GaG), is an exciting new collaborative project. It is a permanent space, dedicated to showing exciting, new and thought provoking art. GaG is located in the Goodhood Workshops which are opposite the well established and massively successful Goodhood fashion store at 20 Coronet Street, Hoxton, East London, an area which allready boasts a handful of high profile galleries including the White Cube.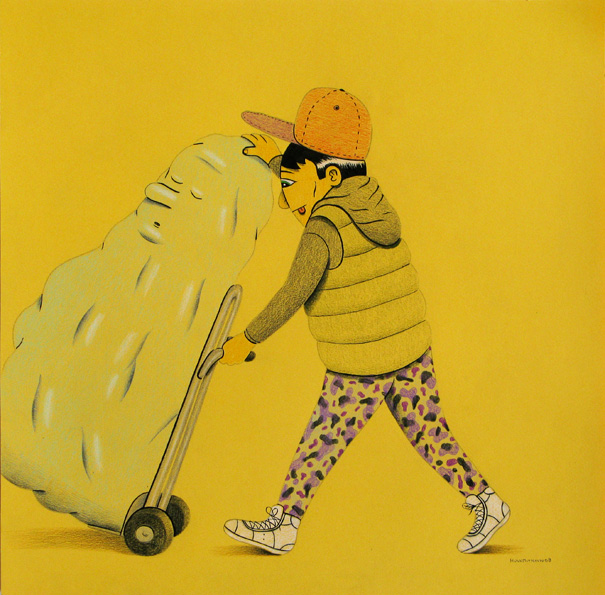 On July 28th Galleries Goldstein at Goodhood will raise the asbestos curtain for its inaugural show of new artworks in the emerging genre of Comic Abstraction.
The exhibition includes work by established international artists such as Edwin Burdis and Andre Semeiko alongside that of new and exciting artists including Daniel Sparkes and Alec Kronacker. The show runs until August 26th.
In 2007 MOMA held a show entitled Comic Abstraction, this term remains the closest definition of this new genre thus far. Asbestos Curtain contributes significantly to the mapping of a new phase in Comic Abstraction.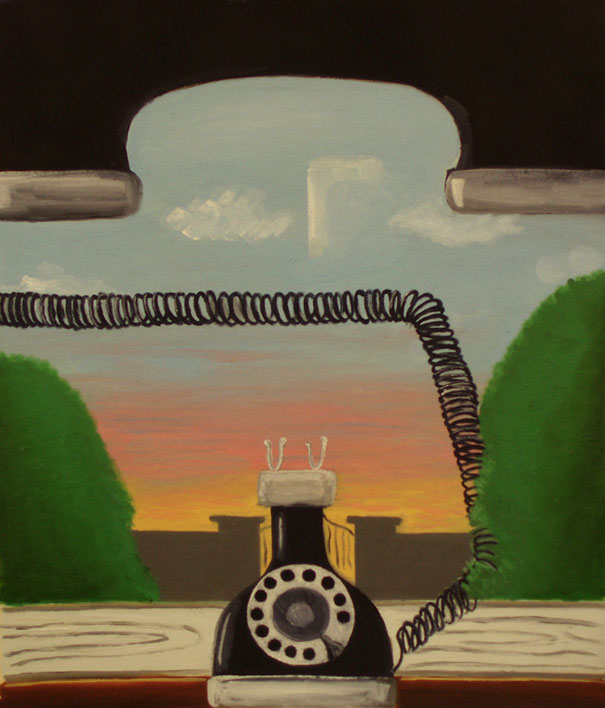 The full list of artists involved in the show is: Edwin Burdis, Horfe, Husk Mit Navn, Marten Daamgard, Alec Kronacker, Rob Logan, Russell Maurice, Mark Mulroney, Andro Semeiko, Daniel Sparkes, Willem Weismann.
Art historian James Boaden has written the following text to accompany the show:
"In the movies there's something called an insert shot. When an object is central to the action but can't be seen clearly in the frame where the actors are at work: a full house at cards laid down on the table; when time is of the essence and we see the clock; when that call comes through and we see the phone. Objects that had been seen, but not noticed, become underlined, emphasized, as if they were suddenly punctuated with an exclamation point. Objects become actors; nouns become verbs.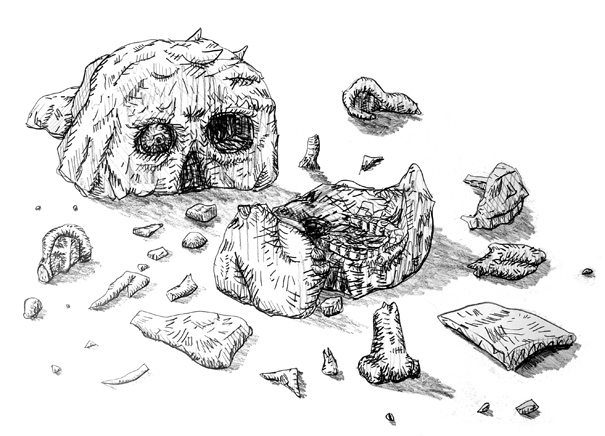 This kind of narrative storytelling, that of honing in on small, seemingly insignificant, parts of the scene, was borrowed by comics – often in the strip cartoon, frames appear where all we see are the corners of empty rooms, objects on tables, the edges of something barely perceived. If the narrative is removed from around these objects they should return to their status as mere things – yet their framing, their pulling out of the narrative retains the life they once had, but now without purpose. The isolation of the insert shot has been used by artists Christian Marclay and Morgan Fisher within film to impressive effect – drawing the viewers' attention to the insignificant, the forgotten aspects of film production; the mastery of the second unit film crew.
In the comic these objects – these underlined, or bracketed objects are freed from the shackles of narrative to run amok: to move, to change, to mutate. They can run the length of a canvas, climb the stretch of a wall, or break out into three dimensions. Yet these things, these objects, as they grow and move escape from the boundary of the frame, they are always held together by the line. The line is
always in movement, always tracking and sniffing out where it can be most effective. The static lines of the works in this show have ambitions of the movement of the animated cartoon – durable, shifting, unbreakable. But these lines don't tell straightforward stories of slapstick violence or easy comedy; they strip things back to the barest of forms. An old door, a ladder, a pipette, a rotting dead dog, mushrooms and mattresses – abandoned, left to their own devices,
tell us as much about ourselves as the human face. Grotesque elastic forms emerge as lines move outwards over lines, objects become anthropomorphic. Abstracted from the most figurative, and relentlessly narrative of forms, these works offer a new language of affect in which to read.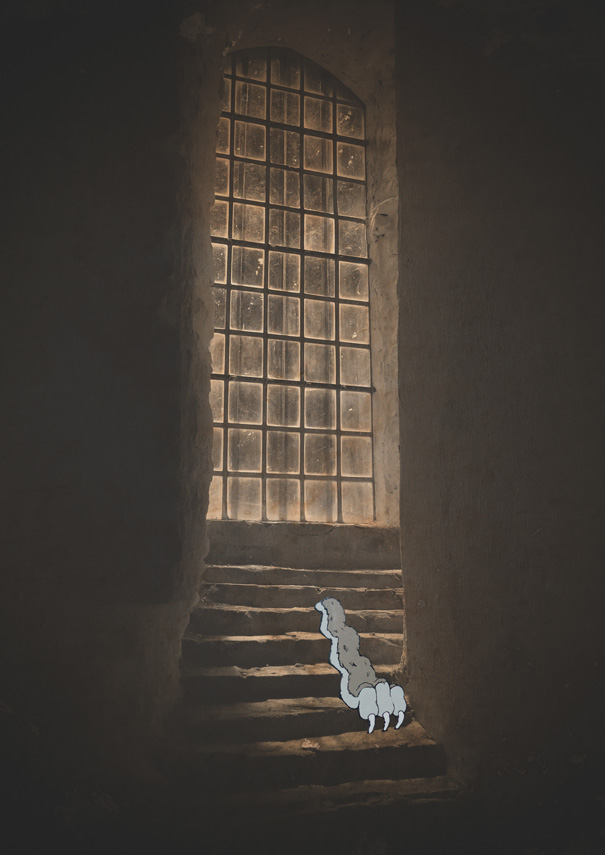 Steeped in an uneasy nostalgia for the detailed, crisp graphic style of the animators of Hanna-Barbera, Peyo, or Hergè, blended with the contemporaneous grotesque underground comix of Gilbert Shelton and Robert Crumb these are difficult works to digest. Yet their message is simple – sometimes derived from the kind of condensed storytelling essential to the single image Graffiti character.
In the late 1970s the American Surrealist Franklin Rosemont suggested that comics provided a 'hieroglyphic poetry' for the day – these artists strip down even that sense of legibility. Yet these works are surreal in the sense that they find the marvelous deep within everyday sources and bring them to the fore in all their distorted, mutated majesty."
James Boaden 2011.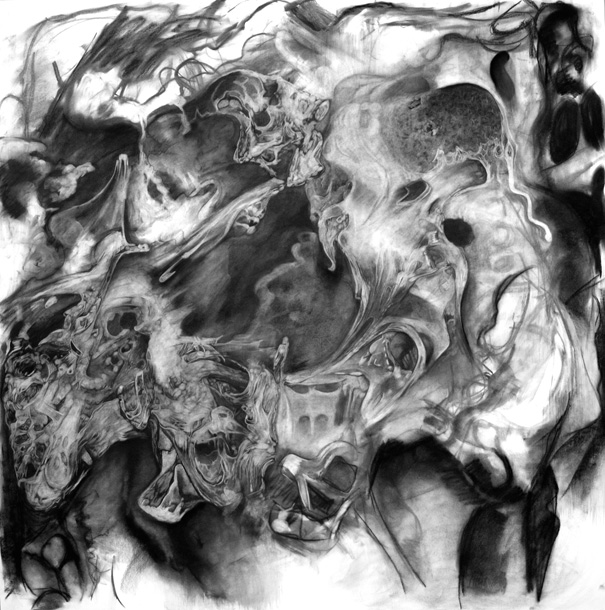 Artist info:
Edwin Burdis Recently exhibited at the Hayward and Max Wigram Gallery
Horfe Parisian Graffiti writer, his recent solo show in Paris was received with
wide acclaim
Husk Mit Navn Style originating Dane
Marten Daamgard Very Prolific and cutting edge Danish Graffiti Writer
Alec Kronacker Participated in New Contemporaries at ICA London and recent Slade MA graduate
Rob Logan Natural abstract painter and Saint Martins MA Graduate
Russell Maurice Participated in New Contemporaries at ICA London and recent
St Martins MA graduate
Mark Mulroney American artist,
Andro Semeiko Born in Georgia, Graduate of Goldsmiths MA and winner of Celeste art prize
Daniel Sparkes Jerwood Drawing Pize nominee. Artwork has featured in Situationism and Absurdism publications
Willem Weismann Born in Eindhovan, and graduate of Goldsmiths MA, has work in the Saatchi collection.
www.galleriesgoldstein.com
Facebook GaG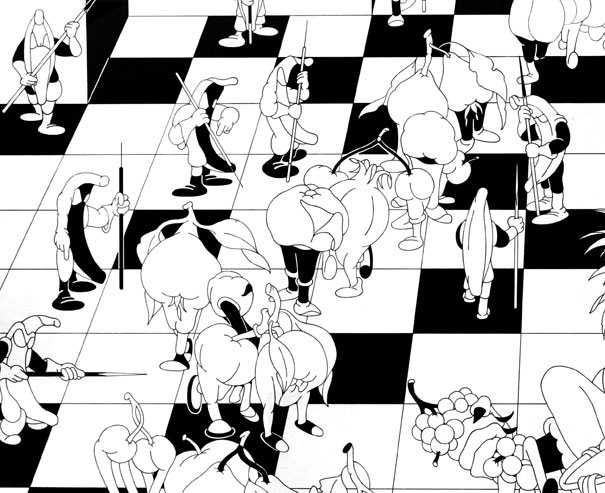 Categories
Tags