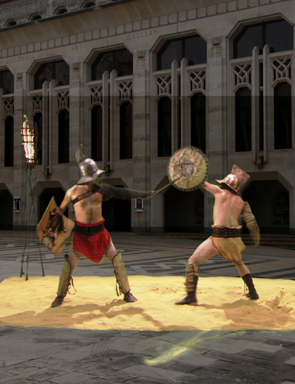 Following on from the success of award-winning app Streetmuseum™, the Museum of London has joined forces with AETN UK 's flagship channel HISTORY™ to develop a new app which gives users the opportunity to see Roman London as it was 2,000 years ago.
Streetmuseum Londinium will direct users to locations across London where they can immerse themselves in the sights, sounds and remains of Roman life. At the city's peak in AD 120 approximately 25,000 Romans lived in London , leaving much behind to explore today.
Users can digitally excavate Roman artefacts, including leather bikini briefs and an ancient manicure set, which tell the stories of life in Londinium. Using their finger to dig and by blowing on their iPhone, users will gradually reveal the objects where they were first found in the capital.
Key Roman sites in London , such as the amphitheatre at Guildhall, will be brought to life through augmented reality video – produced by HISTORY – which will overlay scenes of Roman London against today's modern backdrop. Soundscapes will also allow users to listen to the hustle and bustle of the forum or the sounds of ritual incantation at the Temple of Mithras .
All these immersive experiences will be brought together on a new map of Roman London – compiled and produced by Museum of London Archaeology – which will be superimposed on a modern map of the capital, allowing users to see how the city has changed and grown over the last 2,000 years.
Vicky Lee, Marketing Manager for the Museum of London , said: "The success of Streetmuseum has shown that museums can bring history to life in new and exciting ways, taking their collections to the streets rather than relying on visitors coming to them. Now, with the launch of Streetmuseum Londinium, we're going a step further, allowing iPhone users to unearth evidence of Roman London as if discovering these artefacts for the first time."
Charlotte Allibone, Marketing Manager from AETN UK , added: "HISTORY is an exciting TV brand that brings history alive in people's everyday life in entertaining and engaging ways. Through Streetmuseum Londinium, we wanted to inspire people to know more about their city and to have fun with history."
To celebrate the app's launch, HISTORY is dedicating a whole day of programming to Roman history with Roman Empire Sunday, taking place on Sunday 31 July, 6am – 8pm, with the premiere of How Nero Saved Rome at 7pm. Key programmes includes Roman Invasion of Britain The True Story, Gladiator, Gladiators: Back from the Dead, Cities of the Underworld, Rome's Hidden Empire, Colosseum: Rome's Arena of Death, Rome's Lost Legion and How Nero Saved Rome. Visit www.history.co.uk for the full schedule.
Streetmuseum Londinium will be free to download for iPhones and iPads worldwide from 25 July 2011. Visit www.museumoflondon.org.uk/apps
Categories
Tags